Xiaomi Mi Robot Vacuum — Powerful and Smart Vacuum Cleaner for less than $400
Michael Fisher
Jul 16, 2017 3 min read
Table of Contents (Jump to)
If you are looking for a powerful, functional and not an expensive robot vacuum cleaner, the Xiaomi Mi Robot would be your best choice. Mi Robot is a new vacuum cleaner from Chinese fast-growing hi-tech company Xiaomi which has become very popular in the last few years. Xiaomi Mi Robot costs more than twice cheaper than main competitors with similar features. It has a perfect minimalist design, powerful and quiet brushless motor, intelligent path planning, and home mapping system, long battery life and a smartphone App.
The Xiaomi Mi Robot Specifications
| Xiaomi Mi Robot | Specs |
| --- | --- |
| Weight | 3.8 kg |
| Vacuum Motor | Nidec brushless DC |
| Dustbin capacity | 450 ml |
| Dry/wet mopping | no |
| Full bin indicator | Yes |
| Side brush | Yes |
| Cliff detection | Yes |
| Recharge & Resume | Yes |
| Amazon Alexa & Google Home | Yes |
| Suction Power | 1,800 Pa |
| Smartphone app | Yes, WiFi connected iOS/Android App |
| Features | Mapping, Intelligent Path Planning, Recharge&Resume |
| Battery | Li-ion, 14.4V / 5,200mAh |
| Working Time | 150 min |
| Recharging time | 3-4 hours |
| Dimensions | 13.58 inches x 3.15 inches |
| Accessories in the package | CN plug, Charging Base, Brush cleaning tool |
Robot vacuums mentioned in the article:
Design & Features of the Xiaomi Mi Robot
The Xiaomi Mi Robot has a modern minimalist design. It measures 13.5 inches in width, a 3.8 inches of height and 8.4 lbs of weight. It has a smart «brain» with three powerful CPUs (ARM Cortex A7 Quad-Core processor, TI Digital Signal processor, and ST ARM Cortex M3 Microcontroller) called Simultaneous Localization and Mapping (SLAM) movement algorithm. The processors receive data from 12 different sensors that ensure the robot to build a layout of the cleaning area and calculate an efficient way of cleaning on its own. Powerful brushless DC motor delivers 1,800 Pa of suction power.
In the Mi Home app, you can watch how the Mi Robot builds a map and track its movements in real-time, see where it has cleaned and what areas are left to be done.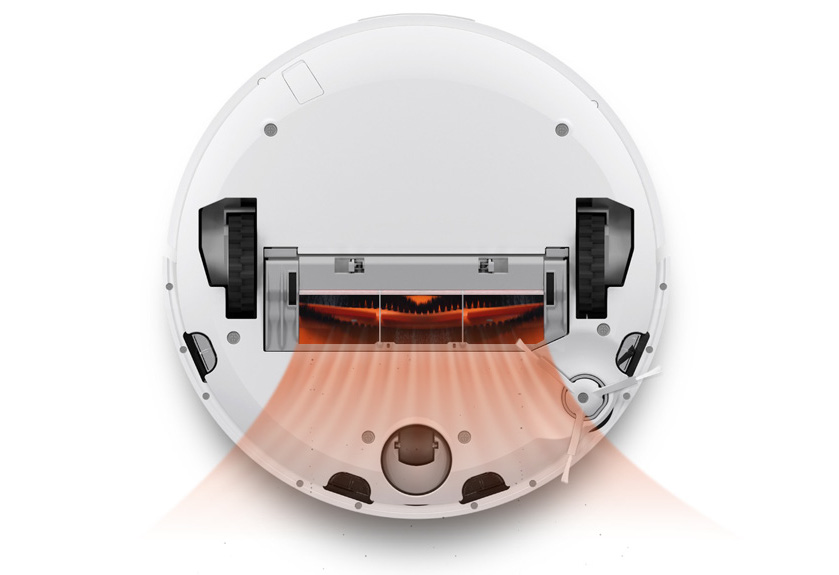 The Mi Robot Vacuum Cleaner has 12 sensors that help it to maneuver around.
It is effortless to clean the robot, open the lid on the top and threw away the trash from the container.
The Mi Home app lets you control vacuum's status remotely: watch the robot moves in real-time, toggle it off or on, schedule time for automatic cleaning and switch between suction modes - standard, quiet and active, etc.
The Mi robot has a Laser Distance Sensor (LDS) located on the top which allows it to scan all your rooms and create a detailed plan of your house. The sensor scans the perimeter of the room 360 degrees at 1,800 times per second.
When the battery runs out of energy, the Mi Robot automatically docks itself, recharges up to 80% and resumes cleaning from the place it left off.
YouTube reviews of Xiaomi Mi Robot
What issues the Xiaomi Mi Robot faces?
The robot can bump with its "head" not fitting under some furniture.
With all its strong suction, the Xiaomi Mi Robot is not able to deep clean thick and medium-pile carpet flooring. However, it does a great job on bare floors and thin carpets.
Price & Purchasing Details
The Xiaomi Mi Robot is available to buy on Amazon as well as on Gearbest.
It costs a little bit under $400 on Amazon coming with the Amazon's Choice label and free two-day shipping for Prime members.
On Gearbest the Xiaomi Mi Robot for $276.99.
Pros of the Xiaomi Mi Robot
Affordable price — Mi Robot is much cheaper if you compare it with similar models
Impressive run time — two and half hours of continuous cleaning (thanks to the 5,200mAh lithium-Ion battery)
Nice minimalist design
HEPA filtration that is ideal for people with allergy
Strong suction power is able to deep clean thin and medium-pile carpets
Intelligent path planning and home mapping system helps the robot to remember where it has cleaned and what places are left to be cleaned
WiFi App for Android and iOS allows you to track, control and schedule the robot from your smartphone
Compatible with Alexa enabled devices and Google Home.
Cons of the Mi Robot
Does not have any extra accessories in the box
No virtual walls.
Alternatives To Consider
The Xiaomi Mi Robot is one of the best on its price category with smart navigation and mapping.
If the mapping is important to you, have a look at the Neato D4 Connected. It has a similar cleaning performance and comes with about the same price.
Also, the ECOVACS Deebot 900 has mapping and costs around $300.
Conclusion
Nevertheless that the Xiaomi Mi Robot cannot deep clean thick carpets, it still able to handle pet hair, dust, and dirt on a hardwood floor, tile, marble, laminate, etc., and thin rugs. With 150 minutes of running time, the Mi Robot is one of the longest lasting machines on the market. Is the Xiaomi Mi Robot still one of the best budget smart cleaners to buy in 2019? Definitely!
If you are looking for a powerful robot vacuum with mapping and path planning, take a look at the newest 360 S6 robot vacuum, it has very similar features but also can sweep and mop at the same time, has a washable filter, updates a map of a house in real-time and holds in memory the map of each floor.