Which Roomba is Worth Buying in 2019: Model Comparison Chart
·
Aug 9, 2018
·
11 min read
iRobot was founded 19 years ago and became the most significant and innovative player on the robot vacuum cleaners market. They've made a lot of successful products that got famous around the world. If you are planning to buy a Roomba, it can be hard to decide which model is better for your needs. Do you really need to pay $1299 for the high-end Roomba s9+ model or the budget Roomba 690 which you can buy for less than $300 will cover all your needs? In this article, we are going to compare all the Roomba robot vacuum cleaners, determinate what the difference between Roomba models (comparison chart included).
To understand better the important features of each device, let's take a look at the comparison chart below.
Roomba models comparison chart
Features
Roomba 614
Roomba 650
Roomba 690
Roomba 890
Roomba 960
Roomba 980
Roomba e5
Roomba i7+
Roomba s9+
Suction power

Compared to Roomba 600 Series

-
-
-
5x the air power
5x the air power
10x the air power
5X the air power
10x the air power
40x air power
Run Time (min)
60
60
90
60
75
120
90
75
120
Cleaning Techonoly
AeroVac
AeroVac
AeroVac
AeroForce
AeroForce
AeroForce
3-Stage Cleaning System
3-Stage Cleaning System
3-Stage Cleaning System
Navigation Technology
iAdapt 1.0
iAdapt 1.0
iAdapt 1.0
iAdapt 1.0
iAdapt 2.0 + Mapping
iAdapt 2.0 + Mapping
iAdapt 1.0
iAdapt 3.0 (Imprint™ Smart Mapping)
Imprint and PerfectEdge Technology, 3D sensor + Mapping
Mapping Function
no
no
no
no
yes (camera based)
yes (camera based)
no
yes (camera based)
yes (camera based)
Virtual Walls
no
yes
yes
yes
yes
yes
yes
yes
yes
Filter
AeroVac
AeroVac
AeroVac
HEPA
HEPA
HEPA
HEPA
HEPA
HEPA
Auto Recharge
yes
yes
yes
yes
yes
yes
yes
yes
yes
Scheduling
no
yes
yes
yes
yes
yes
yes
yes
yes
Wi-Fi Support
no
no
yes
yes
yes
yes
yes
yes
yes
Smartphone App
no
no
yes
yes
yes
yes
yes
yes
yes
Amazon Alexa & Google Assistant
no
no
yes
yes
yes
yes
yes
yes
yes
Tangle-Free Brush
no
no
no
yes
yes
yes
yes
yes
yes
Recharge and Resume
no
no
no
no
yes
yes
no
yes
yes
Deeper Carpet Cleaning
no
no
no
no
no
yes
yes
yes
yes
Full Bin Indicator
no
no
no
yes
yes
yes
yes
yes
yes
Automatic Dirt Disposal
no
no
no
no
no
no
no
yes
yes
Dimensions (dxh)
13.4 x 3.7 in / 34.03 x 9.39 cm
13.3 x 3.6 in / 33.78 x 9.14 cm
13 x 3.7 in / 33.78 x 9.39 cm
13.8 x 3.6 in / 35.05 x 9.14 cm
13.9 x 3.6 in / 35.05 x 9.14 cm
13.8 x 3.6 in / 35.05 x 9.14 cm
13.3 x 3.6 in / 33.78 x 9.14 cm
13.34 x 3.63 in / 33.88 x 9.22 cm
12.25 x 3.5 in / 31.75 x 8.89 cm
Weight (lbs/kg)
7.5 / 3.4
7.9 / 3.58
7.8 / 3.53
8.4 / 3.8
8.5 / 3.8
8.7 / 3.9
7.2 / 3.26
7.44 / 3.37
8.15 / 3.69
Warranty
12 months
12 months
12 months
12 months
12 months
12 months
12 months
12 months
12 months
Amazon price
$249.99
$549.99
$274.99
$399.90
$597.00
$954.94
$449.95
$1,099.00
$1,299.00
The cliff and anti-collision sensors become a standard in the industry. All the robot vacuums are equipped with them which prevents bumping into things and falling from stairs. All the iRobot cleaners have them.
All the robots we are going to talk about have an auto-recharging function; it automatically makes the vacuum to go to recharge once the battery runs out of energy.
Spot Clean Mode
In Spot Clean, the robot moves in a spiral way ensuring intense coverage. All the Roomba cleaners support spot cleaning mode.
Full Bin Indicator
The newest Roomba machines have a Full Bin Indicator that notifies when the bin is full. The Roomba 960 and 980 models have two options: "Finish Job" and "Pause immediately" which you can manage from the iRobot Home app. The first one ends cleaning immediately while the Pause feature stops cleaning temporarily. Once you empty the bin, the Roomba will continue.
Scheduling
The devices on our list except the Roomba 614 have a scheduling feature. You can program it to work at a specific time up to 7 times per week using a remote controller or the iRobot Home app.
What technology does the Roomba use to navigate the robots? iAdapt Cleaning Technology & Navigation.
iAdapt Navigation is a set of sensors that help the robot cleaner to move around without falling using a random navigation pattern. Roomba prevents hitting walls and other solid barriers by using Light-Touch bumper technology.
However, the Roomba 960 and Roomba 980 use the upgraded version of iAdapt - iAdapt 2.0. iRobot improved its navigation pattern and added the Visual Localization, a system that uses a camera sensor for mapping. The Roomba 960 and 980 move in straight lines.
The newest Roomba i7 uses an advanced navigation system - iAdapt 3.0.
What is the AeroForce Cleaning System?
All Roomba robots use the AeroForce cleaning system. How does it work? Dual counter-rotating tangle-free brushes grab dirt and debris from carpets and hard floors. The airflow accelerator boosts suction power to catch dust, debris, and allergens, transferring them into the dustbin. The latest models use a more powerful vacuuming system that increases air power up to 5 and 10 times. (The Roomba 980 has a Carpet Boost feature that increases suction power to its maximum when recognizes carpets). A side spin brush cleans corners and wedges, transferring dirt to the dustbin. Anti-tangle system will not allow the robot to get stuck between cords, carpet fringe, or tassels. If it does, the system stops the side and main brushes of the vacuum to try to escape.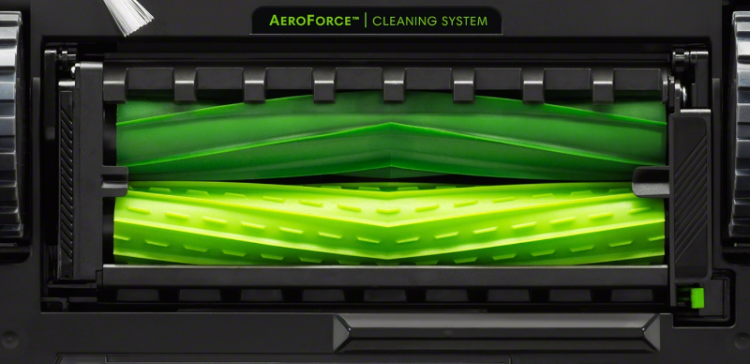 Roomba i7 AeroForce cleaning system (image: iRobot)
Edge Cleaning Mode
All the 900s models come with Edge Cleaning Mode. While the previous cleaners from iRobot only used a side brush, the newest ones clean tight edges after they finish the job on the floor. This feature is always on default, but if you want your Roomba to end the job quicker, you can switch it off on your smartphone.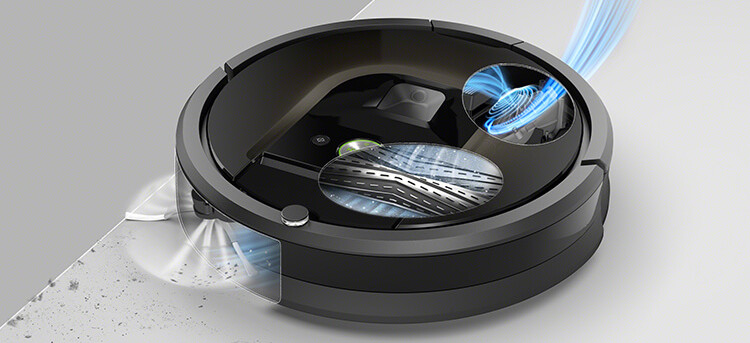 Recharge and Resume
Once the robot's battery runs low, a Roomba returns to its charging dock. The Roomba 960, 980, and i7 come with a recharge and resume option. It makes the vacuum to resume cleaning from the place it left off after its battery is powered up.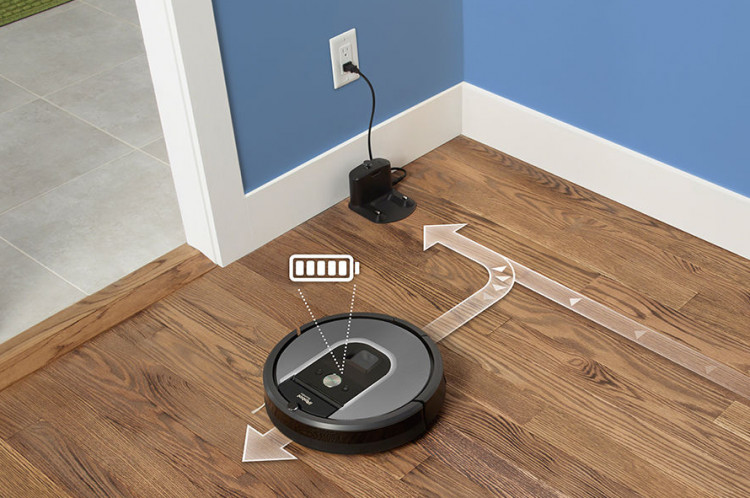 Rotating Double Brushes
Two brushes located on the bottom rotate in the opposite direction to grab and break down dirt and debris, preventing hair tangling. This technology was upgraded in the 800, and the 900 series. They come with rubber instead of the bristled rollers.
Why you might want to buy a Roomba with silicone brushes
If you are not tight on your budget, you might look at the latest robot vacuum cleaner. You should know the differences between bristled and silicone rollers and why it matters. It is not a big deal to clean a bristled brush from tangled hair, but it can become annoying at times. I have had the iLIFE V7S myself and faced the issue of hair wrapping around the brush after every cleaning. My wife has long hair which means the brush needed to be cleaned after every session. By contrast, rubber rollers are tangle-free.
How to control a Roomba?
There are three modes available: app, a remote controller, and voice commands. The robot vacuum cleaners that support Wi-Fi can also be controlled via the iHome app. The previous models work with a physical remote controller. If you have a WiFi enabled Roomba and own Amazon Alexa or Google Home you can control the robot with voice.
What you can do with the iRobot Home app
The app helps you control your Roomba, set a cleaning schedule directly from the phone or switch between cleaning modes. The app also alerts you when the dust bin is full and needs emptying.
If you are a happy owner of the latest robots that have a mapping feature, you can see cleaning history at the end.
Roomba i7: iRobot Home app demo (source: iRobot)
Needless to say that you also can start and stop your robot anytime just using your mobile device.
Virtual Walls
Virtual Wall is another device that helps to navigate the Roomba. Only elementary budget models come without it. It enables you to control where you want the robot to go. You need to place it somewhere in the room, and your home assistant won't cross it.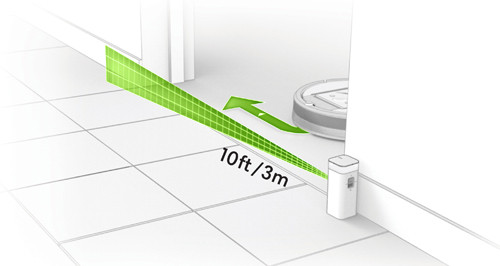 ---
The Roomba 614 - Super Basic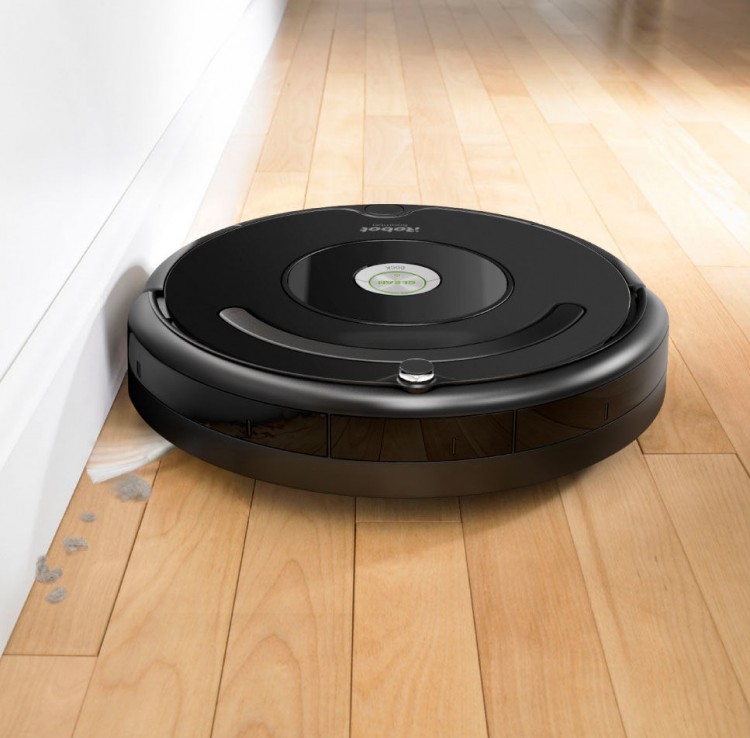 The Roomba 614 is a very basic budget robot vacuum cleaner you can find for the best price - about 270 dollars on Amazon.
It is the only model that doesn't have a scheduling feature which is quite disappointing. It will randomly navigate around your house absorbing dust and dirt on its way.
However, we do not recommend this model because of the high price for what it offers.
Click here to see customers reviews about the Roomba 614 on Amazon
To buy or not to buy the Roomba 614
With its price and cleaning performance, we'd recommend considering buying one of the newest Xiaowa Lite that is equipped with all the options the Roomba 614 is missing.
---
The Roomba 650 - Reasonable Price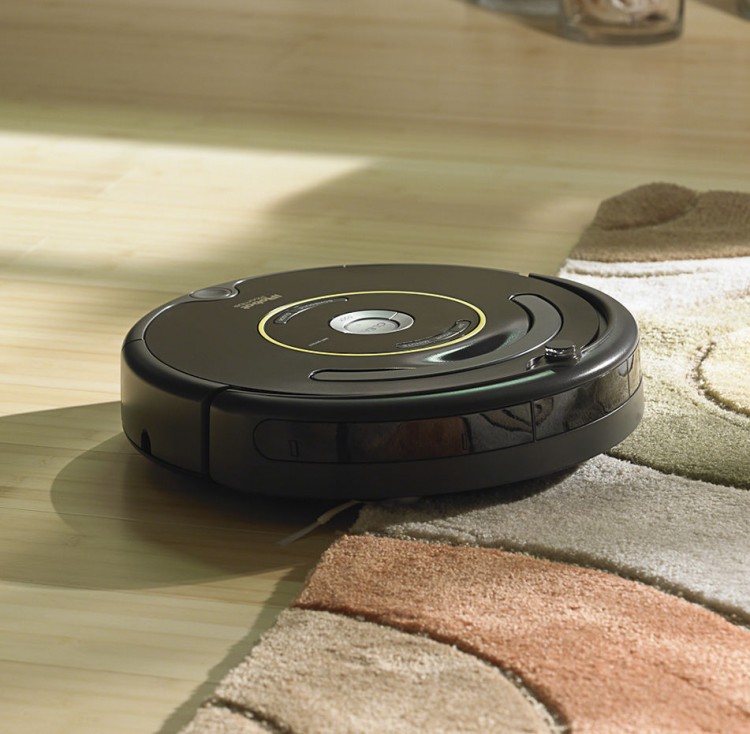 The Roomba 650 offers all the necessary options of the 614 with the addition of a single Virtual Wall. It uses bristle cleaning brushes that become a headache when you need to untangle hair. The Roomba 650 works on tile, hardwood, and linoleum flooring as well as on any type of carpeting surface except thick carpets/rugs.
Pros
Virtual wall included
Reasonable price
Cons
The old type of cleaning brushes
Click here to see customers reviews about the Roomba 650 on Amazon
The Roomba 650: Conclusion
The Roomba 650 was rated highly a few years ago but times changed. Other robots offer better cleaning performance with the same price tag: (the (Xiaowa E2](https://www.amazon.com/dp/B07F8ZTR2J/?tag=omgrobotpartn-20), the Ecovac Deepbot N79S or the Eufy Robovac 11+.
---
The Roomba 690 - Affordable Robot with a Virtual Wall Barrier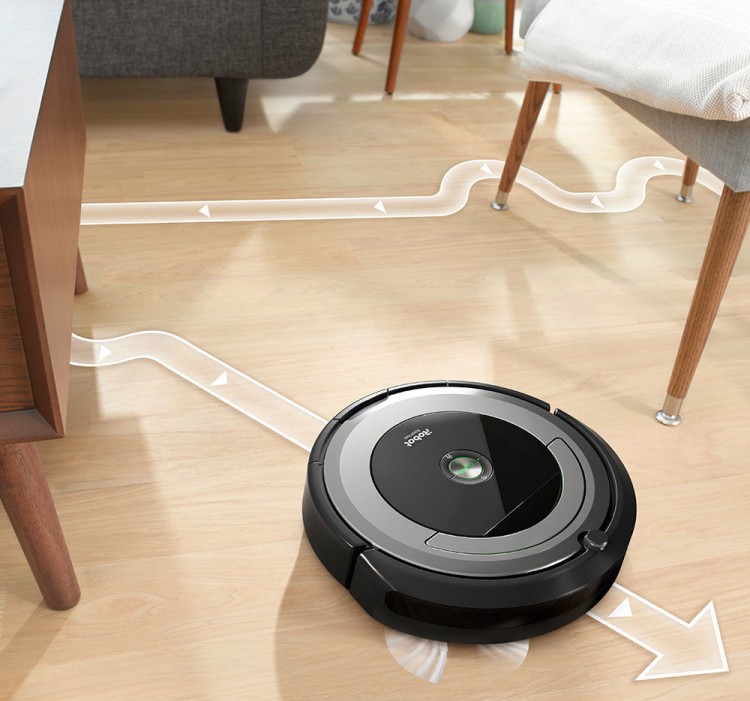 The Roomba 690 is the first robot vacuum on our list that supports Amazon Alexa and Google Assistant. Also, the robot can be managed by iRobot Home app. These things and a slightly upgraded Virtual Wall accessory make the Roomba 690 different from the Roomba 650. Still the same cleaning brushes that are not too easy to maintain.
What is good about the Roomba 690
Upgraded Virtual Wall
Compatible with Alexa and Google Assistant
Comes with iRobot Home app
Reasonable Price
Cons
Still the same old brushes
Click here to see customers reviews about the Roomba 690 on Amazon
Verdict
The Roomba 690 is finally Wi-Fi enabled which means that the robot has entered the 21st century and you can manage it through your smartphone. iRobot offers enough features, making the 690 cost twice or even three times less than its newest models. If you are ready for bristled brushes, which means you need to get rid of tangled hair after every session, have a look at the Roomba 690.
Update November 2018 What you can get instead of the Roomba 690 for under $300? Take a look at the top 5 best Roomba 690 alternatives.
---
The Roomba 860 - Powerful Budget Robot
What makes us love the Roomba 860 more than anything else? Its rubber rollers! The rollers vibrate on the floor shaking dirt and debris into the dustbin. The brushes are perfect for pet owners. They clean pet hair with ease, and the best thing is that the hair won't get tangled, so you don't need to unwrap it that often.
With the AeroForce Cleaning System, the Roomba 860 delivers up to 5x the air power.
What makes the Roomba 860 better than previous models
New design rubber debris extractors
Virtual Wall Barrier
5 times more vacuuming power
Cons
Click here to see customers reviews about the Roomba 860 on Amazon
Is the Roomba 860 something you might need?
Even though the Roomba 860 has silicone rollers, we recommend you to go with the Roomba 890. It is WiFi enabled and has a price of $450.
---
The Roomba 890 - App-Based Robot With Tangle-Free Rollers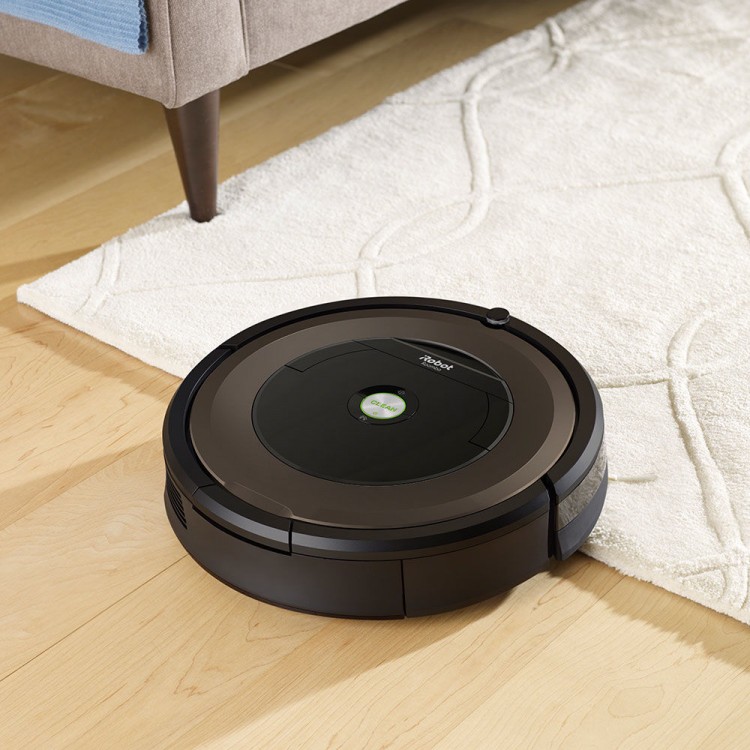 The Roomba 890 is basically the same 860 but with the Dual Mode Virtual Wall Barrier and Wi-Fi enabled. It is compatible with Alexa and Google Assistant and comes with the iHome app. You get the same rubber brushes that prevent hair tangling and are perfect for pet hair.
Pros
Rubber rollers
Wi-Fi enabled
Voice-Activated Control
Powerful motor
Cons
Consumers complain about carpet performance however the robot does a good job on bare floor
No mapping function
Click here to see customers reviews about the Roomba 890 on Amazon
Bottom Line
What makes the Roomba 890 work well on a hardwood floor? The rubber rollers along and a powerful motor is a combo that provides deep cleaning. Also, the robot can be managed via the app or by voice commands which makes it more fun to clean with the Roomba. Amazon offers a good deal selling the Roomba 890 for $500, making it attractive to get even in 2019.
---
The Roomba 960 - Editor's Choice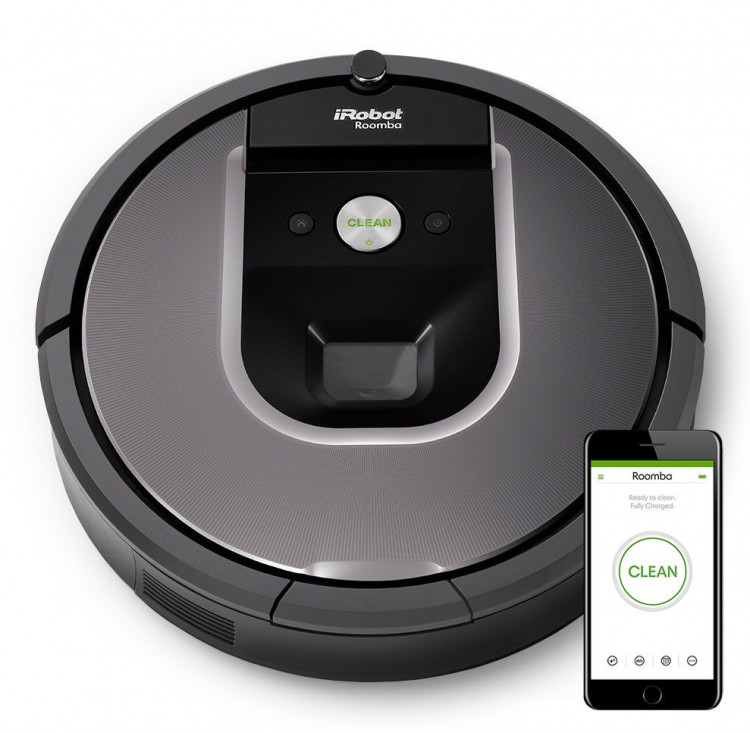 We are getting to the robot that is one of the latest that iRobot produces. It has the upgraded iAdapt 2.0 navigation system that along with a set of sensors has the local visualization helps the robot to create an internal map of your house using your furniture and walls as landmarks. With the new camera sensor, the Roomba 960 is more efficient.
It also has a battery that lasts up to 75 minutes in one charge, and what's more important - the new "Recharge and Resume" feature. Only the latest Roomba 960 and Roomba 980 have it. There is also a new option where the full bin indicator shows when the dust box is ready to clean so you can pause it or finish the job just using your mobile device to empty the container. The device supports Wi-Fi and is compatible with the iRobot Home app and Amazon Alexa/Google Assistant. With the multi-surface rubber rollers and 5x the power-lifting suction, the Roomba 960 is perfect to use on thin carpets and hardwood floors. Besides, this machine is ideal for pet hair. Along with the app, the 960 can be navigated by the Virtual Wall Barrier.
Pros
Better cleaning performance
The upgraded navigation system provides more accurate cleaning
Powerful robovac good for pet owners
Compatible with Alexa and Google Assistant
Virtual Wall Barrier included in the box
New Edge Cleaning Mode
Cons
Short cleaning time
Is not as efficient on thicker carpets
Click here to see customers reviews about the Roomba 960 on Amazon
Why you should buy the Roomba 960
The Roomba 960 is one of the best robot vacuum cleaners among all the models iRobot produces. It cleans longer than previous robotics and has the newest navigation system that ensures better cleaning performance. Do not forget about its rubber rollers that are perfect for any surface. You can control your device by voice commands using Amazon Alexa.
The tangle-free design makes the Roomba 960 perfect for pet owners. One of the most important things to remember is the fact that you can control the whole process by using your smartphone while you are out. Considering the price, the Roomba 960 is one of our favorite robot vacuums to get in 2019, since it has everything you need if you want the best combination of price and features.
---
The Roomba 980 - High-End Vacuum Cleaner With The Best Cleaning Performance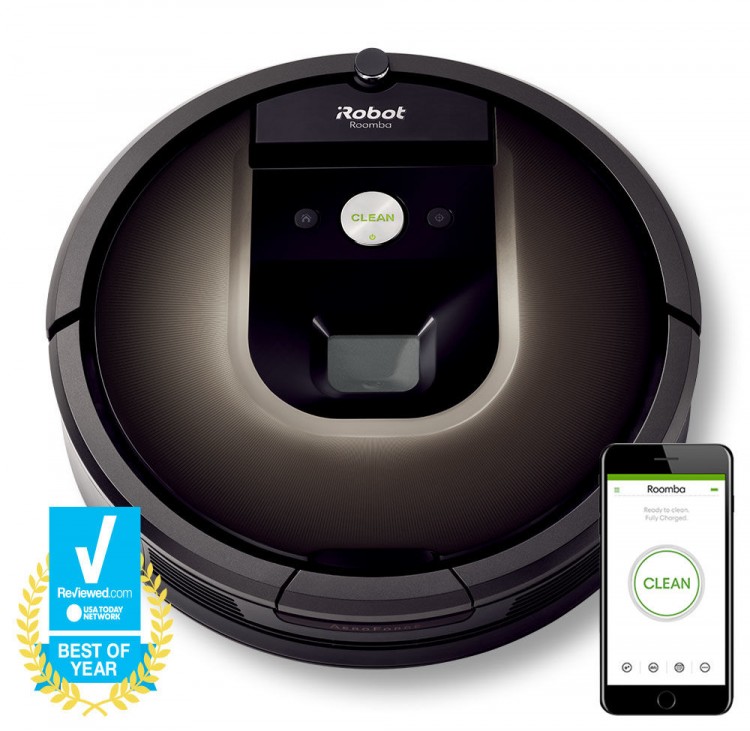 The Roomba 980 is the latest top robot vacuum cleaner from iRobot. It is the best Roomba device we recommend to buy even though it is quite expensive. The Roomba 980 is the best in cleaning since it has an advanced Gen 3 motor inside that gives 10x more air suction power in Performance Mode or when the robot detects carpet. The Carpet Boost Mode is a very new feature found only in the Roomba 980, it provides deeper cleaning on carpets by boosting air power. The powerful motor and rubber rollers capture 99% of dust, mites, and allergens as small as 10 microns. Also, it works up to 120 minutes on one charge instead of 75 or even 60 minutes offered by previous models. With iRobot's newest feature, the device will get back to its charge station and then finish its job. Does the longer battery life even matter? If you are not home, who cares if it takes a break after 75 or 120 minutes to recharge? For people with a big household, it makes sense to spend money on the Roomba 980, since it will recharge once to clean the whole area while the Roomba 960 would recharge two or more times. It is also equipped with two Virtual Wall Barrier accessories instead of just one. It supports Wi-Fi, has the iRobot Home app, and is compatible with Alexa or Google Assistant.
What is good about the Roomba 980
Carpet Boost Mode
Dual Virtual Wall Barriers
Increased cleaning time up to 120 minutes
Compatible with Amazon Alexa and Google Assistant
Powerful motor that provides deeper cleaning
Wi-Fi enabled
Mapping function
The newest iAdapt 2.0 navigation system
Edge Cleaning Mode allows Roomba to clean tight edges
Cons
Click here to see customers reviews about the Roomba 980 on Amazon
Why you need to buy the Roomba 980
It is the latest and the most expensive robot vacuum from iRobot. However, for its price, the manufacturer offers the best value. With its high-efficient filters, the Roomba 980 is good when it comes to catching allergens and picking up pet hair. Besides, it features excellent cleaning performance on carpeted surfaces thanks to the newest Carpet Boost Mode found only in this model. The increased cleaning time makes it ideal for people who own a big house because it can recharge and resume until the whole household is clean. You can control it when not at home, which is great when you have guests coming, but your floors are not as clean as you'd like. If you have some extra money to spend on something that will make your life easier, especially when it comes to cleaning floors, the high-end Roomba 980 is the robot you need.
---
Roomba i7
The iRobot Roomba i7 was released at the end of 2018. It is the most expensive and powerful robot vacuum from iRobot. This model is very similar to the Roomba 980 but has a few innovations such as advanced brushless rollers, a quieter motor, improved navigation technology iAdapt 3.0, washable dustbin, etc.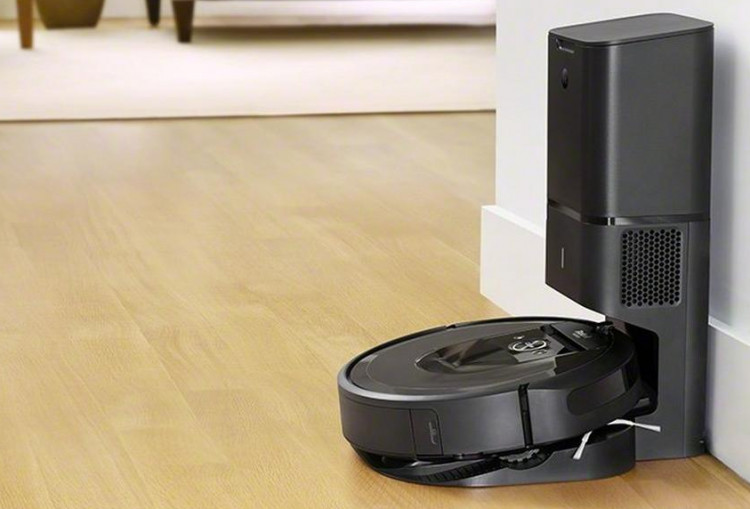 There is also a more expensive variant, the Roomba i7+; it comes with a self-emptying dock station that automatically empties the robot's bin each time it docks or whenever its bin is full, and is designed to hold 30 robot bins of dirt and debris so you can forget about vacuuming for weeks at a time. Alternatively, you can buy the self-emptying dock separately later.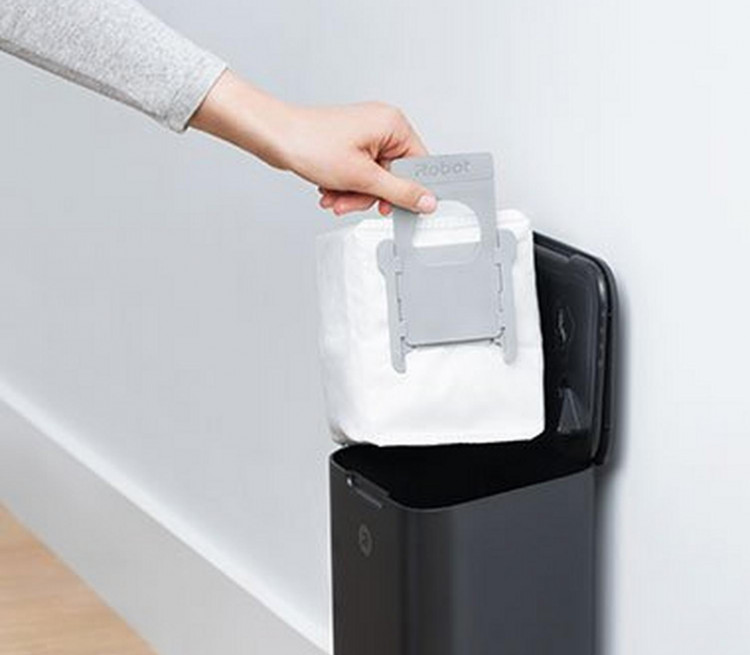 With the Roomba i7, you can divide a created map into zones, name each to make the robot clean in a particular room further. The i7 can remember up to 10 floors layouts which is a good feature for multi-floor houses.
---
Maintenance
Even though iRobot does everything for you to make floor cleaning more manageable than ever before, you still need to do some maintenance to make your Roomba work longer. Clean the dustbin from all the dirt and dust collected. Try to do it after every cleaning or as often as possible if you want your machine to last longer. The most important point is to remove all the hair from the bristle brushes (hello to the newest rubber ones), especially if there is a pet running around your home or your family member has long hair. This is pretty much it. Not much effort to spend on, huh?
Where to buy
Since English is not our first language, you may notice spelling and grammatical errors in the article. We would be very grateful if you could help us fix the mistakes. Just select the confusing part of the text with your mouse and press Ctrl + Enter, then you will be able to send us a corrected version of the text. Thank you for your effort!
---
---
Related Robot Vacuum Comparisons
Latest Articles