Which Roomba Is Right For You? Roomba Comparison Chart
·
Aug 11, 2017
·
4 min read
iRobot Roomba — Smart and Simple
Today we are going to compare the most popular robot vacuum cleaners from iRobot family - the Roomba 980, Roomba 890, Roomba 690. The price range started from $300 and up to $870 which causes some difference between the models. We will figure out do you really need to spend extra on the latest Roomba 980 or a cheaper machine would satisfy your needs. So which Roomba is right for you? Let's find out.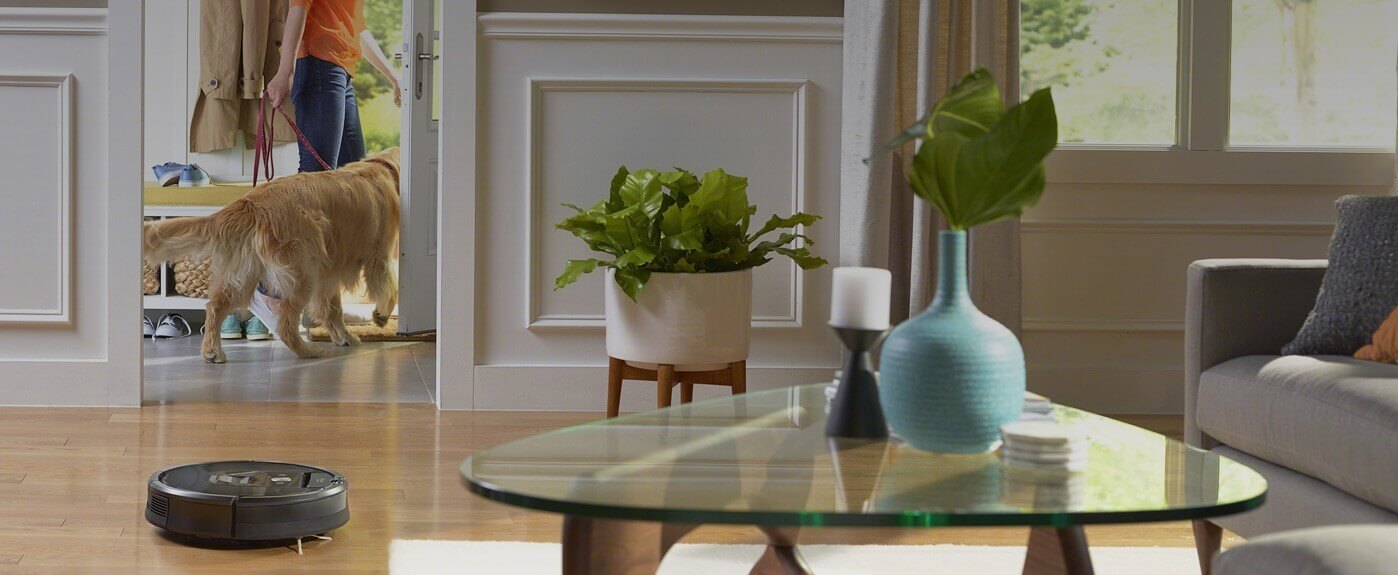 The question is: which Roomba to choose. Today we compare three of them: the Roomba 980, Roomba 890 and Roomba 690.
This is what a Roomba 980 owner says about the robot:
«The house was apparently clean, but then we switched on the Roomba robot and he found the more dust that we could ever have imagined — HA, Osnabrück, Germany»
«I love that we can program cleaning time from our app and check on its status. It is very easy to use and makes our floors look clean all the time. — One Happy Mama, Oregon»
The main specifications & features you should know about a Roomba
| Specs | Roomba 980 | Roomba 890 | Roomba 690 |
| --- | --- | --- | --- |
| Run Time (min) | 120 | 60 | 90 |
| Cleaning System | AeroForce 3-Stage Cleaning System + Carpet Boost Technology | AeroForce 3-Stage Cleaning System | Patented 3-Stage Cleaning System |
| Navigation Technology | iAdapt 2.0 + Mapping | iAdapt | iAdapt |
| Tangle-Free Extractors | yes | yes | no |
| Virtual Wall | Dual virtual walls barriers | Dual virtual walls barriers | Dual virtual walls barriers |
| Dirt Detector | yes | yes | yes |
| Self Charging | yes | yes | yes |
| Recharge & Resume | yes | no | no |
| Scheduling | yes | yes | yes |
| Filtration | HEPA | HEPA | AeroVac |
| Full Bin Indicator | yes | yes | no |
| Dirt Detect | yes | yes | yes |
| Amazon Alexa/Google Home Integration | yes | yes | yes |
| Wi-Fi Support | yes | yes | yes |
| Accessories Included | Vacuum cleaner, Dual Virtual Wall, Barriers + 4 AA Batteries, Charging Cable, Charging Dock, Extra Air Filter, User Guide | User Guide, Charging Dock, Dual Mode Virtual Wall Barrier, Extra HEPA filter, Line Cord | User Guide, Charging Dock, Extra Filter, Dual Mode Virtual Wall Barrier, Flat Brush Cleaning Tool, Line Cord |
| Warranty | 12 months | 12 months | 12 months |
How Roomba Works: Navigation
The robot is equipped with a side brush that sweeps dust and dirt from corners and then, along with strong suction and dual counter-rotating brushes, transfers it to the dustbin. Like most of the machines on the market, a Roomba has sensors that help it to navigate around without bumping into furniture and falling down from stairs.
The Roomba 980 also has a mapping feature that is called iAdapt 2.0 and Visual Localization. The technology works to create a map and build the most efficient way of cleaning on its own. When the battery's energy runs out, the device automatically docks itself to recharge. Roomba 980 though resume its session after recharging to finish the job.
Other robots in the iRobot family exept the Roomba 960, 980 and i7+ moves randomly.
iRobot HOME & Control
You can control your home assistant using the app or your voice in case you have Amazon Alexa or Google Home. The app allows viewing a created map (this feature is only available in the Roomba 960 and 980), schedule the unit to work at a specific time, switch between cleaning modes etc.
Also, all the three Roomba cleaners come with Dual Virtual Wall Barrier that blocks a "No-Go" areas so it can't cross it.
Performing on carpeting surface and hardwood floors
What is the Roomba good at - cleaning carpets/rugs. No matter how much money you would spend on the robot, the Roomba is always staying at the same position: it is great at picking small things from the floor. Even though some owners say that tangle-free rollers work not that good as bristle ones, strong suction power sucks dust, dirt and pet hair providing almost perfect cleaning. And yes, expect that this robot will work not as quiet as you might think but hey, it has a powerful motor and it still operates not as loud as your traditional vacuum.
The Roomba 980 is equipped with Carpet Boost technology that automatically identifies carpeted surface and maximizes air power to provide deeper cleaning.
What issues a Roomba faces?
Based on what consumers say, Roomba gets stuck from time to time. Even the newest Roomba 980 that comes with mapping does that. Most of the robots get stuck even the expensive ones.
Also, Roomba bumps into things kind of harsh. When some other devices slow down when their sensors recognize an obstacle, Roomba seems to run with the same speed.
The manufacturer notices that Roomba does not go over dark carpets. It happens because of its sensors that "think" the robot is going to fall, so they prevent the machine from it. And this is also not an iRobot problem only, most of the cleaners have the same issue.
The silicone rollers that are presented in the Roomba 890 and Roomba 980 were designed for picking pet hair up and work better on bare floor. Somehow, owners claim that these rollers are not that effective on carpeting flooring as bristled brushes previous models are equipped with (such as the Roomba 690).
Price & Purchase Details
The Roomba 690 comes with a price rag for around $300.

You can get the Roomba 890 for a little bit under $450.

The flagship Roomba 980 is the most expensive in iRobot line and costs about $870 which is a fair price considering its performance.
---
Wrapping It Up
The Roomba 690 is the cheapest one. It doesn't have a full bin indicator that would say where you have to empty the dust box. Also, it comes with bristled brushes that need to be untangled from hair all the time (which is annoying).
The Roomba 890 got silicone tangle-free rollers which makes it perfect for pet owners and those who have long hair. Its high-efficiency filter captures 99% of allergens, pollen, and particles as small as 10 microns providing fresh air in the room. The robot is ideal for small homes with pets.
And finally, Roomba 980 battery last the longest - 120 minutes. It has mapping, the recharge & resume option that is good for an average and bigger houses because now you do not need to guard it while the robot is working. Also, same as the Roomba 890, the flagship 980 got tangle-free brushes that are perfect for pet hair. Do not forget about carpet identification - the machine turns on its suction power to maximum once it recognizes carpeting surface so you don't need to do it manually. The Roomba 980 performs well on carpeting surface catching the smallest particles on its way and does a decent job on a hardwood floor. The robot is perfect for average-sized and bigger homes with pets.
We would recommend you to check our best Neato robot vacuums comparison chart. Neato robot vacuum is a great alternative to Roomba.
There is a detailed review of the newest Roomba e5, i7+ compared to the Roomba 690.
Depends on your budget and your needs: which Roomba would you get?
Where to buy
Found some spelling or grammatical error? Please help us to fix it!
Since English is not our first language, you may notice spelling and grammatical errors in the article. We would be very grateful if you could help us fix the mistakes. Just select the confusing part of the text with your mouse and press Ctrl + Enter, then you will be able to send us a corrected version of the text. Thank you for your effort!
---
---
Related Robot Vacuum Comparisons
Trending Articles