Roomba 980 Review - The Best Robot Vacuum For Carpets and Rugs
Michael Fisher
Jul 24, 2017 4 min read
Today we are checking up the Roomba 980 the latest robot vacuum in a long line of the Roomba models. Updated design, new features, improved features from all the models. A large cleaning button on top is simplified home to target clean buttons make it easier for one-touch use than previous models. In the back, we have a dustbin that is very simple to remove.
Click here to see customers reviews about the Roomba 980 on Amazon
Roomba 980 features & specifications:
Robot dimensions (W x H): 35.1cm x 9.2cm
Robot weight: 4.0kg / 8.8lbs
Charge time: 3 hours
Filter type: HEPA
Battery run time: up to 120 minutes
Bin capacity: 0.6l
Cleaning area: up to 185m2
Threshold clearance: 1.6cm
A big feature is the Smart Mapping Technology that creates a map of its environment as it cleans, keeping track of its location until it has cleaned an entire level
Scheduling up to seven times per week
Does not use clean brushes to grab the dirt. The robot comes with the patented tangle-free roller that is designed to pick up hair and fur without tangling
Thanks to the dual virtual wall barriers you can keep iRobot away from places you don't want it to go
With iRobot HOME app you no longer need a remote controller
The camera placed on the top of the robot scans the room and create a visual map using the vSLAM technology
3 stage cleaning performance
Accessories included:
Vacuum cleaner
Dual virtual wall barriers + 4AA batteries
Charging cable
Charging dock
Extra side brush
Extra air filter
Manual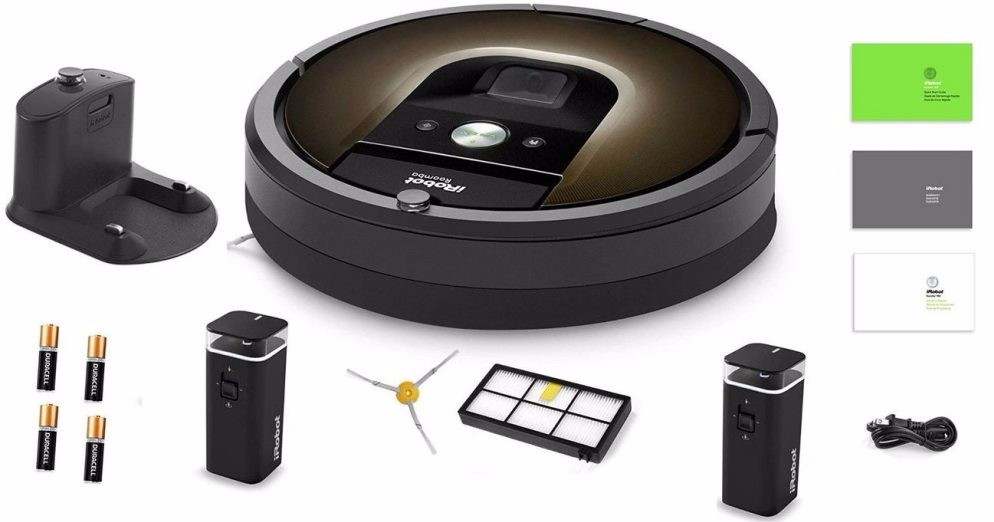 Let's have a quick look at the Roomba 980 top view & buttons / indicators: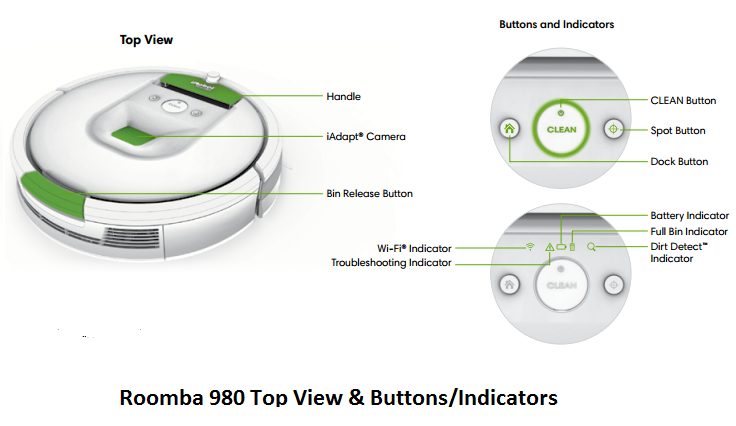 The difference between the Roomba 890 vs. Roomba 960 vs. Roomba 980
| Features | Roomba 890 | Roomba 960 | Roomba 980 |
| --- | --- | --- | --- |
| Clean all floor types | yes | yes | yes |
| 3-Stage Cleaning | 5x the air power | 5x the air power | 10x air power |
| Run Time | Up to 60 min | Up to 75 min | Up to 120 min |
| Self-Charging | yes | yes | yes |
| Wi-Fi Connected | yes | yes | yes |
| Dirt Detect | yes | yes | yes |
| Tangle-free rollers | yes | yes | yes |
| High-Efficiency Filter | yes | yes | yes |
| Multi-Room Navigation | no | yes | yes |
| Clean Map Reports | no | yes | yes |
| Recharge & Resume | no | yes | yes |
| Deeper Cleaning on Carpets | no | no | yes |
| Scheduling | yes | yes | yes |
| Buy on Amazon | Buy Now | Buy Now | Buy Now |
In the box, you find two virtual walls with little battery columns that keep the Roomba out of places it doesn't need to go.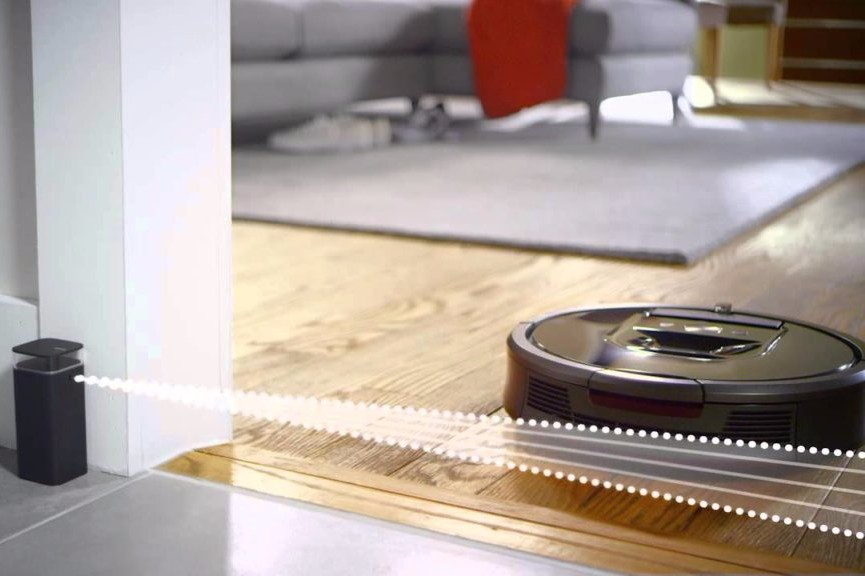 iAdapt 2.0 navigation sensors allow it to move around the house and clean the floor without bumping into furniture. iRobot's vSLAM technology actually scans the area around the robot and create a visual map that you can see on your smartphone. The app shows where Roomba 980 has cleaned.
3-Stage cleaning includes:
Stage 1: Sweeps corners and edges.

Stage 2: dual counter-rotating rubber brushes remove dirt and dust from your floor.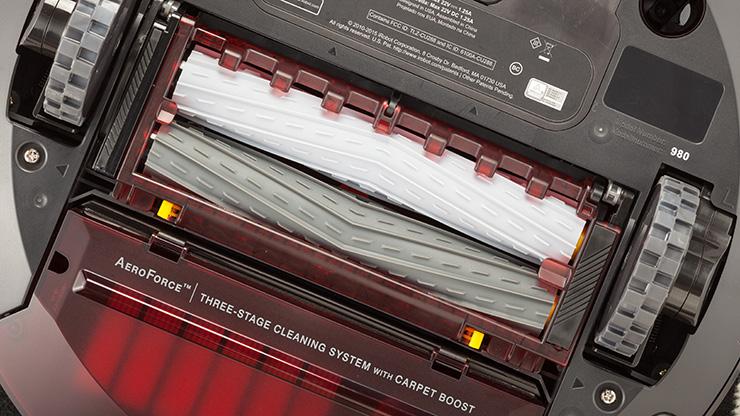 Stage 3: Suction dirt and filters debris: the high-efficiency HEPA filter captures 99% of dust, mites, and allergens as small as 10 microns.
Dirt-detect sensors make the robot spend more time to clean the most concentrated areas of debris.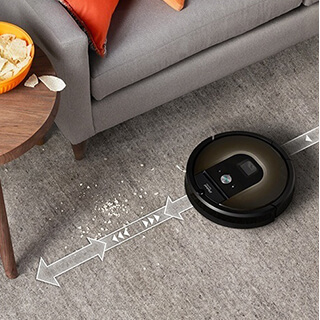 Is the iRobot Roomba 980 good on a carpet?
Roomba 980 clean a bare floor, rugs, and carpets. It can automatically detect carpeted surface and boost suction power when it gets to the carpet. Thanks to Power Boost mode the robot can increase air power up to 10x compared to Roomba 600 & 700 series, it helps to catch more dust and dirt from the carpet. The device auto-adjust cleaning head and automatically change the clearance between the floor and the robot to make the multi-surface brushes in close contact with different types of floors. The dual multi-surface brushes handle pet hair with ease.
If you have a black carpet, the robot will not work on it. Most robot cleaners face this, and it caused by cliff sensors — they don't work correctly on the black surface mistaking these surfaces as cliffs or drop off.

If it's been up cleaning your mention for the whole two hours and the battery becomes low, it will go back to the dock, recharge and resume the cleaning where it left off to finish the job.
Some cleaning modes and sensors help Roomba 980 to clean more efficiently than previous models:
Cliff sensors help Roomba to avoid falling from stairs
Automatic Mode for a bust of power on carpets and rugs
Performance Mode for maximized cleaning for all floor types
Eco-Mode for a quieter clean and extended cleaning time.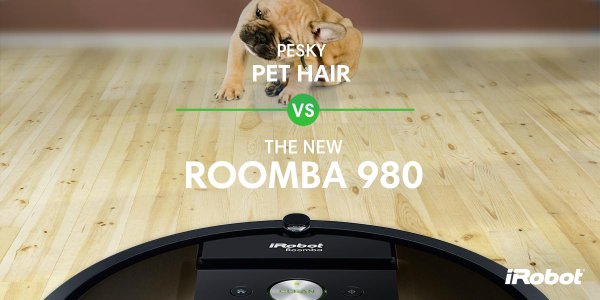 Another big feature is the iRobot HOME app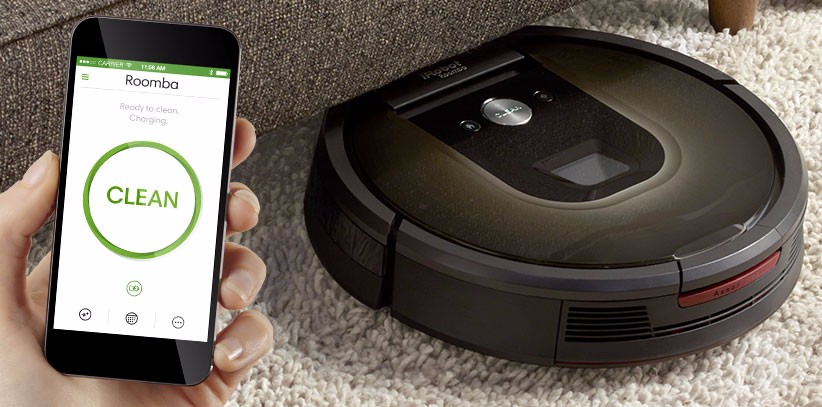 The app is going to control the Roomba's most tasks: scheduling, remote cleaning and changing, and any other options they all are going to be done with this app. Inside you are going to find the Midnight schedule, how dirty your dustbin and rollers are, and how much space in time the robot has cleaned. You can view your history log duration and details. The full update let us visualize on a map where the robot detected extra dirt or maybe if it missed the area and things like that.
Watch Roomba 980 Review
What could be better
Roomba 980 is louder than previous versions but it depends on the mode that you are using
Not perfect navigation. Sometimes it gets stuck somewhere in the house, but once you figure out the problem areas, it becomes easier for the robot to clean
The silicone rollers are great at picking up pet hair and cleaning all types of bare floors. A bristle brush cleans carpeted surfaces better.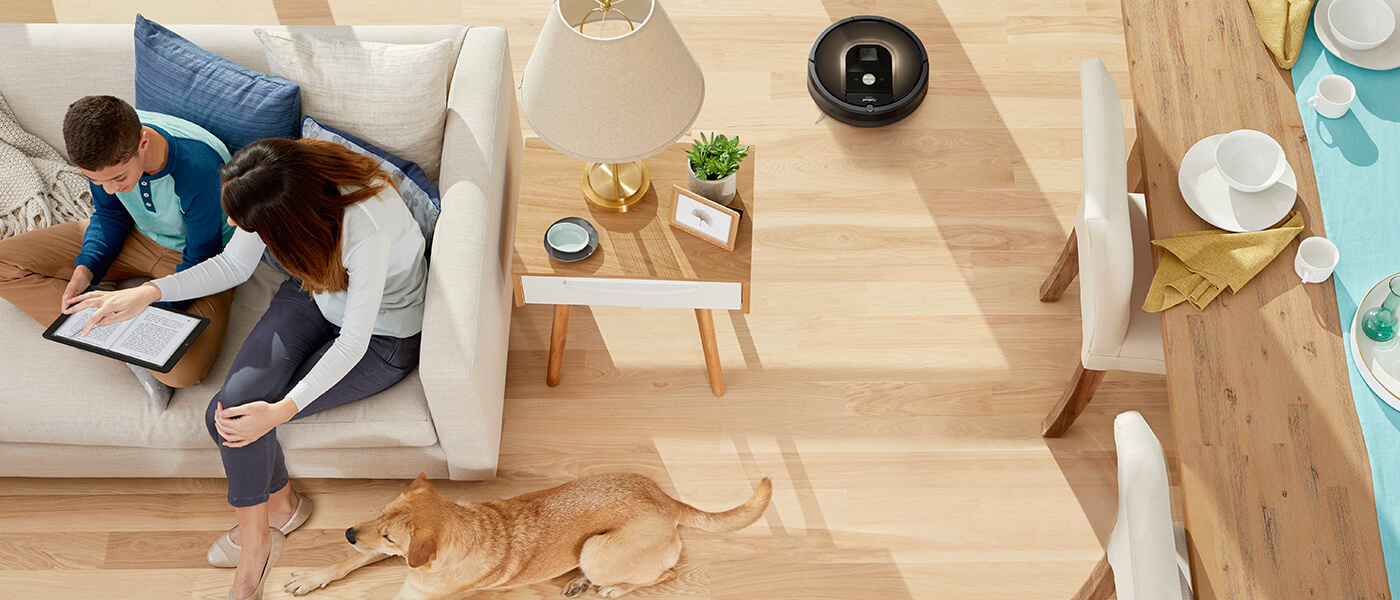 In the end
The Roomba 980 is quite expensive since it cost about $700. The robot is ideal for big homes with a mixed surface. It is the one of best iRobot vacuum cleaner so far. High-level cleaning performance provides deeper cleaning especially on carpeting surface. Anyway, if you don't want to spend much or you don't need those extra features they have cheaper models available all depends on what you needed.
You can also take a look at our another article where we compare Roomba 980, Xiaomi Mi Robot and iLIFE V7S.
The Roomba 980 Alternatives
Check out our latest review of Roomba alternatives where we chose the best robot vacuums from different manufacturers that have similar features.