ECOVACS CEN540-LG vs DG801 vs DE33 Comparison
·
Updated: Feb 1, 2019
·
4 min read
ECOVACS Deebot already got popular on Amazon. Its models such as the Deebot N79, upgraded Deebot N79S, and Deebot M80 Pro have thousands of good reviews. Now the manufacturer released three new models: the CEN540-LG, DG801, and DE33. Let's see what ECOVACS has this time.
| Specs | ECOVACS CEN540-LG | ECOVACS DG801 | ECOVACS DE33 |
| --- | --- | --- | --- |
| Suction Power | 1000 Pa | 1000 Pa | 800 Pa |
| Battery Capacity | 2600 mAh | 2600 mAh | 3000 mAh |
| Cleaning Time | 120 min | 120 min | 120 min |
| Noise | 60 dB | 60 dB | 57 dB |
| App | yes | no | yes |
| Wi-Fi | yes | no | yes |
| Cleaning Coverage | 150 m2 | 150 m2 | 120 m2 |
| Mopping | yes | yes | no |
| Mapping & Smart Planning | no | no | yes |
| Carpet Boost | no | no | yes |
| Scheduling | yes | yes | yes |
| Auto-Charging | yes | yes | Recharge & Resume |
| Dustbin Capacity | 300 ml | 350 ml | 350 ml |
| Water Tank Capacity | 220 ml | 300 ml | - |
| Climbing Ability | 15 mm | N/A | 17 mm |
| Cliff Sensors | yes | yes | yes |
| Warranty | 12months | 12 months | 12 months |
Robot vacuums mentioned in the article:
ECOVACS CEN540-LG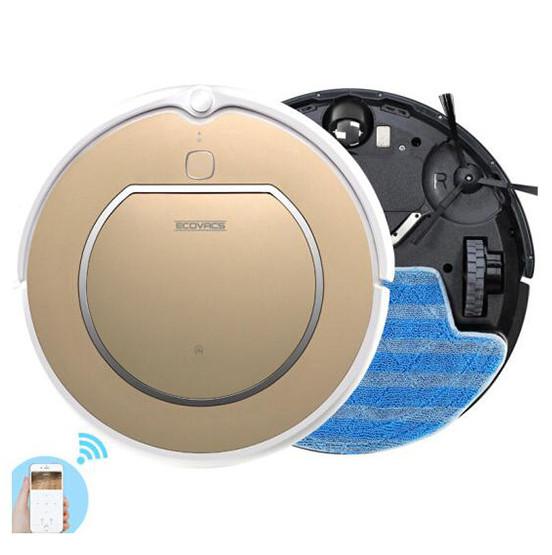 ECOVACS CEN540-LG is the cheapest here. It is a 2-in-1 robot vacuum that can mop an sweep. Its water tank comes with a water-dripping control so the mop is not too wet when the robot is working.
The device has an app where you can schedule the robot, switch between cleaning modes, and adjust suction when needed. The motor delivers 1000 Pa of suction power making the robot suitable for a bare floor and thin carpeting flooring.
Two side sweepers catch the dust and dirt from corners where along with suction power transfer it to a suction port. Since it does not have a cleaning brush you should not worry about hair tangled. Even though it is a nice option, no brush design is not suitable for carpets. It does sweep thin carpets/rugs but do not expect deep cleaning from this robot. Mostly the device is designed to work on a hardwood floor, tile, laminate, linoleum, marble etc.
The robot's body equipped with cliff sensors that ensure it from bumping and falling down. When ECOVACS CEN540-LG battery runs out of energy, the robot automatically returns to its docking station to recharge.
What is good about ECOVACS CEN540-LG
The price is affordable, this robot has an app so it can be controlled while you are not home. It can wet mop your floors. Long battery life covers a big cleaning area in one charge.
What we would like ECOVACS CEN540-LG to have
It does not compatible with Amazon Alexa or Google Home. Also, it is not able to sweep carpets.
ECOVACS DG801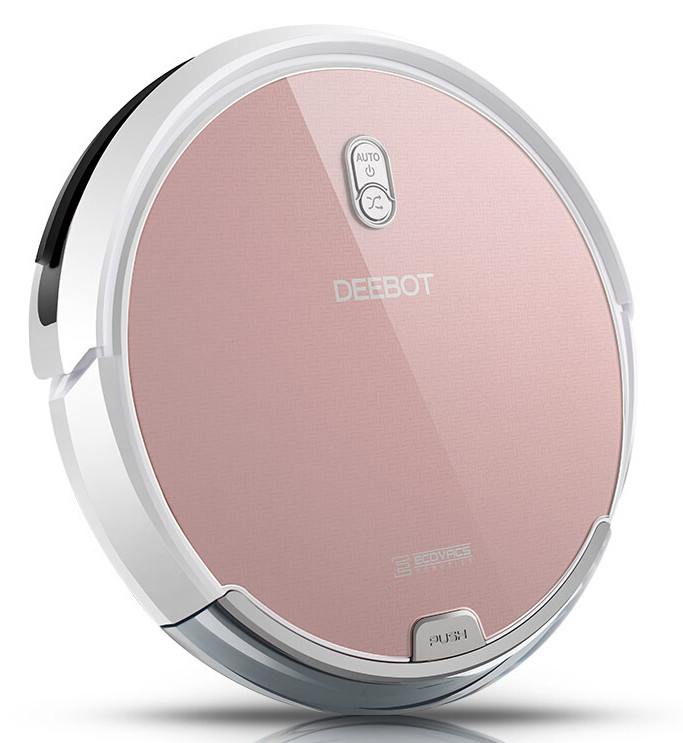 ECOVACS DG801 is somehow similar to its brother ECOVACS CEN540-LG. It also a 2-in-1 robot cleaner that mops and sweeps. It comes with two containers: water and the one for dust. When in mopping mode, water container controls water dripping so your floor will not be too wet. The robot is equipped with a rubber cleaning brush that is tangle-free. It was designed to work better on a bare floor collecting pet hair and long human hair without it being tangled. The 7.2cm slim body allows DG801 to clean in hard-to-reach places. The machine has high precision sensors that help it to maneuver around. As well as other ECOVACS from this list, DG801 will not deep clean a carpet, it suitable for a bare floor and thin carpet flooring. ECOVACS DG801 automatically return to charging base after cleaning.
What is good about ECOVACS DG801
Mopping ability makes this robot ideas for bare floors. Stylish design fits in any home. Long lasting battery covers a large cleaning area.
What we would like ECOVACS CEN540-LG to have
Wi-fi enabled would be a great option because, hey, we are living in 21 century, aren't we? Also, the ability to switch its rubber brush to a bristle one is a great thing, because even though the rubber roller is tangle-free it does not as efficient on carpeting surface as its bristle brother.
ECOVACS DE33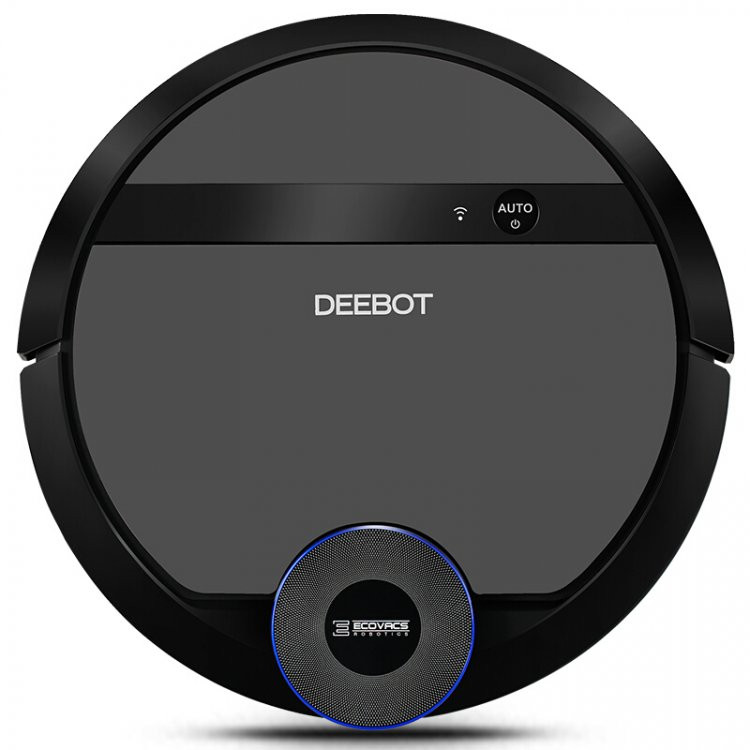 Ecovacs DE33 is a smart robot vacuum cleaner that comes with mapping and intelligent path planning. Mapping technology is based on LDS laser that scans interior and allows the robot to work in the dark. After the map has created, SLAM algorithm builds the most efficient path of cleaning. The device has two sweepers, a cleaning brush and a motor that work together to provide maximum efficient cleaning. ECOVACS DE33 is equipped with two slots: suction port that is mostly for a bare floor cleaning since it prevents hair tangling, and a slot with a cleaning brush. Voice function alerts when the robot needs help, tell about its status etc. Also, there is an intelligent carpet identification present. Whereby the suction robot can tell when a carpet under it, and the suction force is increased.
On the app you can see a map, real-time movement, where the robot has been, manage the robot to go clean uncleaned areas manually, see its cleaning status etc.
This robot is not suitable for cleaning thick carpets but does a great job on a hardwood floor, laminate, linoleum, marble, tile and thin carpets/rugs. Also thanks to its bristle brush and the suction port, the robot is good at picking up pet hair making it ideal for pet owners.
ECOVACS DE33 returns to recharge when its battery needs energy and then continue its cleaning from the point it left off.
What is good about ECOVACS DG801
Mapping option is always a great idea. Smart navigation is more efficient than a random pattern. Laser-based technology ensures the machine to work in the dark. The app that allows to view a map, watch the robot in real-time etc. Recharge & resume option gives you time for yourself so the device gets its job done on its own so you do not to babysitting.
What we would like ECOVACS CEN540-LG to have
Unfortunately, this model is not suitable for medium and thick carpets. Also, so far it does not support Amazon Alexa/Google Home.
---
Price & Where To Buy
ECOVACS CEN540-LG is the cheapest from its brothers. You can get it on Gearbest for a price of about $129.99.
Find ECOVACS DG801 on Gearbest. It comes with a $269.99 price tag which is more or less reasonable price consider its performance.
The smartest Ecovacs DE33 that has mapping costs about $329.99 on Gearbest at this moment.
**please note that prices may change
---
To Wrap It Up
All the robots perform great on a hardwood floor, tile, marble, linoleum, laminate etc. Same with pet hair: all of them are great at picking it from bare floors.
However, do not expect deep carpet cleaning. These machines are still able to catch pet hair from thin carpets but if you want a device that would suck dust from your carpet - you need other models.
Decent battery life (120 minutes) covers a large area making all three machines suitable for small and medium-sized homes.
On the other hand, Ecovacs DE33 comes with mapping feature so this robot will methodically clean your house without missing a spot while other robots from this list have a random pattern navigation which means they do not remember where they have been.
ECOVACS CEN540-LG and ECOVACS DG801 have mopping ability. Even though this feature is not able to clean stubborn stains, it is able to give a fresh look to your bare floor.
Do not forget that if your robot will work twice or three times per week it consistently decreases the needs to use a traditional vacuum.
---
---