10 Reasons Why You Should Buy A Robot Vacuum Cleaner
·
Updated: Dec 17, 2018
·
3 min read
"Why should I get a robot vacuum cleaner?" - Everyone wants to know the answer to this question. Is there a person who hasn't heard about robot vacuum cleaners? How many times did you catch yourself thinking of buying one? Is it pricey or wasting money? Do you really need to buy a robot vacuum cleaner and why? Let's find out: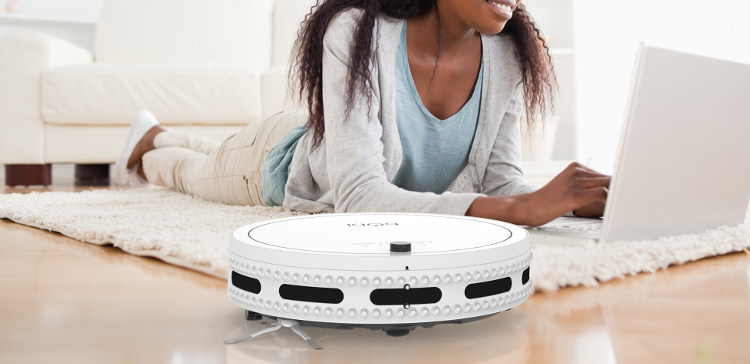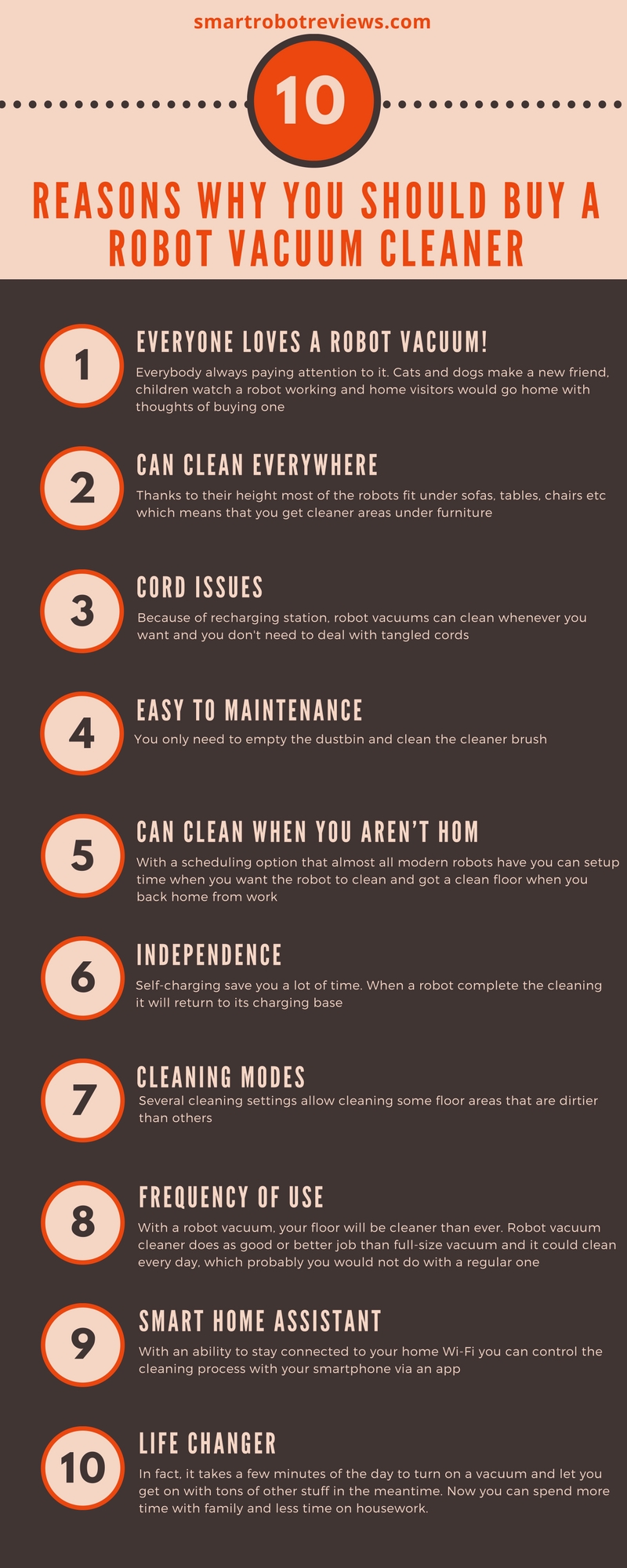 1. Everyone loves a robot vacuum!
Kids, pets and home visitors are always paying attention to it. Cats and dogs make a new friend; children watch a robot working and home visitors would go home with thoughts of buying one.
2. Great decision for people who cannot push or pull a vacuum since robots are small and lightweight.
3. Can clean everywhere.
Thanks to their height most of the robots fit under sofas, tables, chairs, etc which means that you get cleaner areas under furniture.
4. Good looking home assistant.
They have amazing modern designs that fit into any house.
5. Can Clean When You Aren't Home (Scheduling).
With a scheduling option that almost all modern robots have you can setup time when you want the robot to clean and get a clean floor when you back home from work.
6. Smart Home Assistant.
With an ability to stay connected to your home Wi-Fi you can control the cleaning process with your smartphone via an app.
7. Independence.
Self-charging save you a lot of time. When a robot completes the cleaning, it will return to its charging base.
8. Easy to Maintenance.
You only need to empty a dustbin and clean a cleaner brush (which couldn't be a problem with rubber ones that some robots such as Roomba 980 and iLIFE A6 have).
9. Cord Issues.
Because of recharging station, robot vacuums can clean whenever you want, and you don't need to deal with tangled cords.
10. Life Changer:
10.1. Cleaning Modes.
Several cleaning settings allow cleaning some floor areas that are dirtier than others.
10.2. Time Saver.
It takes a few minutes of the day to turn on a vacuum and let you get on with tons of other stuff in the meantime. Now you can spend more time with your family and less time on housework.
10.3. Frequency of use.
With a robot vacuum, your floor will be cleaner than ever. The robot vacuum cleaner does an as good or better job than full-size vacuum, and it could clean every day, which probably you would not do with a regular one.
10.4 Is it good or bad?
After buying a robot vacuum, you get considerably better-organized life in some ways. It forced you to "de-clutter" parts of your home which you usually do before cleaning with a regular vacuum, right?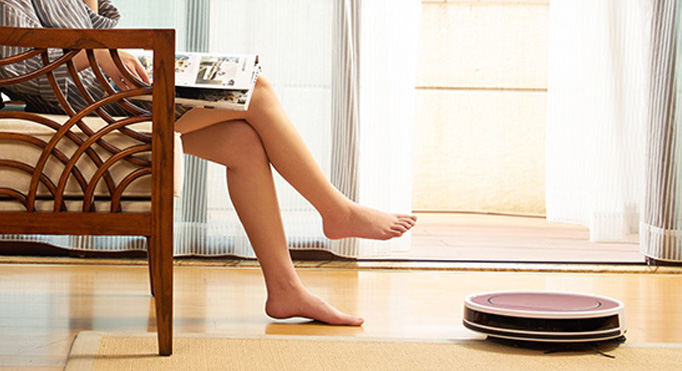 Is a robot vacuum cleaner worth spending money on?
If you imagine spending a lot of cash on a robot vacuum cleaner you have to read about what is the difference between expensive and budget robot cleaners.
There are a variety of different cleaners that suitable for any budget. The price range starts at about $50 and ends up to $1000 and more.
Even the cheapest robovac cold suit your needs depending on what you expect from the device.
These little helpers are worth spending money on, and it's not necessarily mean breaking your budget to buy one.
The Last Word
There is a robot vacuum cleaner in my home that helps me to clean my floors for the last two years. My life did change with it. Now my floors are cleaner than ever (I have both: carpets, tile, and laminate) because I use my ILIFE V7 almost every day compared with using a regular vacuum once a week. Instead of spending 20 min os sweeping the floors I can drink my favorite coffee of doing whatever I want while the ILIFE V7 is working.
What would I suggest before buying one? If your home mostly is about bare floors - have a look at a cleaner with a tangle-free brush. Bristle brushes are great at working on carpets, and they become your everyday pain when it comes to hair untangling.
For carpeting surface - have a look at the ones that have strong suction. My vacuum is excellent but it sweeps more than vacuums and if you want deep cleaning on carpets - such machines as ILIFE V7 are not for this purpose.
Is buying the robot worth it? I'd said: this is THE BEST decision that completely changed my life.
P.S.: And lastly, you can still use your pets and some old-school cleaning technique:
---
---