How To Solve Wi-Fi Connection Issue With the Roborock S4 / S5 / S6
A lot of users who bought the Roborock S5 (also known as the Roborock S55, S50, S551, and S501) have some troubles with connecting the robot to Wi-Fi. Here is a step-by-step tutorial on how to solve the connection issue with the Roborock S5 (it is also suitable for the newest Roborock S4 and S6 models. I've checked this method with an Android phone, for iOS devices, the steps should be very similar.
The S4 and S6 models can be paired via the Mi Home (Android, iOS) and Roborock app (Android, iOS) when the S5 supports only the Mi Home app.
Step 1
Go to the Mi Home app settings and change the region to your local region, do not select China mainland.
Step 2
Go to the phone settings and make sure the location permission for the app is enabled.
Step 3
If your Wi-Fi password contains special characters like questions mark, colon, change the password without them to have a try.
Step 4
If the app says it could not connect to the public Wi-Fi, it is probably because your Wi-Fi encryption mode is WEP. You should log in to your router settings page (192.168.1.1 or 192.168.0.1) and change the encryption mode to WPA or WPA2.
Step 5
You could try to reset Wi-Fi by holding the "recharge" button and the "spot cleaning" button for 5 seconds until you hear a voice prompt.
I would also recommend to download and read the official step-by-step guide on how to connect the Roborock S5 with your smartphone:
* Please notice the vacuum could not connect to 5GHz Wi-Fi.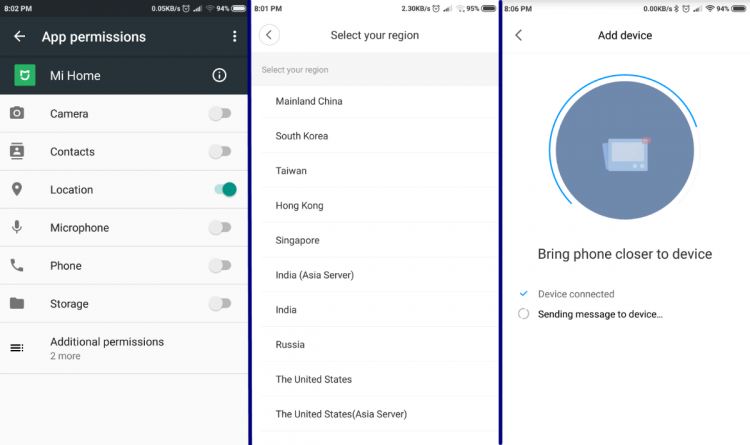 Notice: Please keep your eye on Wi-Fi indicator light under the cover of the device. It will flash with higher frequency than normal status when it is trying to connect wifi and become solid when it is connected. Sometimes app may show error after connecting steps finish, but the Wi-Fi indicator light becomes solid and the device is actually connected to Wi-Fi successfully. In this situation, please close the app and run it again to see if the robot is on the list of app.
If you want to use the Roborock with Alexa, please check this manual.
If you tried everything and it still doesn't work, I would recommend you to contact Roborock official customer support:
I hope it will help you. If you have any questions or tips, please leave a comment below. You can also ask any questions related to Roborock product in the unofficial Roborock community on Reddit.
---