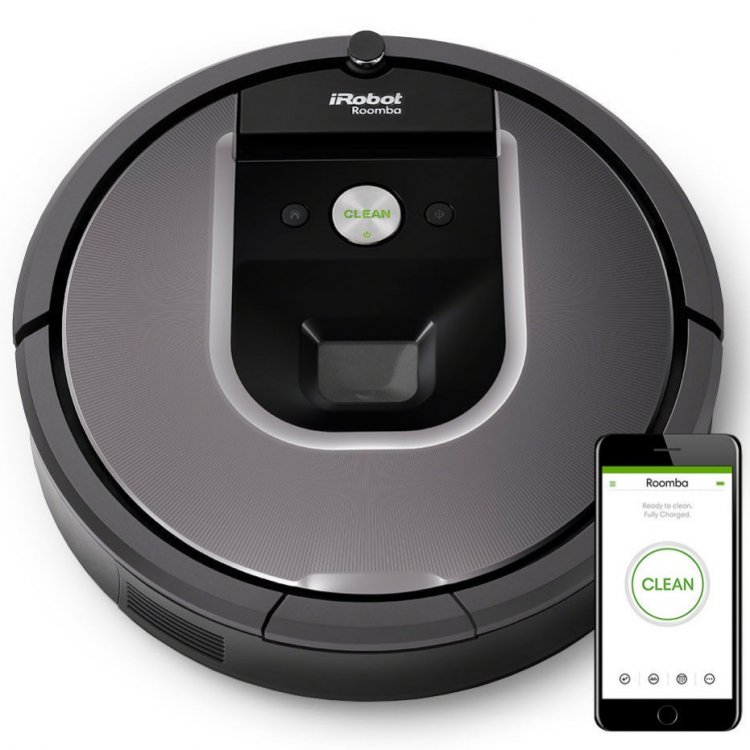 iRobot Roomba 960 Features
Main Features
Mapping / Path planning

yes

Mapping Sensor Type
camera
High-Precision Map

yes

Recharge & Resume

yes

Automatically Docks and Recharges

yes

Noise Level
65

db

LCD Display

no

Side Brushes (one or two)
1

pcs

Voice Prompts

yes
Cleaning Features
Suction Power
900

Pa

Сleaning Area
1615 ft2 / 150 m2
Recommended Home Size
medium, big
Cleaning Modes
auto, spot cleaning
Dustbin Capacity
600

ml

Automatic Dirt Disposal

no

Wet Mopping

no

Barrier-cross Height
0.79

in

/ 20

mm

HEPA Filter

yes

Washable Filter

no

Сarpet Types
low-pile, medium-pile
Bare Floor Types
hardwood, vynil, marble tile, ceramic tile, laminate, linoleum
Battery
Battery Capacity
2600

mAh

Run time
75

min

Charging Time
120

min

Rated Power (Watts)
30

W
Control
Scheduling

yes

IR Remote Control

no

Wi-Fi / Smartphone App

yes

Wi-Fi Frequency Bands
2.4

GHz

Amazon Alexa Support

yes

Google Assistant Support

yes

Magnetic/Optical Virtual Walls

yes
App Features
Real-time tracking

no

Digital Blocked Area

no

Zoned cleaning

no

Multi-floor maps

no

Manual movement control

no

Selected Room Cleaning

no
Sensors
Carpet Boost

no

Anti-drop / Cliff Sensor

yes

Dirt Detect

yes

Full Bin Indicator

yes
Other Specifications
Robot Weight
8.38

lbs

/ 3.8

kg

Robot Width
13.78

in

/ 35

cm

Robot Height
3.50

in

/ 8.9

cm

In the box
charging station, line cord, extra filter, cleaning tool, owner's guide, documentation package, dual-mode virtual wall, extra side brush
Release Date
Aug 2016
Warranty
12

months
Along with the latest Roomba 980, Roomba 960 is one of the flagship products from iRobot. The robot comes with mapping that is based on a camera sensor. This technology helps the unit to create a map of an interior and build the most efficient path of cleaning. Dual Mode Virtual Wall Barrier exist to block "no-to-go" areas. Like other Roombas, 960 has advanced dirt detect technology that provides more careful cleaning in the dirtiest places. Also, the machine is equipped with a "Full Bin" indicator that tells when the dustbin has to be emptied. Double silicone brushes were designed for picking pet hair up. These are anti-tangle, so you don't have to worry about wrapped hair.
With Wi-Fi enabled, Roomba 960 is Amazon Alexa/Google Home integrated. The app allows us to see cleaning history, start, stop, view notifications, etc. Roomba 960 is perfect for homes with pets and small/average sized households. After its battery runs out, the machine gets back to recharge and then continue from the point it left off.
Based on consumer reviews the silicone rollers work a little bit worse on carpets than bristled ones that were in the previous models. It also sometimes gets stuck. Not suitable for big homes.
Pros
Thanks to mapping the robot doesn't miss a spot when cleaning
Silicone rollers are perfect for pet hair
Decent barrier-cross height
Suitable for bare floor and thin carpets. Struggles with the smallest particulars on thicker carpets
Ideal for small and average homes thanks to the recharge & resume feature
Dirt detect provides deeper cleaning on high-traffic areas
Full bin indicator lets you know when the container needs to be emptied
Cons
Pricey
Map disappears once the cleaning is complete
---
The Roomba 960 handles bigger debris on carpets but struggles with smaller particulars.
The Roomba 960 is suitable for small and average homes with pets and mixed surfaces.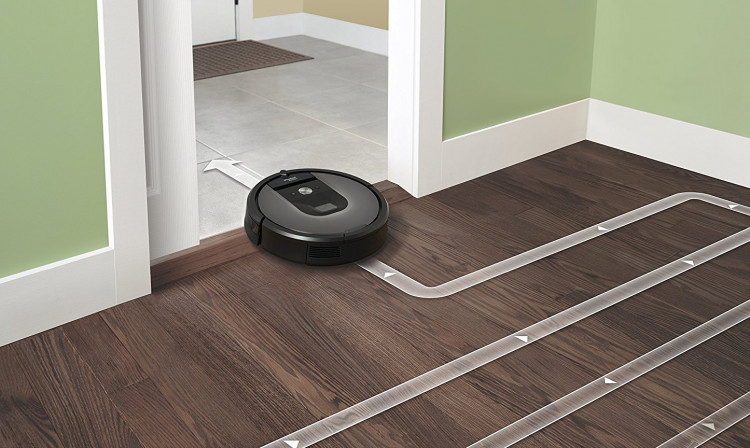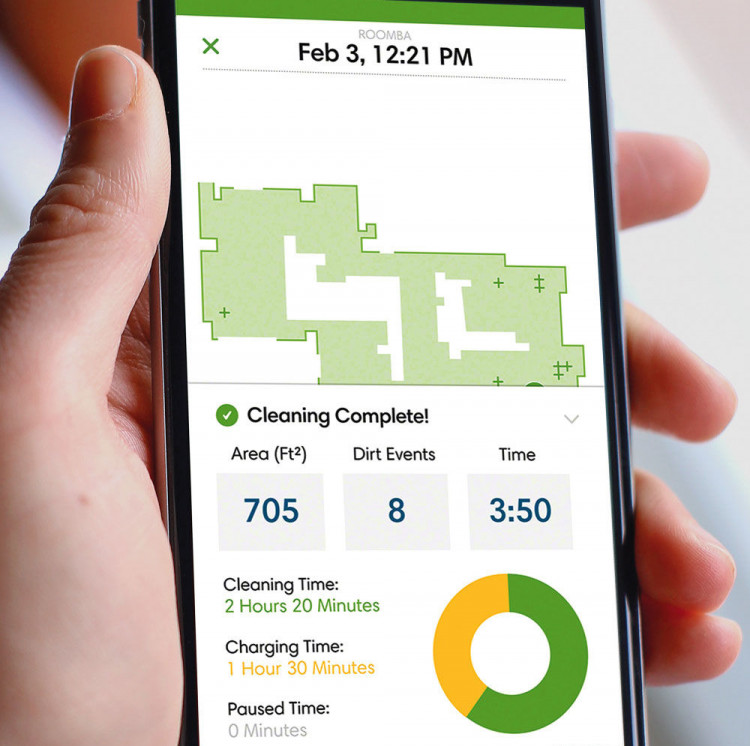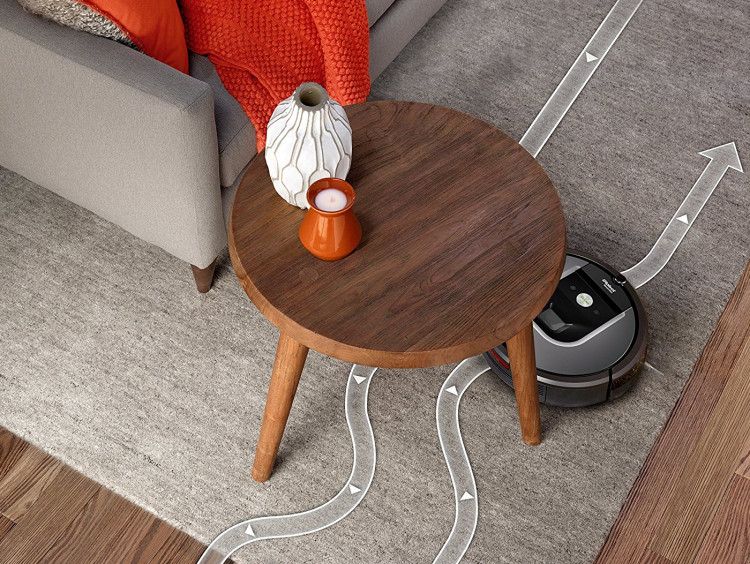 Question 1: How does it do with pet hair?
Answer: The Roomba 960 is equipped with tangle-free extractors that are the best solution for pet hair. It takes a few seconds to clean the rollers but if you have thick carpets, the robot might not be able to get pet hair hidden away. On bare floors and thin carpets, it does a great job.
Question 2: Does the Roomba 960 bump into furniture as much as the older models?
Answer: The Roomba 960 has a camera sensor for mapping so it knows where furniture is. It slows down a bit before reaching one. But it does bang into obstacles occasionally anyway.
Question 3: Does it work in a 3-story house?
Answer: The Roomba 960 does not save a map. You can see it in cleaning history. You can use it on the second and third floor tho by manually moving it to another floor. If you want the robot to save this cleaning cycle, it would need to start and finish from the charging base.
Question 4: Will the robot know where to go if a cat sits on it?
Answer: The camera on top maps an interior of the house, if it is physically blocked, the robot will not "see" the obstacles/furniture. It still will be able to vacuum but would not be following a purposeful cleaning pattern and might miss some spots.
Question 5: Will the robot stop working if there is something big on the floor?
Answer: If you left a sock or anything that big, the Roomba most likely will suck it up and shut down asking you for help which you will be aware of through the app.
Question 6: Can you schedule the Roomba 960 work within specific rooms on different days?
Answer: No, the Roomba 960 does not save a map. It's having no clue about your floor plan before starting vacuuming. You can't make it work within specific rooms and there is no way to interact with the map other than seeing cleaning history. You can only schedule it to clean the whole house at a specific time.
Question 7: Does this get stuck less than previous versions?
Answer: The Roomba 960 has a plan of your floors which helps it to stuck less but occasionally it would be stuck but no more than the same as the other vacuums on the market.
Question 8: Can it work in the dark?
Answer: The Roomba 960 has a camera that builds a map of the cleaning area, it helps the robot to not miss a spot when vacuuming. With the light on, it understands where it should go. It can work in the dark tho it would not map at the area and just bounce around untill needs to recharge.
Question 9: Will it avoid wires?
Answer: There is no robot vacuum that is able to avoid wires on its own. You can use a dual virtual wall barrier to keep the robot from the areas with wires/cords.
Question 10: Can you wash the HEPA?
Answer: The HEPA inside the Roomba 960 is not washable but you can vacuum it with a traditional cleaner.
Question 11: How often do you have to empty the dustbin?
Answer: It depends on your usage / having pets, etc. We recommend emptying the dustbin after every cleaning.
Question 12: How many square feet will the 960 vacuum on a single charge?
Answer: The manufacturer claims the Roomba 960 covers about 1615 ft2 / 150 m2 of a cleaning area on a single charge.
Question 13: Does it work on dark surfaces like carpet or black hard floor?
Answer: The Roomba 960 has cliff sensors that might think black carpet is a drop-off. It won't go over black surfaces.
Question 14: Does it work on hardwood floors?
Answer: Yes, it does a flawless job on hardwood floors.
Question 15: What is the difference between the Roomba 960 and Roomba 980?
Answer: Battery life, suction power, carpet identification. Learn more in our Roomba 960 vs. Roomba 980 comparison
Question 16: Does it do stairs?
Answer: No, the Roomba 960 (as much as any other robot vacuum) does not do stairs.
Question 17: Can the Roomba 960 do high-pile carpets?
Answer: The Roomba 960 is more suitable for bare floor, thin and some medium-pile carpets.
Question 18: Can I set virtual barriers to block it off some rooms?
Answer: The Roomba 960 does not support any digital virtual barriers but it does come with a physical virtual wall barrier that can block one cleaning area you don't want the robot to go.
Video reviews of the iRobot Roomba 960
---