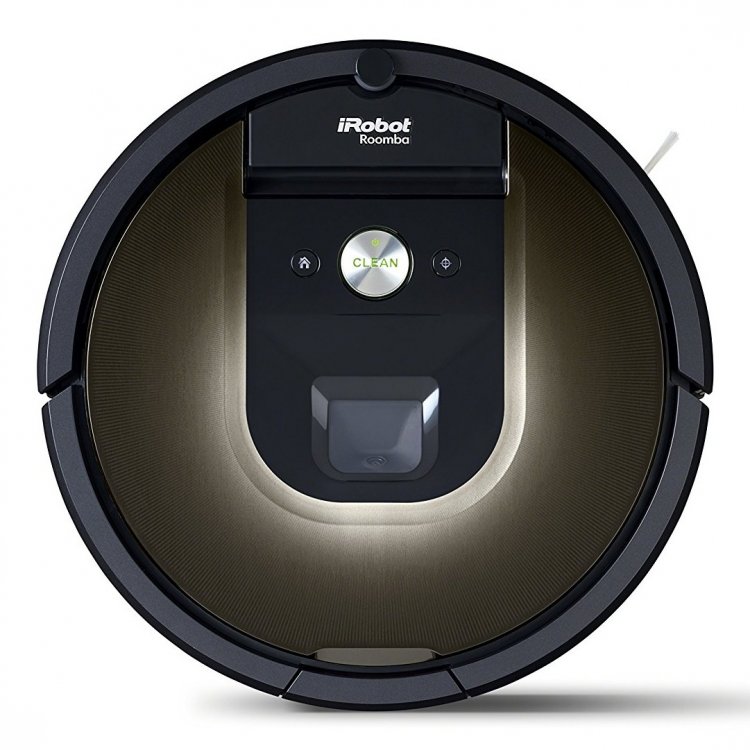 iRobot Roomba 980 Features
Main Features
Mapping / Path planning

yes

Mapping Sensor Type
camera
High-Precision Map

yes

Objects recognition (front camera)

no

Recharge & Resume

yes

Automatically Docks and Recharges

yes

Noise Level
70

db

LCD Display

no

Side Brushes (one or two)
1

pcs

Voice Prompts

yes
Cleaning Features
Suction Power
1700

Pa

Сleaning Area
1991 ft2 / 185 m2
Dustbin Capacity
600

ml

Automatic Dirt Disposal

no

Wet Mopping

no

Barrier-cross Height
0.79

in

/ 20

mm

HEPA Filter

yes

Washable Filter

no
Battery
Battery Capacity
3300

mAh

Run time
120

min

Charging Time
120

min

Rated Power (Watts)
43

W
Control
Scheduling

yes

IR Remote Control

no

Wi-Fi / Smartphone App

yes

Wi-Fi Frequency Bands
2.4

GHz

Amazon Alexa Support

yes

Google Assistant Support

yes

Magnetic/Optical Virtual Walls

yes
App Features
Real-time tracking

no

Digital Blocked Area

no

Zoned cleaning

no

Multi-floor maps

no

Manual movement control

no

Selected Room Cleaning

no

No-mop zones

N/A
Sensors
Carpet Boost

yes

Anti-drop / Cliff Sensor

yes

Dirt Detect

yes

Full Bin Indicator

yes
Other Specifications
Robot Weight
8.69

lbs

/ 3.94

kg

Robot Width
13.90

in

/ 35.3

cm

Robot Height
3.60

in

/ 9.14

cm

In the box
charging station, line cord, extra side brush, 2 dual mode virtual wall barriers with batteries, extra filter
Release Date
Sep 2015
Warranty
12

months
The Roomba 980 is the latest flagman robot from the iRobot family. It comes equipped with an upgraded dirt sensor that finds the dirtiest area and provides deep cleaning. Along with this, the Roomba 980 has a carpet boost option that maximizes its suction power up to 10 times once the Roomba understands it is on a carpeted surface. Its iAdapt 2.0 Navigation with Visual Localization technology is based on a camera sensor. After the robot creates a map, it builds the best cleaning path. The robot has silicon rollers that are supposed to work better on a bare floor and are ideal for pet hair.
The Roomba 980 comes with virtual walls that keep it from places the robot should not cross
The iRobot Home app allows start/stop the robot, see cleaning history, scheduling it, etc. Roomba 980 is integrated with Amazon Alexa and Google Home. You can just ask Alexa or the Google Assistant to start, stop, or dock your robot. With the recharge & resume function, the Roomba 980 works for about 120 minutes, gets back to recharge and continue cleaning when it's done charging. A dustbin indicator tells you when you need to empty it.
If you have pets, the dustbin fills up during every cleaning session and has to be emptied before the Roomba finishes working.
10 reasons to buy the Roomba 980 over other robot vacuums?
Dirt detect. Only presented in the Roomba model line. It recognizes high-traffic areas and boosts air power to a max level providing deeper cleaning on these spots.
Full bin indicator. It alerts when the container has to be emptied. You can either stop the cleaning cycle or pause the robot to clean the box.
Brushless rollers. These are tangle-free, perfect for pet hair.
The robot is equipped with a camera sensor to remember your home layout thus making cleaning more efficient.
Recharge & Resume feature makes the vacuum cover a bigger area.
The Roomba 980 recognizes carpetted surface. Only 11% of models have this option.
A few models in the industry are able to climb an obstacle up to 20 mm height. It makes the Roomba 980 ideal for thicker carpets.
The battery life is longer than most of the robot cleaners have.
Compatibility with Amazon Alexa and Google Home allows controlling the robot with simple voice commands.
The Roomba is easy to connect to Wi-Fi.
Best of the Roomba 980
Decent battery life
Tangle-free rollers
Virtual walls included in the box
Great bare floors performance
Works well on carpeted surface (low and medium-pile ones)
Compatible with Amazon Alexa and Google Home
Carpet boost provides deep cleaning
What could be better
The robot is loud
It gets stuck occasionally
The map disappears after every cleaning, the Roomba 980 creates a new one every time when it starts cleaning.
iRobot Roomba 980 maintenance
Even the best robots require some maintenance the Roomba 980 is no exception. Regularly check the side sweeper, it might get some hair wrapped around. Monitor sensors, they should be clean from dust to help the Roomba move around. Even though the rollers are tangle-free, it would be great if you look after them once in a while. It is very important to keep the filter and dustbin clean.
It will take a few minutes a week to look after your Roomba to keep it alive longer.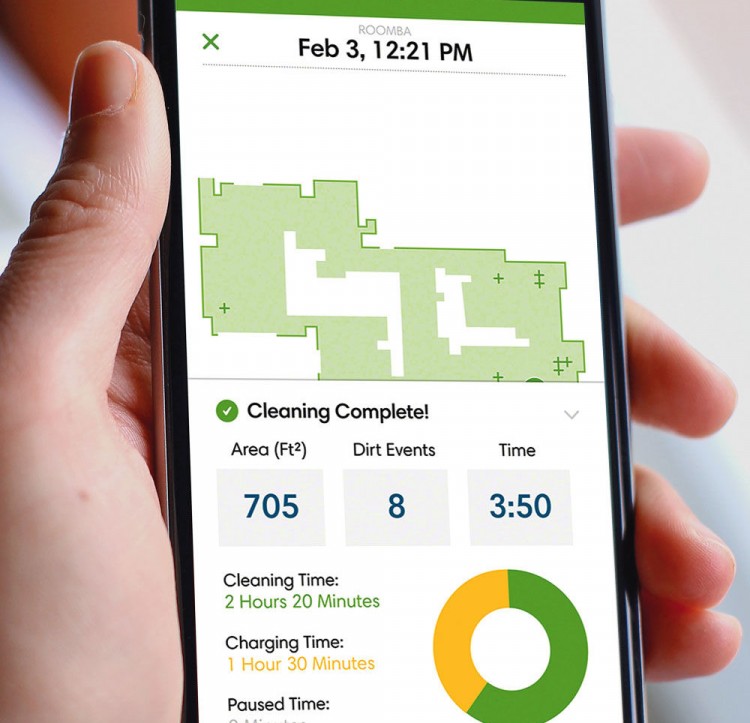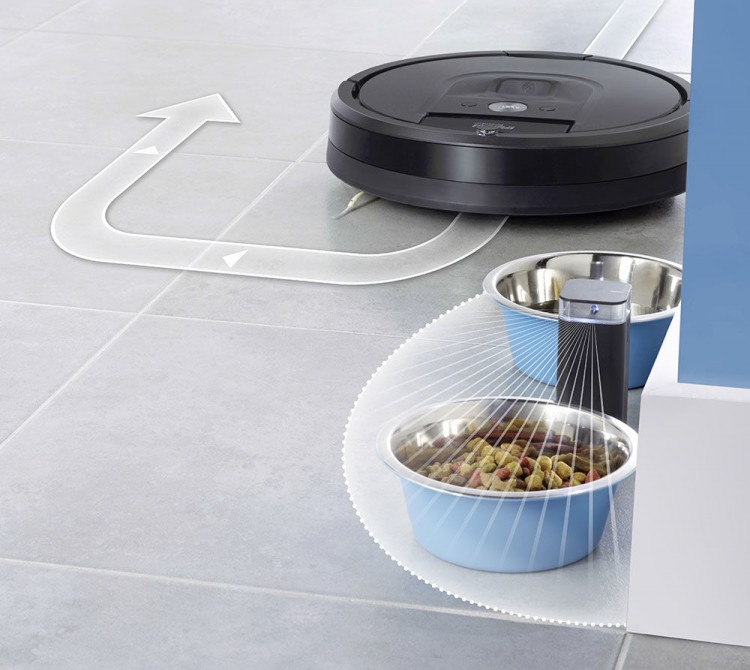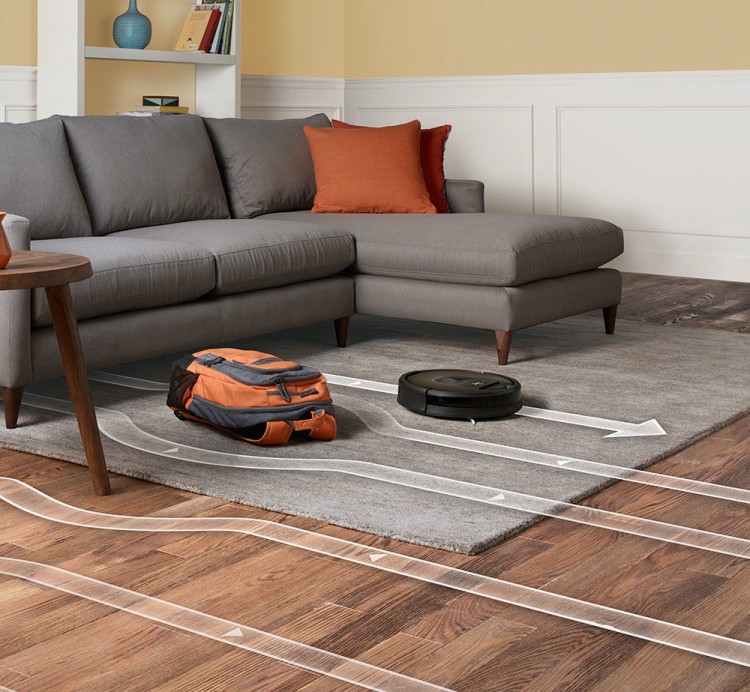 Question 1: How well does the Roomba 980 handle pet hair?
Answer: The Roomba 980 has brushless silicone rollers that do a superb job at agitating pet hair on carpets and bare floor. They are almost maintenance-free and have to be cleaned every couple of days. You will find rolled-up hair in the ends of them that are very easy to remove and dispose of.
Question 2: How loud the Roomba 980 is?
Answer: When on carpets and with carpet boost enabled, it uses more suction and will be louder. However, you can control this and turn it to "eco boost" to keep it quieter. On hardwood floors, it is quieter as it never uses carpet boost. Even though it does make noise, it is not as loud as an upright vacuum.
Question 3: How many square feet does he Roomba 980 clean before needs to recharge?
Answer: It depends on the surface. On bare floors carpet boost feature is off and does not give extra power saving battery life so the robot will run longer and covers more before it needs to recharge. On carpets, the battery will run out of energy faster so it will cover less. The manufacturer claims the Roomba 980 cleans around 1991 ft2 / 185 m2 before needs to recharge.
Question 4: What's the size of the Roomba 980 dustbin??
Answer: It has a 600 ml dustbin.
Question 5: Can the 980 be used on more than one story?
Answer: The Roomba 980 does not save maps, it disappeared once it finishes cleaning. You can place the cleaner manually on the second floor but let it run from the charging base so it knows where to return to when finishes cleaning. Or you can get another charging dock and leave it upstairs, carry the robot to the dock and start from the dock.
Question 6: Can the Roomba 980 pick up cat liter on tile?
Answer: Yes, the robot does a great job at picking ultra-fine to large things on any bare floor including tile.
Question 7: How well the robot vacuum performs in corners?
Answer: Pretty much every round vacuum cleaner leaves a tiny bit in a corner but it is so small so it should not bother you. Yes, you would still need to manually clean the corners every once in a while which you probably will do with a traditional vacuum as well.
Question 8: Will the Roomba 980 stop cleaning once the dustbin get full?
Answer: It has a "full bin" indicator that aware when the container needs to be emptied. It will notify you via the app & a blinking light. Once it gets full, the robot stops working.
Video reviews of the iRobot Roomba 980
---