The XShuai HXS - C3: a Budget Robot Vacuum with a Camera, Smart Navigation, and Alexa Support
·
Updated: Feb 4, 2019
·
4 min read
There are so many robot vacuums on the market, sometimes it's hard to make a choice which one to buy. Today we want to talk about the Haier XShuai HXS - C3, a robot vacuum with a built-in camera, speakers and a microphone that can be connected to your smartphone, so you can talk with your family or pets remotely. It uses P2P technology to transmit the video from the camera for extra privacy. It also has a lot of other cool features such as mapping and path planning that helps the robot to build an effective route to clean an entire apartment faster. Moreover, the XShuai HXS - C3 supports Siri and Amazon Alexa control, so you can start or end cleaning by a voice command. Let's check its main features.
Haier XShuai HXS - C3 Specification
| Features | XShuai HXS - C3 |
| --- | --- |
| Suction Power | 1,000 Pa |
| Battery Capacity | 2,600 mAh (Li-Ion) |
| Dustbin Capacity | 830 ml |
| Water Tank Capacity | 100 ml |
| Cleaning Time | 120 min |
| Cleaning Modes | Auto, Spot, Edge cleaning |
| Auto Return to the Dock | yes |
| Mapping & Path Planning | yes (gyroscope) |
| Wet Mopping | yes |
| Climbing Height | 0.8 cm / 0.31 inches |
| Voice Control | Amazon Alexa, Siri (iOS) |
| Video Chat | yes |
| Sensors | Anti collision, cliff sensors, gyroscope |
| Scheduling | yes |
| Camera Resolution | 720p |
| iOS/Android App | yes |
| LCD Screen | yes |
| Height | 9.5 cm / 3.74 inches |
| Width | 34 cm / 13.38 inches |
| Robot Weight | 3.3 kg / 7.27 lbs |
XShuai HXS-C3 Appearance
The XShuai C3 robot vacuum has a slim 9.5 cm body made of ABS plastic and polypropylene. The low profile design means that it could fit under furniture very easily. Unlike most robot vacuums it has a square-shaped body with rounded corners. There are two eyes (camera) on the top of the robot, an LCD screen that indicates a current status of the robot and has touch buttons that can be used to change the cleaning mode, start and stop the robot, adjust the volume.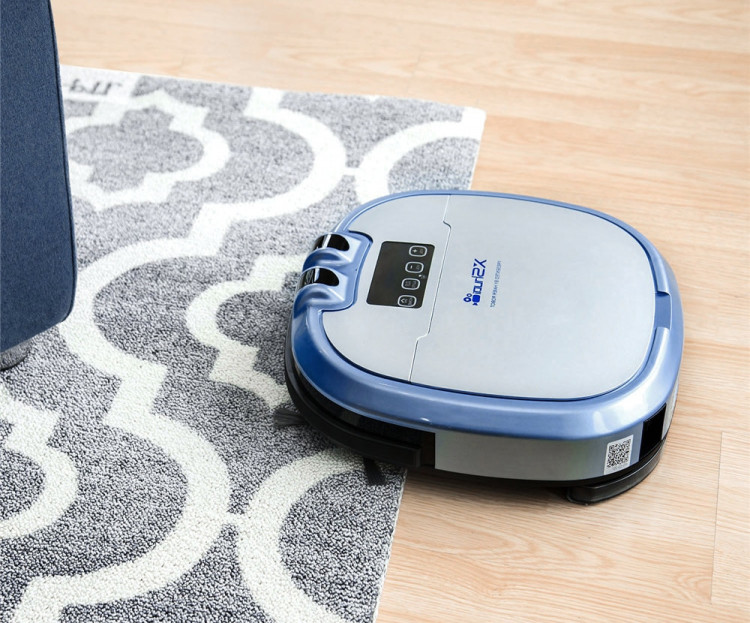 There are a bunch of sensors on the bumper that detect an obstacle and slow down the robot to avoid a collision.
This robot has a very big 850 ml dustbin, so you don't need to empty it very often. The dustbin located under the lid from the top side of the robot and can be easily removed and emptied. It is equipped with a HEPA filter that absorbs small particles and allergens, so it will be very helpful for people with allergy or asthma.
On the bottom of the XShuai C3, there are two wheels, two side sweepers that transfer the dirt to the suction inlet, an omnidirectional wheel, and the main brush. Here you can also attach a water tank with a mopping pad.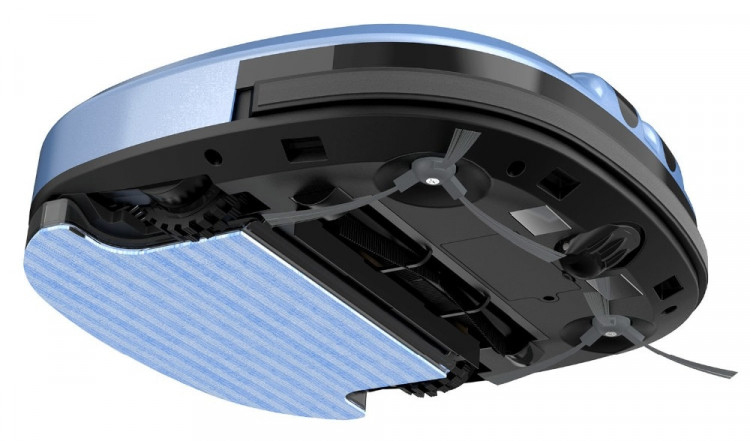 Performance
The XShuai C3 delivers a decent suction power of 1,000 Pa, which is enough to pick up all the particles as well as pet hair and debris. Combined with the side brushes and the main brush, it provides a good performance on bare floors and on carpets. However, it should be noted that this robot vacuum can work only on thin and low-pile carpets since it can only climb a 0.8 cm thick carpet. It performs the best on hardwood floors, tile floors, etc, especially considering that it can mop and sweep at the same time.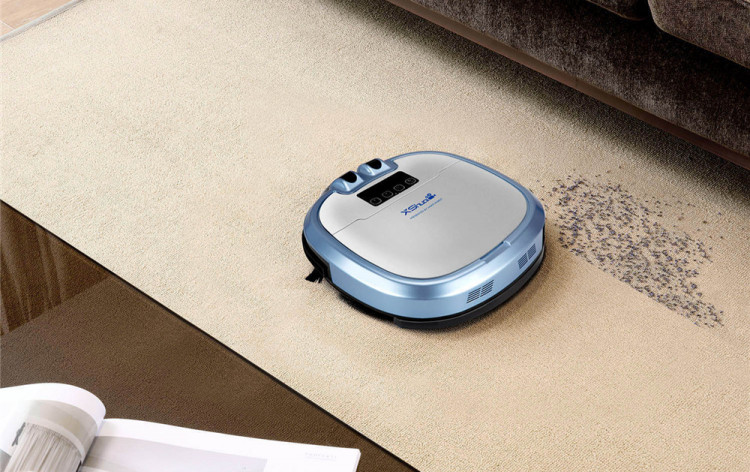 There are three different cleaning modes:
Auto mode: the robot cleans all rooms using its own algorithm and path built by the smart navigation and path planning system that uses gyroscope and infrared sensors to predict the robot position and choose its next move.
Edge cleaning: the robot cleans along the walls and room edges
Spot cleaning: if you want the robot to clean a specific place with a higher concentration of dirt or stains.
Unlike robot vacuums with a random cleaning pattern, the XShuai C3 has a high-precision Epson gyroscope that helps the robot to calculate and build the most efficient Z-shaped cleaning route, so no place will be missed, no repetition, and better area coverage. There are only a few models of robot vacuums that cost under $300 and have such a feature.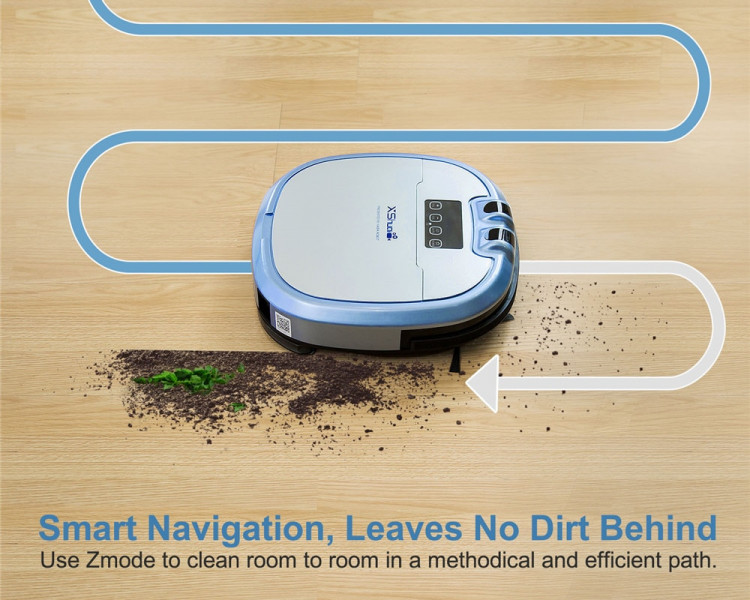 Video chat
The video chat is the main feature that makes this robot different from most robot vacuums. This device will be a good choice for those who have kids, pets, or just want to be more connected with their family. You can make a video call to the robot vacuum via the smartphone app, the robot has a built-in camera, speakers and a microphone, so you can talk to your family or pets from anywhere.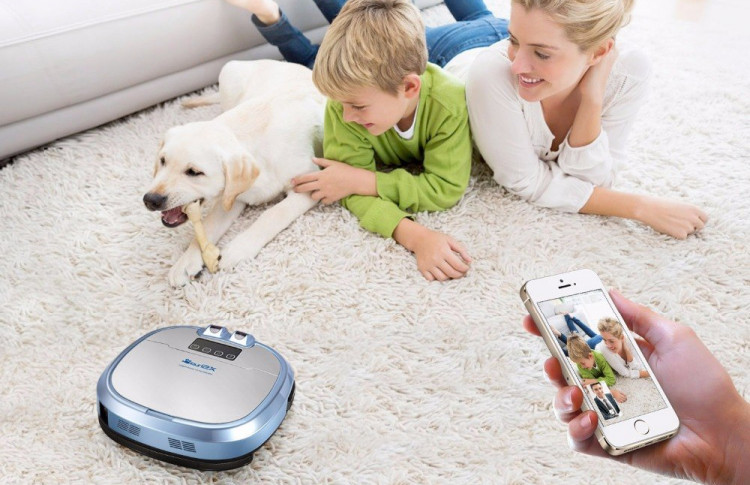 Some users may be concerned about privacy, however, the manufacturer claim that their device use P2P (point to point) technology, so your data will not be transferred to their cloud server.
Control
What I like in this robot, that you can control it in a few different ways. There is an IR remote controller in the box, you can use it to start and stop cleaning, manually control it like a radio car, change the cleaning mode, or send the device to its charging dock.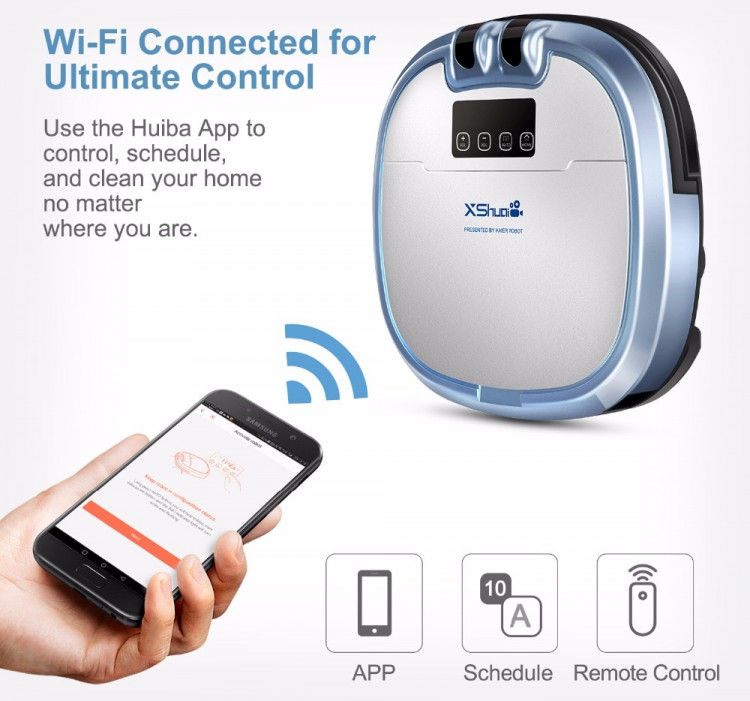 Via the Huiba App that is available for Android and iOS smartphones, you can control the robot, make a video call, schedule cleaning at a specific time, change the cleaning mode, no matter where you are.
If you have Amazon Alexa or Siri assistant on your phone, you can also start and stop cleaning with a voice command.
Where to buy the XShuai HXS-C3 robot vacuum
Pros and Cons
mapping and path planning function
decent suction power
can mop and sweep at the same time
video chat feature
Siri and Amazon Alexa support
large dustbin
smartphone app support
camera and speakers can be better
climbing height is less than 1 cm
not suitable for medium and high pile carpets
Who is this device for
This robot vacuum will be a good choice for those who have a small or medium house with mostly bare floors or thin carpets. Pet owners will be happy with the XShuai C3 since they can use it as a live chat with their pets. I would not recommend this robot vacuum if you have medium pile carpets, but for thin low pile carpets, it should be fine. If you have hardwood floors, the mopping function will be very helpful for you.
---
---