The Roborock Xiaowa Lite Review: an Affordable Robot Vacuum For Carpet
Review of:
Brand name:

Xiaomi
Model:

Xiaowa Lite C10 (C102)
Reviewed by:

Michael Fisher
Rating:
Published On:

June 20, 2018
Edited On:

February 11, 2019
---
Summary
I love this robot vacuum! Xiaowa has a very strong suction power and big wheels, thanks to this It performs very well on carpets and doesn't get stuck. The robot will be a good choice for pet owners since it picks up pet hair from carpet very well. I like the Mi Home app, it looks polished and easy to use, you can control and track the status of the robot online through a Wi-Fi connection. Xiaowa is the best robot vacuum in this price range.
More details
Thanks to GearBest, today we have an excellent opportunity to test and review the Roborock Xiaowa Lite robot vacuum. Even that this robot vacuum has a low price, it can compete with flagship robot vacuums that cost more than $400 when it comes to carpet cleaning performance. This robot vacuum comes in three options: with mapping (E2), without it (C1 that we are reviewing) and the latest strongest one - the Xiaowa E3. We are going to review the first generation that doesn't have mapping. Let's have a look at the robot's specifications.
[Update February 2019] Check the Roborock model line comparison chart.
Xaiomi Xaiowa Lite robot vacuum specifications
| Features | Roborock Xiaowa Lite |
| --- | --- |
| Suction Power | 1,600 Pa |
| Running time | 60-120 minutes (depends on cleaning mode) |
| Noise Level | 50-70 db (depends on cleaning mode) |
| Battery Capacity | 2,600 mAh |
| Scheduling | yes |
| Mapping / Path planning | no |
| Wet Mopping | no |
| HEPA Filter | yes |
| Virtual Wall | supports |
| Dustbin Capacity | 640 ml |
| Coverage area | 100 sq. meters |
| Obstacle Climbing | 20 mm (0.78 inches) |
| Remote Control | Smartphone App |
| Wi-Fi | yes |
| Carpet Boost | yes |
| Anti-drop / Cliff Sensor | yes |
| Dimensions | 35.3 x 35 x 9.5 cm / 13.8 x 14.1 x 3.7 in |
| Weight | 3 kg / 6.6 lbs |
| Warranty | 12 months |
Xiaowa Unboxing
Design and Appearance
When it comes to design, the Roborock Xiaowa Lite looks similar to the Xiaomi Mi Robot. It's still the same white & black minimalistic look we love. The three buttons sit on the top: home, spot cleaning, and power button.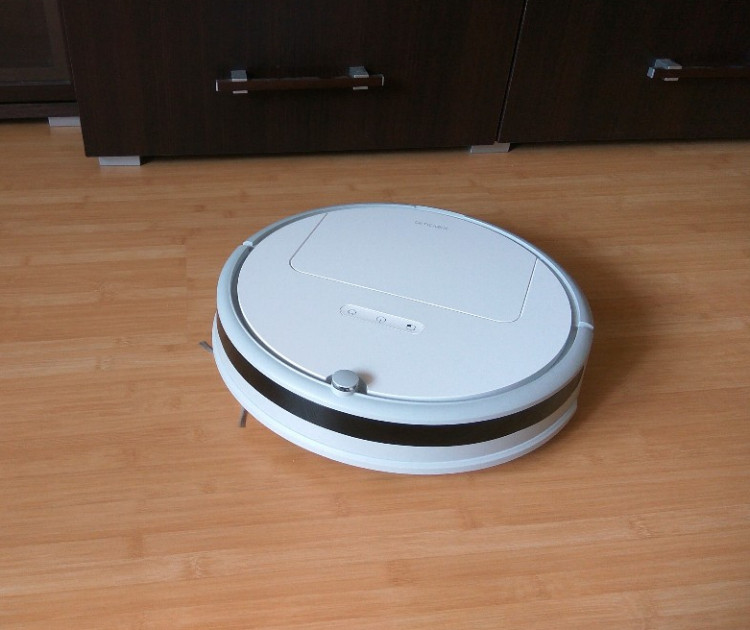 A 640 ml dustbin located under the lid on the top of the device. It is easy to pull out. Underneath, two large wheels allow Xiaowa to cross obstacles up to 20 mm height. Thanks to this, the robot never get stuck when it crosses the border between a hardwood floor and medium pile carpet, those big wheels allow to overcome it with ease. On the side, there is one sweep brush, the main brush located between the wheels. They work together to gather debris and dust then it channels to the suction path where the strong suction sucks it up transferring right into the dustbin.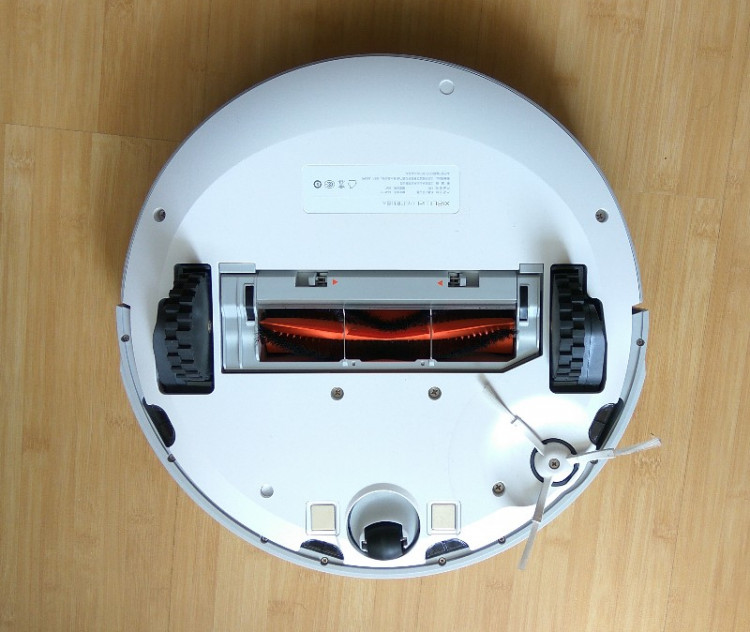 Its charging dock looks elegant. It is small yet stylish and fits everywhere. The robot has a speaker and an air outlet on the back side. The little thing that located on the lid is the omnidirectional recharge sensor that helps to recognize where the charging base is located. You can also buy a magnetic stripe that sold separately to keep the vacuum from crossing particular areas.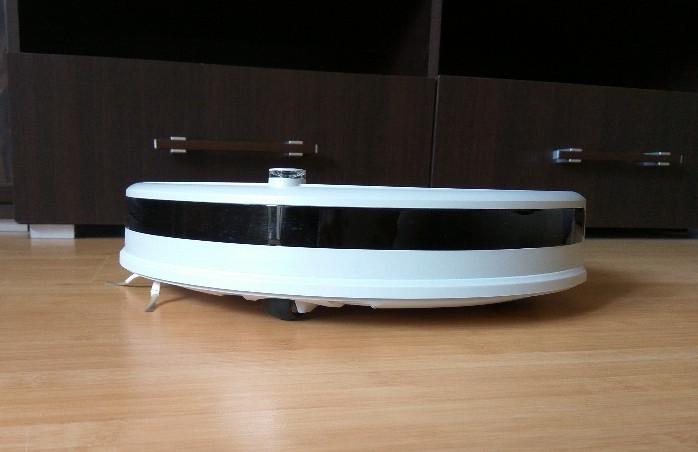 When you place the charging base against a wall ensure that 0.5m or above in two sides and 1.5m in the front are retained for it.
In the box, you will find a charging dock, a power cable, and a cleaning brush.
Robot vacuums mentioned in the article:
Cleaning Performance on carpets
Inside the Xiaowa Lite, there is a powerful motor that delivers 1,600 Pa of suction power which is impressive compared with the most expensive Roomba 980 that has 1670 Pa suction power but costs twice as much. We've put the Roborock Xiaowa Lite on a test on a medium-pile carpet where the robot showed great cleaning performance picking up all the debris which we scattered for the test! It sucked up even the smallest particulars from the carpet and left it cleaner than ever. Its dust box got full after about 30 minutes of running. The Roborock Xiaowa has a fantastic feature: carpet identification. This is the only robot vacuum in this price range that is able to identify carpeted surface and boosts suction power to max providing deeper cleaning on carpets.
Thanks to the strong suction, carpet identification, and large wheels, the Xiaowa easily handles thin and medium-pile carpets and rugs.
Is the Xiaowa Lite good for pet hair?
When you have a cat or a dog you face the issued with its hair that you see all over your home. The Xiaowa's strong suction along with its main brush easily get rid of pet hair from any floor types. Compared to robots in this price range, there is no need to clean the main brush from hair very often. A carpet detect sensor helps to recognize carpeting surface and automatically increases suction power.
Cleaning performance on bare floor
Xiaowa Lite doesn't have a mopping feature. However, it does a great job on bare floors such as laminate, marble, hardwood floor, tile linoleum, etc. The robot does not scratch the floor. It catches pet hair, dust, and dirt leaving the bare floor fresh and clean.
[Update] If you need a vacuum with strong suction and mopping, consider buying the Roborock Xiaowa E2.
Cleaning Modes
There are four suction modes: silent, standard, strong and max. Also, the robot has carpet boost that turns on the suction power to maximum once it recognizes carpeting surface, but you have to switch the feature to "on" in the smartphone app since it is "off" by default. The Roborock Xiaowa does not make much noise when it is in "silent" mode. You can easily be sleeping when the Xiaowa is working in this mode. The "max" mode is loud and delivers maximum suction power yet it is not as loud as a Roomba or Neato.
Battery Life
On the max mode, the device lasted for about 60 minutes. In silent mode, it can work up to 90 minutes in one charge.
Power light shows the battery level. When it's white - the battery capacity is more than 20%. When it's red - less than 20%. When the red light is flashing, it means that there is some error like the robot got stuck, etc. When power light is flashing slow - the device is charging or starting up. You can check the current battery charging level in the smartphone app.
App
The Mi Home app allows tracking the battery level, set cleaning schedule, see for how long the device has worked and change various settings. Also, you can send Xiaowa back to the charging base, start/stop cleaning, manually control the direction of movement and switch between its cleaning modes.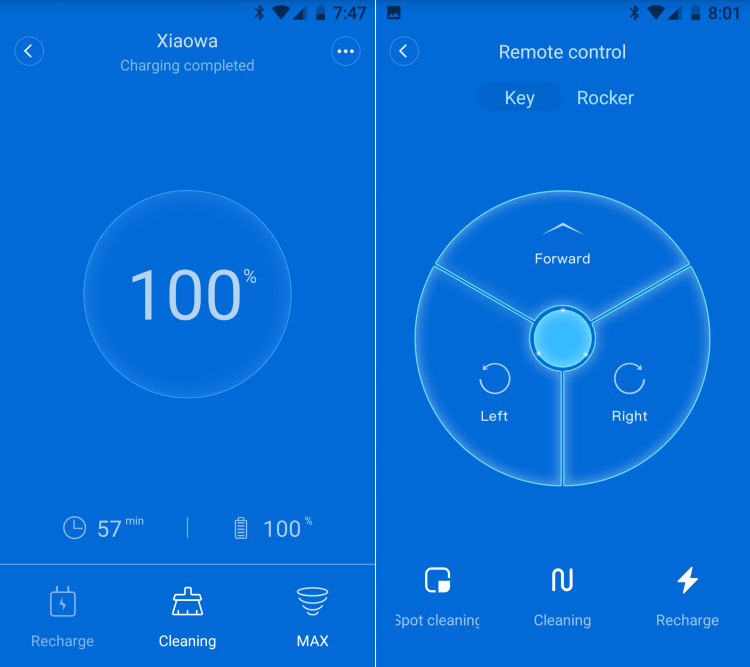 The app sends notification where you can check what the robot is doing when it needs to recharge etc. However, you can switch it off if you don't want to receive any.
If you are annoyed by robot voice reports, you can adjust the voice volume to the lower level.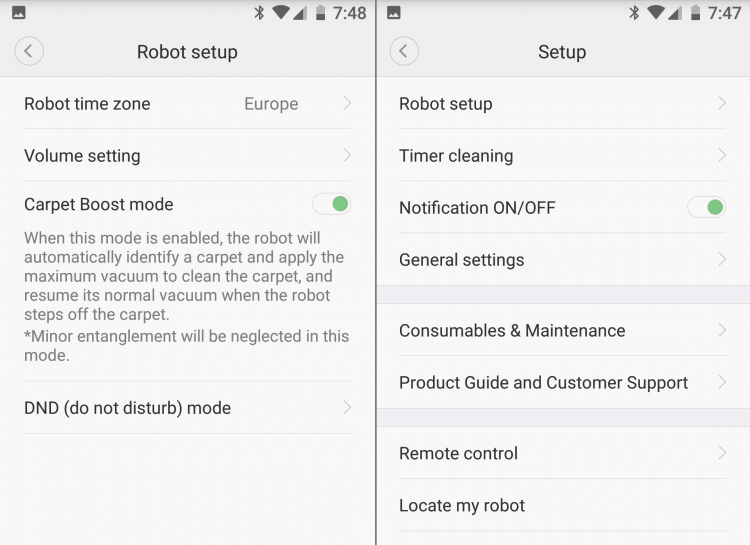 In the do not disturb (DND) mode, the machine reduces its voice volume in the defined period.
Scheduling basically allows you to set up the time of cleaning whenever you want up to 7 days per week. Also, you can choose the cleaning mode Xiaowa will be working in.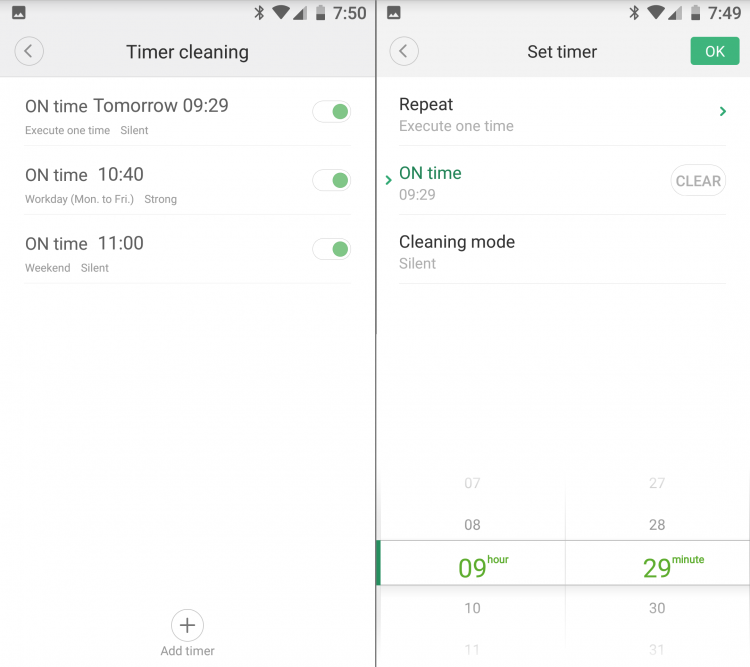 In Consumables & Maintenance, you are allowed to track how often the accessories should be cleaned or when one of them needs to be replaced. It is a great feature that makes all the job instead of you, so you don't have to check it manually all the time.
The app has a lot of user guide information on how to set it up, how to use the machine etc.
There is a video that shows how to clean the dustbin and the filter. The manufacturer recommends to clean it up weekly, but if you are going to use your robot more often, we'd advise you to do it every once in a while. Please do not wash the filter with water. Also, the filter is recommended to replace every 3 months.
The FAQs helps a lot with some questions you might have.
If you need to contact the customer service, you can find all the contacts from the phone number to an email, so it is never a problem getting in touch with the support.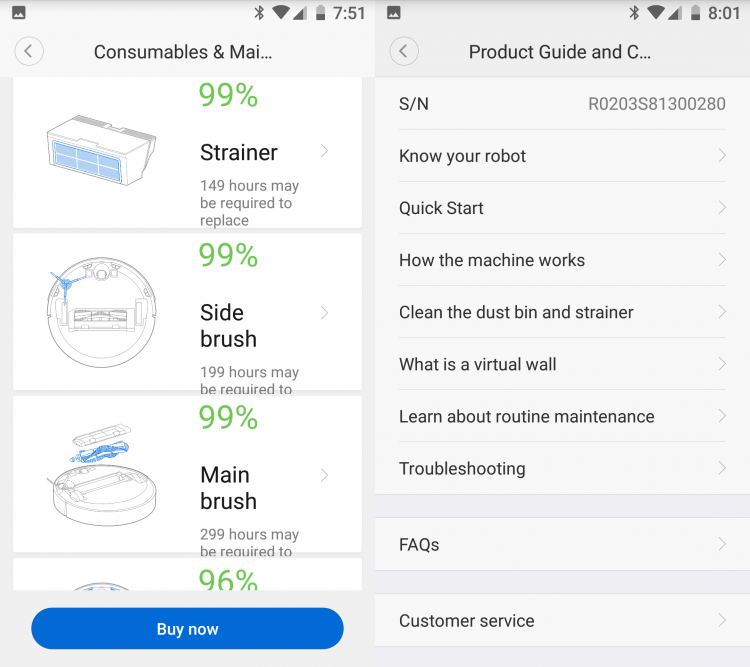 When I got the robot, there was a notification in the app about the new firmware version available. It has fixed a few bugs in the robot moving algorithms. So I think Roborock is still working on improving the robot vacuum firmware and maybe there will be new features delivered soon.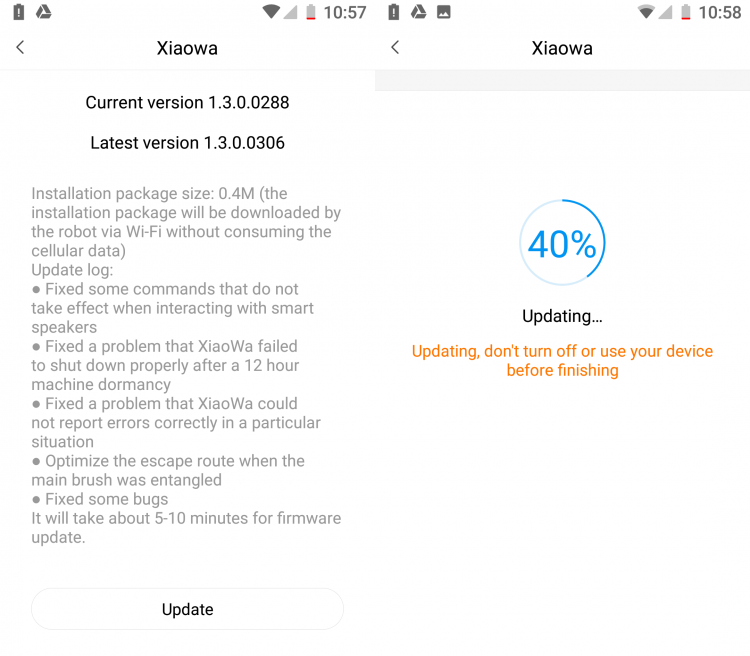 The app itself is incredible. It is very useful and quite intuitive so you will not find yourself surfing around it with no clue what to do.
How often you should clean the accessories
TThe main brush is recommended to clean weekly. Use the cleaning tool to remove hair that stuck into the roller. The main brush is recommended to replace every 6-12 months. The manufacturer advises to clean the side sweeper once a month and replace it within 3-6 months. The sensors that located all over the robot's body have to be cleaned once a month by using soft dry cloth.
No worries, you can find how to do all these things in the app on the "Product Guide and Customer Support" tab.
Navigation
The Xiaowa Lite comes without mapping which means it doesn't remember where it has been. The navigation is similar to the way Roborock runs and different from what we've seen in other budget robot vacuums.
Its sensors recognize significant obstacles pretty good and slow the machine down to not bump harsh into it.
The robot does not have any issues with docking itself to recharge. Once it recognizes a charging base, the device slows down its speed trying to park. The Xiaowa Lite even can find its base being in another room.
Price & Where to buy
In everyday use. My experience with Xiaowa
When I received Xiaowa, I wasn't sure what to expect from this device. But it did surprise me. When the machine starts working it notifies you by voice (in Chinese). It takes a few seconds for the robot to begin before it leaves its base. When it finished its first cleaning, I was surprised by how much it picked up. The dustbin was full of dust even though I vacuumed the area with my ILIFE V7 before. When Xiaowa is running, it makes noises. Obviously, it does. With 1,600 Pa of suction, a robot has to be this loud, this is why it is so powerful. But don't get me wrong, it's less noisy than any upright vacuum, and you can keep your conversation going being in the same room with the robo when it's working. Worth to mention that I have chairs with chromium legs and Xiaowa sees it meaning that the machine slows down when it recognizes one of these. I have a thin rug and medium-pile carpets in my bedroom, and living rooms and Xiaowa does its job well catching dirt and dust on its way.
The Roborock Xiaowa is suitable for small and average homes with a mixed surface. It is the best budget robot vacuum for your carpets.
UPDATE: Check out our latest video comparison of the Roborock Xiaowa Lite and the newest 360 S6 robot vacuum:
Where to buy
Found some spelling or grammatical error? Please help us to fix it!
Since English is not our first language, you may notice spelling and grammatical errors in the article. We would be very grateful if you could help us fix the mistakes. Just select the confusing part of the text with your mouse and press Ctrl + Enter, then you will be able to send us a corrected version of the text. Thank you for your effort!
---
---
Related Robot Vacuum Comparisons
Trending Articles