Why Do You Need To Buy A Robot Vacuum Cleaner And What You Should Know Before Getting One
Michael Fisher
May 6, 2018 6 min read
2018 is the year of technology so a robot vacuum cleaner is a thing that should be in everyone's house.
Even though robovac is a decent helper when it comes to cleaning a floor - upright vacuums still the first.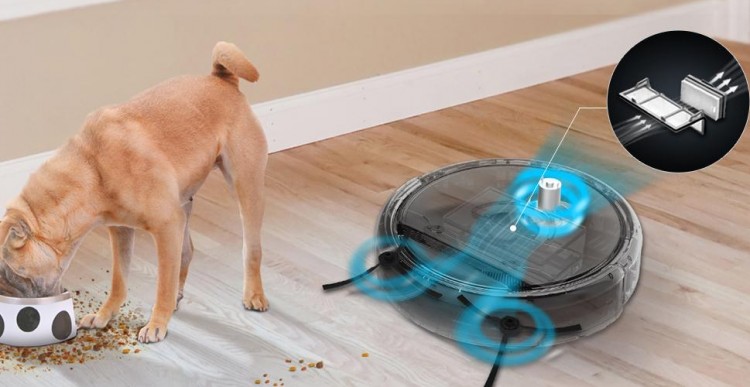 15 Reasons why you should get a robot vacuum cleaner
Pet is in the house. Cats and dogs are our best friends that shade a lot so extra help is needed. Even if you vacuum your floor twice a week, sometimes it is not enough to get rid of pet hair. You can run a robot every day which constantly will reduce the amount of dirt and dust on the floor. Besides, you don't have to be present when a device is working.
Busy days. We have more important things to do than spending hours on cleaning the floor. Leave this thing to a device that knows how to do its job.
Parenting. Small kids need your attention all day long so why spending important minutes on cleaning? Besides, children love these things. Your kid will want to run a robot vacuum cleaner over and over again.
Technology lover. The ones who love technology need this device in their homes. The robot is fully automatic, no attention needed. Watching the unit working is magnificent. Who doesn't want it?
Older people. With time our parents need to take more effort on things like cleaning than we do. It's getting harder to pull out the big upright vacuum and actually do the thing. Since, a robot cleaner weighing only about 3-4 kg on average, it is much easier to manage a smaller unit.
Just for fun. Nevertheless, a robot will become the best thing you've ever own, it is also a lot of fun. Visitors are going to love this small disk that by the way, looks awesome in any interior.
Minimalist design lovers. If your home is all about minimalist - the robot vacuum cleaner is for you. Minimalist design means you don't have a lot of things in your apartment, and the main reason - nothing laying on the floor (stuff like cords) meaning the machine will not stuck on it. It is the perfect cleaning area for an automatic device.
People who hate cleaning routine. Let's be honest, many people do not enjoy cleaning (neither do we). In fact, when owning a robot all you need to do is to press start and go do your own business (and do not forget to get rid of stuff on the floor which we do it with an upright vacuum either, right?). The ideal option that solves some of our problems.
Small business owners. As a person who might work (own/rent) in the office, you need to clean the area twice more often than a place you live in. Once you get the device - your office will be cleaner as never before.
Loneliness. The devices that support Amazon Alexa or Google Home can beat loneliness because you always have the one to talk to.
Homeworkers. Those who work from home would understand why its important to make your space clean. And since you are home all day long you might notice that your place is getting messy fast. Instead of not vacuum twice a week (or even more) - get a robot that will be running every day so it will be much more comfy to work in a clean area.
Roommate schedule. If you shape a living space with a roommate you understand how important to not fight about the cleaning schedule. Now one of you just need to start a robot and you are all set (do not argue about thing like who starts it tho).
Mostly bare floors. Some machines come with a mopping feature that helps to wet mopping a bare floor. If your home doesn't have any carpet the 2-in-1 (sweep&mop) machine will be ideal and you don't have to clean it manually anymore.
Carpeting surface. For sure, a vacuum exists to catch even the smallest particulars from carpets. For mixed and thin/medium-pile carpets and rugs get a robovac that will do its job. Here is some examples of which model you can get.
Allergy. Since most of the robots come with anti-allergen filtration system, it becomes the best choice for ones who suffer from asthma or any kind of allergy.
What you need to know before buying a robot vacuum cleaner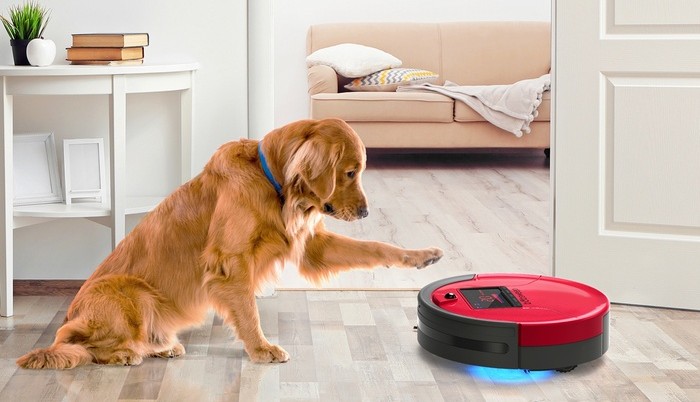 Now you decided that you are ready to get one for yourself, but it's hard to decide where to start. Which model to buy? What to pay attention to? Let's make it a little bit easier for you. At first, you have to figure out what you need a robot for. The questions you need to answer on:
Do you have pets?
Does your home mostly covered with carpets or a bare floor?
Do you own Amazon Alexa / Google Home?
Is your home small/average or big-sized?
Do you have a lot of things laying on the floor?
Do you have too many furnitures in the house?
What is your budget?
| Things to know | The Solution |
| --- | --- |
| Pet owners | A robot vacuum with tangle-free brushes / the robovac that was specially designed to pick up pet hair |
| Carpet or a bare floor | 2-in-1 cleaner or the one with mixed brushes |
| Amazon Alexa or Google Home Integration | get the one that is compatible with the smart assistant |
| The size of the house | long runtime/mapping feature is perfect for bigger homes |
| Stuff laying on the floor | try to figure out where to store your cords and clean the space for your robo |
| Do you have too many furnitures in the house? | try to find out the potential areas where the vacuum could stuck and block it off |
| Budget | there a bunch of decent robot vacuum cleaners that suitable for everyone's budget |
Pets. As we said before, pets shade a lot. What to look at when choosing a robot for pet hair? A tangle-free roller is designed for long human or pet hair that prevents hair wrapping around the main cleaning brush. They usually are made of silicon or rubber which makes it super easy to maintain. Also, there are some machines on the market that was specially designed to catch pet hair.
A bare floor, mixed surface, or carpets? Mostly any unit performs great on a bare floor but if you want your robot to wet mop the floor - have a look at 2-in-1 models that come with a mopping cloth or/and a water container. If you need a machine that would deep clean a carpet - suction power is everything here. The more Pascals a robot delivers, the better it will clean a carpet. Along with the motor, pay attention to a cleaning brush. Bristle ones scratch a carpet better than the rubber roller we've mentioned before. Mixed brushes is also a good choice since they work together cleaning a bare floor as well as carpeting surface. The larger wheels a unite comes with, the easier machine will cross over a carpet. Please, notice that no one robot cleaner can do thick carpets so if you have one - use your traditional vacuum. For mixed floors, it is better to go with those that have double brushes or those that are better for carpets.
Integration with smart devices. If you own an Amazon Echo Dot or Google Assistant or any other virtual assistant, you'd better consider getting the device that is compatible with any of them. There are some budget robots that you can get even less than $300 and more expensive one that usually supports Alexa/Google Home.
The size of your home matters. We already talked about vacuums that suitable for a small home. What do you need to know to get a robot for an average or a big home? Firstly - the runtime. The longer unit lasts the more cleaning area it can cover. Secondly, for bigger houses, you probably will need a machine with mapping and smart navigation so it will not miss any spot (remember, the smart models do not scan the second floor so you have to divide the cleaning area into first and second floors). Since a mapping robot creates a map it knows where it has been so it gets to recharge when its battery runs out of energy and then resume from the place it left off. No worries about manually placing the robot in each room. What about the average-sized homes? You might not need an expensive robovac that maps out your interior. Just have a look at how long the robot cleans in one charge.
Do you have a lot of things laying on the floor? Look at your home. How many cords or tassels or anything else lay on the floor? It can become a challenge for a vacuum not to get stuck into it. If you don't want to worry about these things you have to figure out how to get rid of it or place it in one area so it will not be an issue for the machine. Otherwise, be ready to rescue your little buddy every time it will roll a cord over its body.
Too many of everything inside? Furniture is something every homeowner would love to have and the more you have it the worse it would be for a robot to clean. Chair legs cause the ideal place for a machine to get stuck (not for all though). Also, check the height under your couch, bed, chair or anything that could be a hard place-to-reach. You need it to know the height of your future home assistant so it can go under it without any problem.
Budget. Not everyone is ready to spend a thousand dollars on a vacuum. Gladly, the market is full of budget and super-budget cleaners with prices that start from $100. For $200-$300 you can get a decent robot vacuum cleaner that even can be compatible with Amazon Alexa. For those who are in depts of buying an expensive robovac or a budget robovac, have a look at our latest article where we were trying to answer the question: do you really need to buy an expensive robot vacuum?
---
Picking up the right robot vacuum cleaners isn't that challenging anymore, right?