What is the Best Robot Vacuum: the ILIFE V7S Pro vs. Xiaomi Mi Robot vs. Roomba 980: Comparison
·
Updated: Jul 29, 2019
·
5 min read
The three robot cleaners are in a different price range and are designed for different needs.
The Roomba 980 is a high-end robot cleaner with a price tag of around $800, and the Xiaomi Mi Robot is one of the budget cleaners with mapping. The ILIFE V7S is a cheap device that is quiet and comes with mopping.
| Specs | ILIFE V7S Plus | Xiaomi Mi Robot | Roomba 980 |
| --- | --- | --- | --- |
| Battery life (mAh) | 2,600 | 5,200 | 3,000 |
| Run time (min) | 140 | 150 | 120 |
| Charging time (min) | 300 | 240 | N/A |
| Suction power (Pa) | 600 | 1,800 | 1,700 |
| Wet mopping | yes | no | no |
| Virtual wall | no | no | yes |
| Noise (dB) | 57 | 68 | 70 |
| Filtress | HEPA | HEPA | HEPA |
| Dirt capacity (oz / ml) | 17/500 ml + 13.5/450 ml (water box) | 14/415 | 20/600 |
| Types of floor | bare floors | thin and medium-pile carpets; bare floors | thin and medium-pile carpets; bare floors |
| Weight (lbs / kg) | 6.5 / 2.9 | 8.4 / 3.8 | 8.7 / 3.9 |
| Height (in / cm) | 3.15 / 13.39 | 3.8 / 9.65 | 3.6 / 13.9 |
| Asseccories | charging dock + adapter, remote controller with two AA batteries, extra side brush, extra mop, cleaning brush, dust box, water tank box, 2 extra filtres | vacuum cleaner, charging dock + adapter, cleaning tool | dual mode virtual wall barrier + 2 batteries, charging cable, extra side brush, extra air filter |
| Smartphone App | - | Mi Home | iRobot HOME |
| Scheduled Cleaning Option | yes | yes | yes |
| Warranty | 12 months | 12 months | 12 months |
| Buy on Amazon | Buy Now | Buy Now | Buy Now |
ILIFE V7S Plus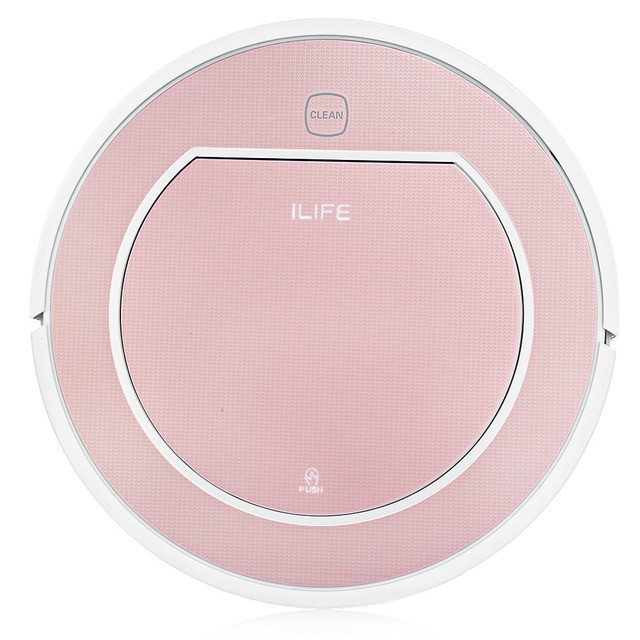 The ILIFE V7S Plus is a super mute sweeping robot vacuum with a possibility of wet mopping that costs less than $300 on Amazon and around $170 on Gearbest. The robot vacuum is less powerful than the Xiaomi producing less noise than most of the robot vacuum cleaners on the market.
The ILIVE V7S Plus is designed for bare floors. It can sweep dust from thin carpets, but do not expect it to deep clean carpet flooring. Nevertheless, it lasts for impressive 140 minutes. The robot is ideal for small homes with mostly bare floors.
Pros
Affordable price
Minimalist design
Easy to use
Super mute compared to other robot vacuum cleaners
Significant capacity of dirt bin and water tank means the robot covers more cleaning area
The ILIFE V7S Pro comes with two big conrainers: dust and water
It is shorter than the Roomba 980
Cons
Less powerful than the Xiaomi Mi Robot and Roomba 980
Once in a while it will get stuck, so you need to figure out how to keep the cleaning area less cluttered
No smartphone app but it does have a remote controller.
UPDATE: Take a look at our mopping robot reviews if you feel like the ILIFE V7S Plus is not for you.
---
Xiaomi Mi Robot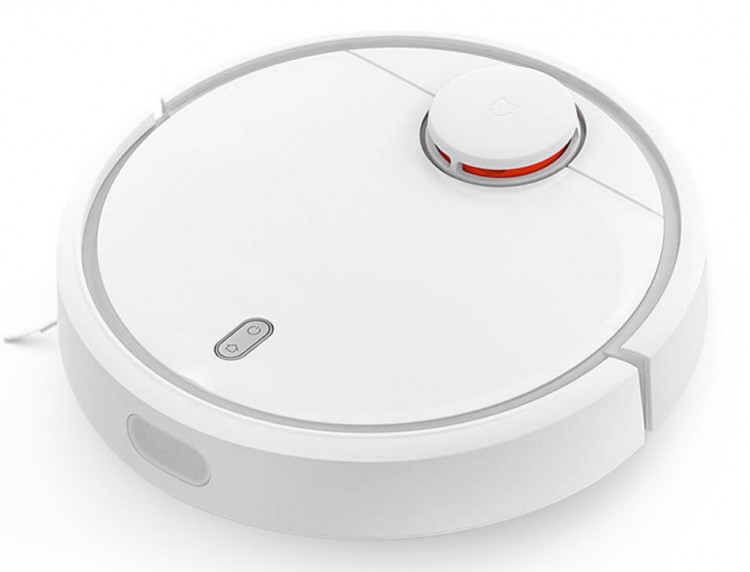 The Xiaomi Mi Robot is an intelligent vacuum cleaner equipped with 12 different sensors that help to clean your home efficiently. The robot comes with an impressive 5,200 mAh lithium-ion battery that lasts longer than almost any robot on the market. Its navigation system is accurate, thanks to the LDS laser, the robot can work in the dark. This laser distance sensor scans its surroundings for 360 degrees, 1,800 times per second, to map out the interiors of your house and then calculate the most efficient cleaning route. The Mi Robot methodically follows the map it has created in straight lines until it covers the whole area.
In the Mi Home app, you can track the robot movements in real-time, manual control the robot, switch between modes and schedule the cleaner, etc.
The Xiaomi Mi Robot is integrated with Alexa enabled devices and Google Home and can be a part of your smart home ecosystem.
With an impressive 150 minutes of cleaning (only the Roborock S5 and the Roborock Xiaowa E35 can go this long), the Xiaomi Mi Robot can clean bare floors and thin/medium carpets from pet hair, dust, dirt, and debris. After the battery runs out of energy, the Mi Robot returns to its charging base, recharges to 80%, and resumes its cleaning from the point it left off.
Thanks to the recharge and resume option, the Xiaomi Mi Robot is suitable for medium to big homes with a mixed surface or mostly carpeted flooring. It does a good job on thin and some medium-pile carpets.
The Xiaomi Mi Robot is available to buy on Gearbest for $265 and on Amazon the cleaner costs around $390.
Pros
Nice design
Reasonable price due to the features and cleaning performance
HEPA filtration is good for people with asthma and allergy
Strong suction power
Intelligent planning system
Long working time
Cons
No virtual walls
No wet mopping
Robot vacuums mentioned in the article:
---
Roomba 980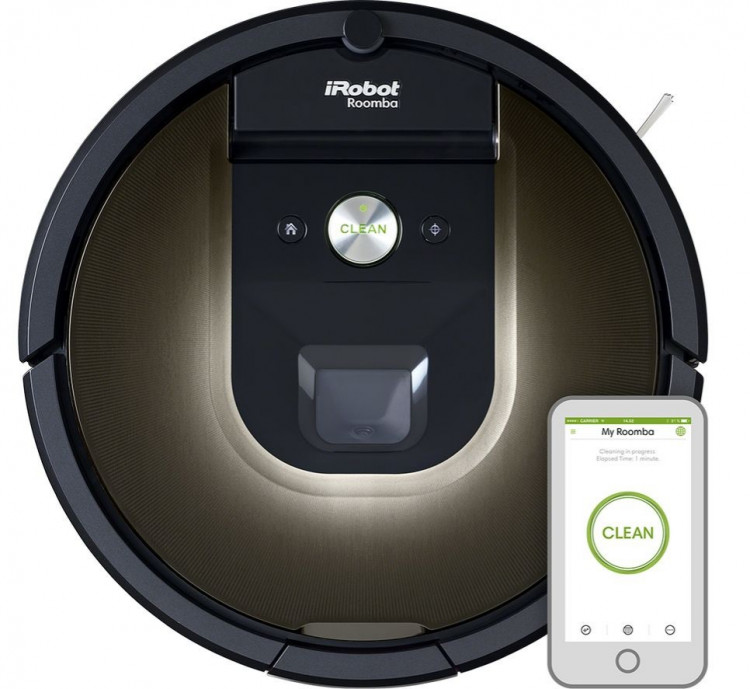 The iRobot Roomba 980 is the first flagship robot vacuum that comes with silicone tangle-free rollers that are ideal for pet hair and an extra power called Carpet Boost that provides better cleaning on carpeted floors by boosting suction power once the sensors identify carpet flooring.
Also, the Roomba 980 is integrated with Amazon Alexa and Google Assistant. The double silicone rollers work together to catch pet and long human hair without getting tangled. Its strong suction power performs great on bare floors and thin and medium-pile carpets.
The mapping technology is based on a camera sensor that scans an interior and builds the most efficient cleaning path. Dirt detection finds the high-traffic areas, providing more deep cleaning on those spots. Also, the unit has a full dustbin indicator, so you always know when the dustbin needs to be emptied. The Recharge & Resume feature allows the robot to finish the job even if its battery needs to recharge.
The Roomba 980 is perfect for pet owners and those who have long hair and homes with mixed surfaces and carpet flooring.
Pros
You can control your vacuum with iRobot HOME App and voice commands is you own Amazon Alexa and Google Home
With mapping, the Roomba 980 does not miss a spot
It comes with the dual mode virtual wall barrier that builds a particular space where the iRobot should not cross
The navigation system is better than on the previous versions of Roomba
Carpet Boost provides deep cleaning
Silicone rollers are ideal for pet owners
Dirt detect ensures deep cleaning on the dirtiest spots.
Cons
The robot is loud when cleans
If you have a lot of furniture in your room, it could be a challenge for the Roomba not to bump into it (the Xiaomi Navigation system is a bit better in this case)
Doesn't work in complete darkness, but you can leave the light on in the room if you want
---
Conclusion
Both vacuums, the Xiaomi Mi Robot and the ILIFE V7S Pro are available to buy for less than $350 while the Roomba 980 costs about $700.
The ILIFE V7S comes equipped with a microfiber mop and a water box for mopping. If you mostly have a bare floor and want to get a budget cleaner, the ILIFE V7S is for you.
The Roomba 980 is better for pet hair than the Xiaomi Mi Robot
The Xiaomi Mi Robot navigation is superb. It doesn't bump into things as hard as the Roomba 980 does
The Mi Robot mapping technology allows the robot to work in the dark and clean black carpets. For the Roomba 980 light has to be on and it does not go over black carpets
You can manually control the Xiaomi Mi Robot. The iRobot Home doesn't have this option
The Roomba's carpet identification along with the Dirt Detect provides deeper cleaning on carpets
The Xiaomi Mi Robot is twice cheaper than the Roomba.
Pet owners most likely will want to spend extra money for the iRobot Roomba 980 for its extra cleaning power and tangle-free rollers. Also, the Roomba is suitable for homes with covered with carpets.
Otherwise, the Xiaomi Mi Robot is an excellent choice for those not looking to spend more than $350 to get a great robot vacuum for a home that is all about bare floors or thin carpets/rugs. It is ideal for medium and bigger sized-homes.
---
---