The ILIFE Robot Vacuum Comparison Chart: Which One to Choose in 2018?
Michael Fisher
Apr 26, 2018 8 min read
ILIFE Introduction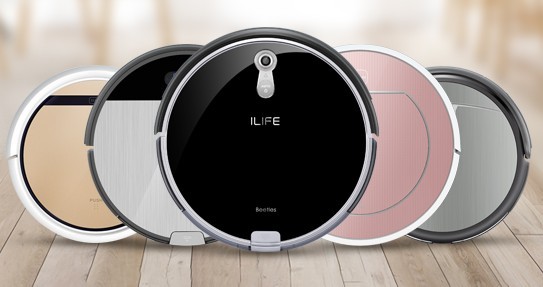 You maybe haven't heard of ILIFE. Let us introduce you to this company and tell why we think it is a manufacturer that produces one of the best budget robots on the market. Founded in 2010 located in Shenzhen, it has two large manufacturing bases in Shenzhen and Dongguan. ILIFE is one of the leading companies in the intelligent cleaning robot industry in China. What makes robot vacuum cleaners from ILIFE this good? Let's find out.
| Features | A8 | A6 | A4S | V8S | V7S Plus | V5S Pro | V3S |
| --- | --- | --- | --- | --- | --- | --- | --- |
| Run Time | 130 min | 160 min | 140 min | 120 min | 120 min | 150 min | 120 min |
| Mapping | yes | no | no | no | no | no | no |
| Cleaning Coverage (sq.m./sq.f) | N/A | 200/2153 | 200/2153 | N/A | N/A | 120 | N/A |
| Control | IR remote controller | IR remote controller | IR remote controller | IR remote controller | IR remote controller | IR remote controller | IR remote controller |
| Wi-Fi | no | no | no | no | no | no | no |
| Mopping Feature | no | no | no | yes | yes | yes | no |
| HEPA | yes | yes | yes | yes | yes | yes | yes |
| Suction Power | 1000 Pa | 1000 Pa | 1000 Pa | N/A | 400 Pa | 850 Pa | 850 Pa |
| Noise level | 68 dB | 65 dB | 65 dB | 68 dB | 68 dB | 54 dB | 55 dB |
| Virtual Wall | no | yes | no | no | no | no | no |
| Dustbox Capacity | 300 ml | 300 ml | 300 ml | 750 ml | 300 ml | 300 ml | 300 ml |
| Water Tank Capacity | - | - | - | 300 ml | 300 ml | 300 ml | - |
| Battery capacity | 2600 mAh | 2600 mAh | 2600 mAh | 2600 mAh | 2600 mAh | 2600 mAh | 2600 mAh |
| Charge time | N/A | 250 min | 250 min | 300 min | 300 min | 280 min | 300 min |
| Scheduling | yes | yes | yes | yes | yes | yes | yes |
| Good for carpets? | yes | yes | yes | yes | no | no | no |
| Dimensions (LxWxH) | 31x31x7.2cm / 12.2x12.2x2.8in | 30.5x30.5x8cm / 12.01x12.01x3.15in | 31x31x7.6cm / 12.2x12.2x2.9in | 33x32x8.1 / 12.9x12.5x3.1in | 34x34x8.4cm / 13.3x13.3x3.3in | 30x30x7cm / 11.81x11.81x2.76in | / 11.8x11.8x3in |
| Weight | 2.9kg / 6.5lbs | 2.55kg / 5.62lbs | 2.2kg / 4.85lbs | 2.7kg | 3 kg / 6.61lbs | 2.05 kg / 4.51lbs | 2kg / 4.41lbs |
| Type Of Brush | rubber + bristle + 2 side brushes | rubber + 2 side brushes | bristle + 2 side brushes | 2 side brushes | 1 side brush + bristle brush | bristle + 2 side brushes | 2 side brushes |
| Warranty(months) | 12 | 12 | 12 | 12 | 12 | 12 | 12 |
ILIFE Robots Navigation

All the robots from ILIFE, except the A8, have a random cleaning pattern. This means that the machines don't build a cleaning route or make a map of an interior. Considering the price range of $125-$300, this is expected.
If you want a robot cleaner that will do these things, go with the newest A8 that is on sale for about $300 now. The ILIFE A8 also has an "Auto-charge and Resume" feature that makes it go to recharge when its battery runs out and then resume cleaning from the point it left off.
If you want to make your robot run only while you are home or you don't have a big house, there is no need to pay extra for mapping. With smart navigation, robots do the job faster than other machines; but if you don't mind your robot spending a half of an hour more on cleaning, consider buying a cheaper version without mapping.
Robot vacuums mentioned in the article:
ILIFE Cleaning Modes
Auto is for moving automatically around the house.
Edge cleaning mode work on corners.
Spot mode turns on the maximum suction power and makes the robot move around a specific area.
Scheduling sets it to work at a specific time.
Manual manages the robot by a remote controller to move your home assistant where you want it to go.
Cleaning Brushes
The old models use bristled cleaning brushes that work better on carpets, scratching dirt and dust from it. Along with this, ILIFE robots have a side brush (or sometimes 2) that supposed to clean corners and edges. These brushes catch small things from the floor and transfer them to the dust box.
Rubber brush is a great helper for pet owners. It is designed to be tangle free so long hair doesn't wrap around it (annoying when it comes to untangling hair from bristled brushes). It also works better on a bare floor. The ILIFE A6 comes with a rubber brush while the newest A8 has a combo of bristle + rubber brushes.
Filtration
All the latest models are equipped with HEPA filtration, originally called a high-efficiency particulate absorber. It is anti-allergen making it perfect for people with respiratory issues like asthma and allergies.
Wi-Fi Connection + App
Unfortunately, almost all the ILIFE cleaners don't have the ability to connect to Wi-Fi, meaning you can't control it with your smartphone.
If you want your robot to be a part of a smart home system, stick with the ILIFE A8. The app allows you to see a created map and manage the robot's movements.
Mopping Function and hardwood floor performance
Yes, a robot that sweeps and mops could be the perfect gift for everyone, right? Not many brands offer a mopping feature, so iLIFE is kind of a winner here, having half of the robots in its model line with this option.
So how does it work? Usually, a mopping robot comes with a water container and a mopping pad. All you need is to insert the water box into the robot (or instead of a dust box), attach the mopping pad (if you want the process to begin once you press start and let the mop dry), start the robot, and it will do the rest. No need to clean the floors yourself anymore!
The new ILIFE V8S is good on bare floors having a water tank in the box. The newest feature of the V8S is its invisible barrier. When it mops, the robot creates a blocked area behind it, moving forward in a 23ftx23ft area.
Models such as the V8S, V7S Plus, V5S Pro, and V3S are perfect for homes with mostly bare floors.
The ILIFE A4S and ILIFE A6 would be the best for houses covered with carpets.
Pet Hair
Basically, every robot from the family we've talked about handles pet hair. Some of them do it better. If you have a bare floor, no need to pay extra for a strong suction power, as models like the V5S, V3S or V7S Plus can get rid of it.
For example, the iLIFE A6 is designed for pet hair. It has a rubber brush that is tangle-free, so it's ideal for families who keep pets.
In case you have carpets and rugs, go with the A4S or the A8. These machines catch pet hair from carpeted surfaces with ease.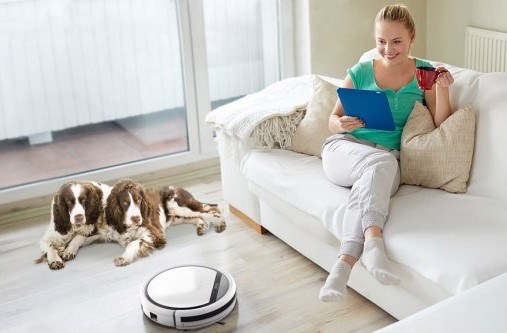 Working on Carpets
How does the ILIFE perform on carpets and rugs? Basically, all you need to know is the suction power. The more pascals a robot can provide, the better it will clean a carpet.
Along with strong suction, you need to know what type of main brushes a robot uses for cleaning. For example, the iLIFE A6 has strong power that, in theory, is enough for deep carpet cleaning; it comes with a rubber roller that works better on a bare floor. Thus, the A6 can still work well on thin carpets but not as good as the A8 or the A4S do.
The ILIFE A8 has a combo of two types of brushes and two side helpers, so it is an ideal option for all floor types (except high-pile carpets).
If you are not ready to spend some extra dollars on these models, have a look at the ILIFE A4S on sale for about $190. It comes with a powerful motor and bristle brush. For a little bit under $200, you get a robot that will clean your floor from pet hair, performing well on thin carpets and a hardwood floor.
The oldest and cheaper models in the family, such as the V5S Pro and V3S, are also good for homes with carpeted surfaces and their mopping option makes these models suitable for both rugs and bare floors. With a price a little over $150 (for the V3S) and $200 (for the V5S Pro), the ILIFE V5S Pro and the ILIFE V3S would be good options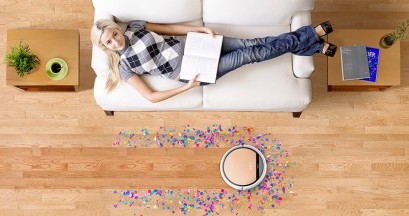 Battery Life
Most ILIFE robots come with a 2600mAh Li-Ion battery that lasts longer than the most more expensive devices on the market. A high-priced product overall has 90-100 minutes of working time tops, while the cheapest ILIFE machines clean 120 minutes and more. It is enough to cover a 120-200 square meter household in one charge.
Amazon Alexa / Google Home Support
Unfortunately, the ILIFE is not compatible with Alexa or Google Assistant.
How to Control ILIFE Robot Vacuum Cleaners
As mentioned, most robots from the ILIFE family don't have an app or Wi-Fi. To control the machines, you use a remote controller that comes in the box or you can do it manually by pressing buttons on the device itself.
Anti-Collusion / Anti-Drop Sensors
All the robots are equipped with sensors that prevent falling from stairs and help avoid obstacles.
Auto-recharge
Auto-recharge is a function that makes the devices to go back to their docks once the battery runs out. All the ILIFE machines have it. In case you want your home assistant to keep going after recharge, just press start and it will go to work again. The A8 also resumes its cleaning session after recharging.
Scheduling
You can schedule your robot to work at a specific time.
Quiet Operation
The robots operate quieter than most robovacs on the market and definitely less loud than any upright vacuum.
Maintenance: how to care for your robot Vacuum
If you want your home assistant to last longer, you need to know how to maintain it. First, never forget to empty the dust box. It would be better to do it after every cleaning session, but it's okay if you do it once every two times. The HEPA filter should be cleaned every once in a while when you feel it is needed. Check the sensors as these have to be clean enough so your robot can navigate around. Have a look at the wheels from time to time. Hair shouldn't be wrapped around them such that the device can't move in a proper way. The main thing is to tend to the cleaning brush. With the rubber ones, it's super easy; just keep it clean and that's it. If you have a bristle brush, you need to untangle hair after every cleaning. Yes, it might be annoying, but it's much easier than maintaining an upright vacuum.
All in all, doesn't take a lot of time. Don't forget about these simple rules and your robot will make you happy for years.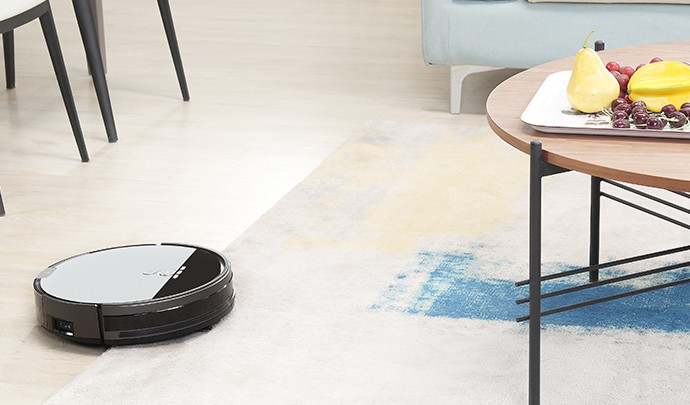 Who are ILIFE robots designed for?
With everything we've said to now, the last question is: who might be a potential buyer of ILIFE cleaners?
A buyer who is not ready to spend $400 and more on a vacuum cleaner. Since all the machines are super budget, the most expensive the ILIFE A8 will cost you only $300.
Small and average-sized home owners. Even though most of their robots have decent battery life, they don't come with a mapping feature (only the A8 does) which makes it harder to cover a big house without missing a spot.
Pet owners. Although these are not the most powerful devices on the market, they handle pet hair with ease, especially those with the rubber brush (such as the ILIFE A6 and the ILIFE A8) or the anti-tangle design (the ILIFE V8S).
Mostly bare floor homes. Yes, some models are good on carpets, but these devices work well on bare floors, too. The ILIFE is the winner when it comes to vacuums that mop.
Minimalist design homeowners. Since this type of lifestyle means having fewer things, the iLIFE robots will not bump into much when working.
Our Choice
There is no best or the worst robot vacuum cleaner. Some robots are older so they use older technology; some have been released this year.
Considering price, cleaning performance, suction power and other features, we would recommend getting the latest ILIFE A8. For $300 you get a nice-looking robot vacuum with a mapping feature and double cleaning brushes that work well on carpeting and bare floors.
Another robot is also worth attention is the ILIFE V8S. It is a two-in-one model for those who want a combined mopping/sweeping device. It has strong suction power, large wheels that climb up to 20mm height obstacles, and a long-running time though it doesn't do medium and thick carpets. At a price of $260, the ILIFE V8S has everything you need to clean your floors.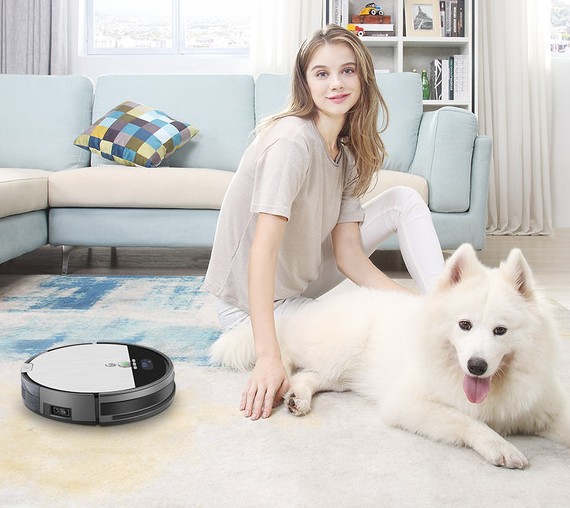 ---
To Wrap It Up
ILIFE is a company that has given us the opportunity to have a decent robot vacuum cleaner for less money than you would spend on a device from a popular brand. Yes, they might not be as powerful as the expensive competitors, but they are still worth it. If you make your device work every day, it will decrease the necessity of using an upright vacuum. The large wheels on all the robots allow them to climb obstacles, the decent battery life makes them work longer than most machines on the market, and the minimalistic design looks amazing. You can get all this in the $150-$300 price range, so maybe let the ILIFE robot come into your life? You will never regret it.