The Xiaomi VIOMI VXRS01: a Budget Robot Vacuum with Mapping and App control
·
Updated: Mar 9, 2019
·
3 min read
The VIOMI VXRS01 is the newest robot vacuum from Viomi Technology Co., a Xiaomi-backed company that is a well-known smart home appliances manufacturer. The robot seems promising since it costs less than $300 and has such interesting feature as an intelligent path planning. Compared to most budget robots with a random cleaning pattern, it works more efficient and cleans faster. First, let's check its specification and features.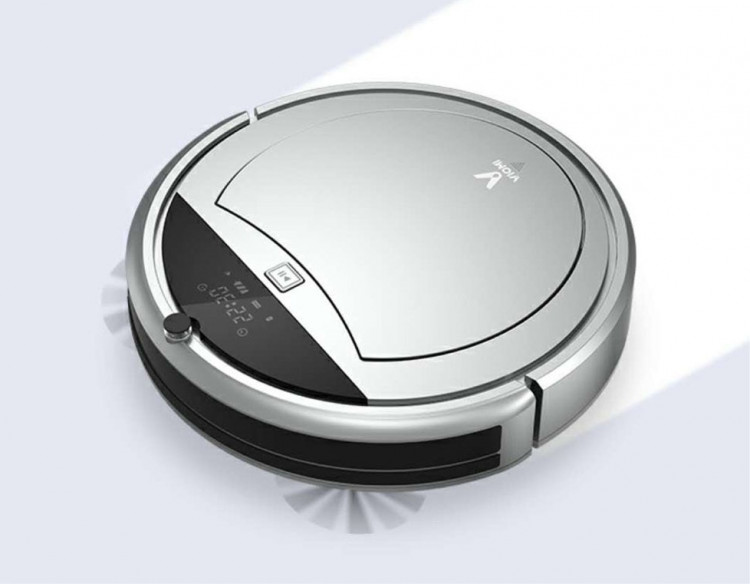 The Xiaomi VIOMI VXRS01 Features
| Features | VIOMI VXRS01 |
| --- | --- |
| Suction Power | 1,200 Pa |
| Noise level | less than 60 dB |
| Battery capacity | 2,000 mAh |
| Dustbin capacity | 350 ml |
| Water tank capacity | 200 ml |
| Climbing height | up to 20 mm (0.78 inches) |
| Runtime | 90-120 minutes |
| Cleaning modes | 2 in 1: sweeping and mopping |
| Sensors | Built-in 11 sensors: climb sensors, gyro sensor, speedometer, drop sensor, collision sensors, dustbin sensor, wall sensor, infrared sensor |
| Mapping technology | gyroscope |
| Smartphone App | yes |
| Alexa / Google Home support | no |
| LCD Display | yes |
| HEPA Filter | yes |
| Scheduling | yes |
| Product Weight | 3.9 kg (8.59 lbs) |
| Product size | 31.00 x 31.00 x 7.80 cm / 12.2 x 12.2 x 3.07 inches |
| In the box | robot, power adapter, charging dock, 2 HEPA filters, 2 side brushes, water tank, 2 mop cloths, cleaning brush, English manual |
| Price | $289.99 on GearBest |
Design and Appearance
The Xiaomi VIOMI VXRS01 has a traditional round-shaped body. You will find a dustbin located under the lid, start/stop button, an infrared sensor that helps to find and dock to the charging base and a small LCD screen on the top that indicates a current status of the robot.

On the front side, there is a soft anti-collision bumper with a bunch of sensors that help the robot to recognize a wall, furniture or an obstacle and slow it down to prevent a collision.
There are two side brushes located on the bottom that sweep dirt and transfer it to the suction inlet. There are a few cliff sensors to avoid falling down from stairs.
Smart Navigation
The VIOMI VXRS01 has an intelligently planned cleaning pattern. Compared to other budget robot vacuum that uses a random cleaning pattern, it uses gyro sensor, speedometer, and collision sensors to build a map of a house and plans the most effective path to clean the area. Thanks to this feature it can finish the job much faster than robots with a random moving pattern. The VIOMI robot will not miss a spot, you can see the map of your house and monitor the cleaning progress on your smartphone.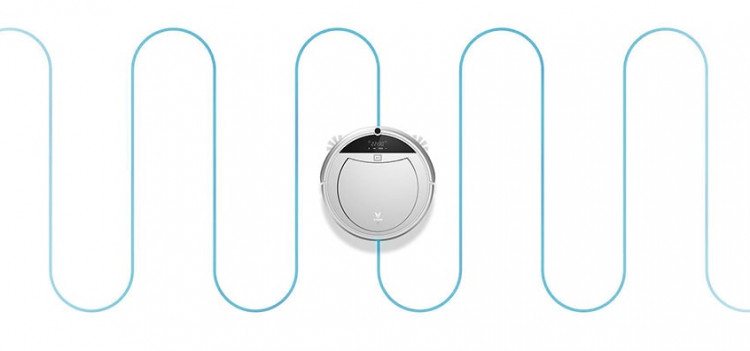 Cleaning performance
Thanks to the brushless motor that delivers 1,200 Pa of suction power, the robot sucks up debris, dirt, and dust from a low and medium pile carpet without any problem. The device doesn't have a central brush, this design has its own advantages: robot vacuums with the central brush need to be cleaned very often since human and pet hair wrapped around the brush. There is less chance to get stuck in the wires that might lie on the floor.
The VIOMI robot vacuum is equipped with a 2,000 mAh Li-Ion battery and can work up to 120 minutes on one charge. It is enough to clean a small or medium house. Despite a strong suction power, it produces less than 60 dB of noise, so it will not bother you when working. The big clearance allows the VIOMI VXRS01 to cross a 20 mm (0.78 inches) obstacle. Low profile design allows fitting under a sofa or furniture with easily.
It automatically returns to the charging dock when finished the job or when the battery is less than 30 percent. If there is an unfinished area, it will recharge and continue cleaning from the spot where it stopped.
High effective HEPA filter removes 99.97% of particles that have a size greater than 0.3 µm, allergens, pollen, and dust mite feces. It will be a great assistant for asthma and allergy sufferers.
Wet Mopping
The robot can sweep and mop at the same time. It has a 200 ml water tank with a mopping pad that can be attached to the bottom of the robot. So it is a good choice for those who have mostly a hardwood, laminate or a tile floor. With a full water tank, it can cover up to 100 sq. m. area.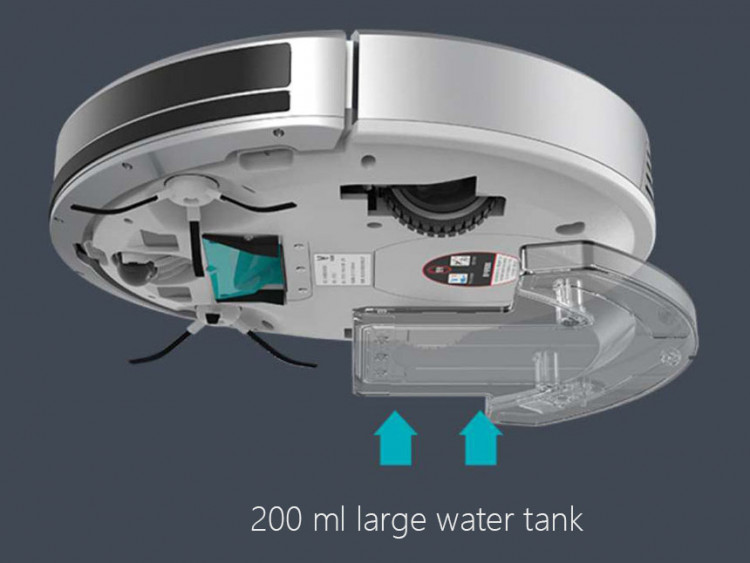 Where to buy
The Xiaomi VIOMI VXRS01 is available on GearBest for $289.99.
Who is this robot vacuum for?
The VIOMI robot vacuum is a good choice for those who have a small or medium house with bare floors or carpets. With a strong suction power, it can be very helpful for pet owner and those who suffer with asthma and allergy. It's a good robot vacuum for the price since it has a lot of cool features such as app control, strong suction power, mapping and path planning, wet mopping etc.
---
---