The Best Robot Mops of 2019
·
May 17, 2018
·
5 min read
If you do not like mopping your floor like us, do consider buying one of these beasts that not only sweeps but also mops a floor. Please take note that none of these robots can get rid of stubborn stains. Some of them perform better than others on bare floor. These are the best robot vacuums that can mop. The Viomi has a big container and is perfect for bigger zoned, the Roborock S5 is better for average rooms with no carpets, the ILIFE A9S has a vibrating water tank that keeps the robot closer to the floor, and the ILIFE W400 has two big containers for mopping and a soft roller that scratches hardwood floor removing stains. Here are the best robot vacuum robot mops for hardwood floors to get in 2019.
The best robot vacuum that mops comparison chart
| Features & Specs | Roborock S5 | ILIFE A9S | ILIFE W400 | Viomi V2 |
| --- | --- | --- | --- | --- |
| Running time (min) | 150 | 90 | 80 | 120 |
| Suction Power (pa) | 2000 | 1,000 | - | 2,150 |
| Cleaning Area (sq.m.) | 250 | N/A | 30 | 150 |
| Mapping | yes | yes | no | yes |
| Recharge & Resume | yes | yes | no | yes |
| Mopping Attachment | Cloth + Water Container | Cloth + Water Container | Cloth + Water Container | Cloth + Water Container |
| Control | app | remote control, app | remote control | app |
| Dustbin Capacity (ml) | 500 | 600 | - | 600 |
| Water Tank Size (ml) | 140 | 300 | 850 | 560 |
| Noise (dB) | 60 | 70 | 55 | 69 |
| Battery Capacity (mAh) | 5,200 | 2,600 | 2,500 | 3,200 |
| Scheduling | yes | yes | yes | yes |
| Alexa Integration | limited | no | no | no |
| HEPA Filter | yes | yes | yes | yes |
| Other features | digital restricted areas; zoned cleaning | vibrating water tank | has two containers: one for clean water, the other one is for dirty water | two types of cloths in the box for different cleaning needs |
| Warranty | 12 months | 12 months | 12 months | 12 months |
| Price | ~$550 | ~$330 | ~$350 | ~$400 |
Robot vacuums mentioned in the article: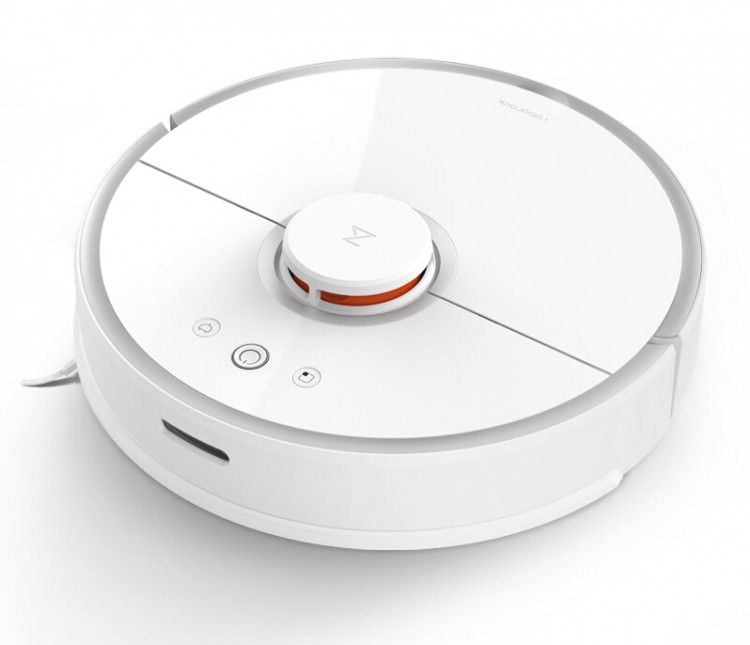 The Roborock S5 is the most expensive one, but it the only flagship model on the market with a mopping possibility. Does the Roborock S5 work best? Let's find out.
First, it is the only robot from our list that has mapping and smart navigation. Even though it has strong suction power, it lasts for the whole 150 minute, which is crazy. Even though this device is powerful, it is equipped with a soft bumper that reduces noise while working.
The Roborock can clean a bare floor and deep clean thin and medium-pile carpets. Its mapping technology is based on a laser so that the robot can work in the dark. The unit has an anti-tangle design that prevents hair from wrapping all over its brush, motor, and the wheels, which makes the machine perfect for pet owners.
It uses a washable HEPA filter, the type of filter that catches up to 98% of pollen in the air reducing allergies.
The app is actually great here. You can track your robot in real-time, view the created map, switch between the working modes, schedule the device, name it, and create virtual walls. Do not know how to manage your device? Simply tap on the area you need the robot to go on your smartphone, and the S5 will go to that point.
The Roborock S5 performs great on a carpet. It comes with smart carpet identification that turns on its suction power on maximum once the cleaner recognizes a carpeted surface. The unit deeply cleans any carpet (except the thick ones) and works great on a hardwood floor, tile, marble, etc.
The recharge & resume option makes the Roborock S5 dock itself when its battery decreases to 20% and juices it up to 80%, so it can resume from the point it left off to finish its session.
Bottom Line
Overall, the Roborock is one of the best robot vacuum cleaners so far. Yes, it is not a budget item, but it is worth every penny with long battery life. It is one of the strongest suction powers and has a high-featured app and mapping. Even though it has limited support of Amazon Alexa, the Roborock S5 is worth the price.
---
ILIFE A9S
The ILIFE A9S was specially designed for vacuuming and mopping since it has a vibrating water tank that can remove stains.
The ILIFE A9S has a camera and gyroscope that help to navigate efficiently around without missing a spot. In the box with the ILIFE A9S, you will find a virtual wall barrier that prevents the robot from crossing some areas. A voice assistant will tell you about everything that's going on.
When the A9S battery runs out of energy, it gets back to recharge and resumes cleaning from the same spot it left off. The ILIFE A9S is suitable for thin carpets but would not provide deeper cleaning; however, on bare flooring, the robot performs well.
Bottom Line
ILIFE A9S is one of the best budget cleaners on the market. Unfortunately, it does not clean thick carpets, but it does a great job on bare floors.
---
ILIFE W400
The ILIFE W400 is the first robot that really mops. It is equipped with two large containers: 850 ml and 900 ml. The bigger container is for dirty water; the other one is for clean water.
The robot is tall and is not supposed to vacuum carpets, but if you manually place it on carpet, it will damp the carpet. It is equipped with a roller that scratches floors to provide better cleaning performance.
Bottom Line
The ILIFE W400 is not suitable for carpet cleaning; it is designer for mopping only. This machine is able to remove stubborn stains, has a large water container, and provide better cleaning performance than most of the robot vacuum cleaners that can mop and sweep.
---
Viomi V2
The Viomi V2 is a flagship robot vacuum with a reasonable price tag. It is equipped with an LDS laser that helps to create a map of the cleaning area to help the robot know where to clean.
With two big containers and two types of cleaning pads, the Viomi covers a big cleaning area when mopping.
The Viomi supports restricted areas and zoned cleaning and has the strongest suction power on the market.
Bottom Line
With the big container, the Viomi V2 is ideal for homes with a significant bare floor area.
---
Let's talk about which robot is best for your needs.
Price
The Roborock S50 and Viomi V2 are definitely the most pricey on the list, but these are high-featured flagship devices that can compete with more expensive ones.
The ILIFE W400 and ILIFE A9S are the cheapest here. Each of them has useful features, and these models are perfect for mopping.
Mapping
The Roborock S5, Viomi V2, and ILIFE A9S come with mapping, but the first two have LIDAR, the ILIFE has a camera and gyroscope.
Amazon Alexa Integration
If you have Amazon Alexa, you probably need to have a look at the models that are compatible with it. These would be the Roborock S5.
Home Size
If you live in a small home, all of these machines are good. But if you are on a tight budget, have a look at the ILFIE W400, and the ILIFE A9S.
And finally, for a big home, the Roborock S5 and Viomi V2 would be the best choice.
Carpets / Rugs
If your home is mostly covered with carpets and rugs, stick with the Roborock or the Viomi V2. These models can clean thin and medium-pile carpets.
Bare Floor
All the devices on the list are ideal for a bare floor, laminate, tile, marble, etc. It depends on your preferences as to which one to buy.
The ILIFE W400 is designed to work on bare floors only, if you don't need a robot that also sweeps — the ILIFE W400 would be suitable for you.
Pet Hair
When it comes to pet hair, it is important to know what type of floor you want your robot to clean. For mostly bare floors, every machine is great at picking up pet hair. On a mixed surface, every single one on the list would work well, but if you want deep carpet cleaning, see the carpet & rugs paragraph. And finally, for a home mostly covered with carpets, go with the Roborock S5 or the Viomi V2 because of their strong suction power. Do not forget that all the robots can do thin carpets, but do not expect deep cleaning from the ILIFE A9S.
It is not easy to say which one is the best robot mop. It depends on your budget, personal preferences, floor type, etc.
Where to buy
Since English is not our first language, you may notice spelling and grammatical errors in the article. We would be very grateful if you could help us fix the mistakes. Just select the confusing part of the text with your mouse and press Ctrl + Enter, then you will be able to send us a corrected version of the text. Thank you for your effort!
---
---
Related Robot Vacuum Comparisons
Latest Articles