Roborock S4 vs. S5 Max: Which One To Buy
·
Updated: May 23, 2020
·
7 min read
I had a chance to test the Roborock S4 as well as the Roborock S5 Max and can say a few words about both.
Firstly these are the most efficient robots in the industry. With the latest updates, they managed to clean my place for about 36 minutes which is an absolute record for any other robot I tested.
The robots were designed for different kinds of homes. If you do not need mopping but want a great and smart robot vacuum for the price gyroscope-guided robots but with Lidar, have a look at the S4. If you are looking for a decent robot vacuum that can also do mopping, consider getting the S5 Max.
Let's see what else makes the newer model different over the Roborock S4 and how to choose the one that will suit your home better.
Roborock Features
One of the longest-lasting robot vacuums in the industry
Can be tracked online
Build a high-precise map
Have strong suction
Can be kept off some zones as well as clean a particular area
Can be ordered to clean a room if needed
Safe for allergy/asthma sufferers
The most-efficient navigation in the industry
Handle pet hair, the cleaning brushroll is easy to maintain
Great customer support
Roborock S4 & S5 Max: similar things
The Roborock S4 and S5 Max are the latest models and have some similar features but were designed for different needs.
The idea behind the Roborock S4 is a robot vacuum for people who do not need mopping but want a premium machine with a cheaper price tag.
The Roborock S5 Max is a robot vacuum for carpets that is also a good mopping cleaner. Maybe the best two-in-one robot vacuum on the market so far.
Each model has a HEPA filter that makes it safe for allergy sufferers. The filter can be washed with water for better cleaning performance but we do not recommend doing so more than once a month but vacuuming the filter or wiping dust is necessary.
The cleaning brush has detachable side tips. This is essential for those who have pets or long hair as the brushroll is easy to maintain.
In terms of cleaning performance on carpet and hard floors, the two are similar. If you turn off carpet boost function in the S5 Max, you will not find the difference, especially in real-life conditions. The pickup ability and cleaning mechanics are about the same, both have 2,000 Pa suction.
Both make about the same level of noise when vacuuming, but the S5 Max voice prompt is louder than the S4.
Battery life & Resumption
Each Roborock lasts up to 150 minutes which is enough to clean a big house. Only one model on the market lasts longer. When the robot is running out of charge, it recharges itself and resumes cleaning to finish the job.
The S4 and S5 Max are equipped with an LDS laser which helps to scan the room to create a high-precious map. It allows the robot to know where it should clean and also where it has already cleaned. You can also track your machine in real-time in the Mi Home or Roborock app. Roborock is known for its almost perfect navigation system. The robots are very gentle with furniture, they "see" it and avoid bumping. When cleaning, they calculate the most efficient way to save battery life.
Both models have the same pack of smart features: zoned cleaning, no-go zones, room cleaning, scheduling, etc.
Zoned cleaning: the robot cleans within a particular zone
No-Go zone: keeps the Roborock off some zones
Room cleaning: can be ordered (or scheduled) to clean in a certain room or two.
The apps allow seeing cleaning history, maintenance alerts, etc.
Each robot saves up to three maps (current, back up and edited). Technically, it can store two maps as the current and back up maps are always the same. If you don't need to set no-go zones on one floor, but the second floor needs to be with no-go zones, you can use this feature. The edited map (with no-go zones set) is always saved. The multimap is a bit tricky to use but once you understand how to do so, you can use the Roborock in a two-story house.
What makes the Roborock S5 Max different from the Roborock S4?
The most significant difference between the two is mopping. The S5 Max has a 290 ml mechanical water tank that controls water flow depending on mopping tasks.
Another thing is the carpet boost and climbing ability. The S5 Max can climb up to a 20 mm tall obstacle while the S4 can do so with a 15 mm one. This means the Roborock S4 is not suitable for medium-pile carpets but does a great job on low-pile ones.
Carpet boost is a technology that senses carpeted surfaces and boosts suction when the robot is on a carpet. With this feature, you don't have to run the robot on Max mode if you have carpets to get better cleaning results. This is helpful for big houses. If you live in a small house, the 5,200 mAh battery is enough to cover the area even on max power settings.
Because of a different cleaning brush position, the S4 drives back when it gets stuck and can't figure out how to free itself. It is not noticeable in real life just an S4 thing.
When scheduling the Roborock S4, you can only set the room (rooms) to clean and cleaning mode. With the S5 Max scheduling is more flexible. You can choose vacuuming mode and water flow for each room and it can be different for a kitchen or living room. The cleaning modes are fully customizable. You can also customize cleaning modes on default so you don't have to change anything when set scheduling.
Resumption is also a bit different from the S5 Max. The Roborock S4 recharges up to 80% before continuing cleaning which may take longer if there is a small area to clean left. The S5 Max calculates how much power it needs to finish cleaning, recharges exactly to the battery level needed and finishes the job thus saving time to recharge. If you live in a small house it will not make a difference as the Roborock most likely will not need to recharge to finish cleaning, but for a big house, this option is a time-saver.
The Roborock S4 has an amazing design with a semi-transparent lid. It is also only available in black color while the S5 Max can optionally be black or white.
Roborock S4 vs. S5 Max: the main differences
Mopping. The S4 only vacuums, while the S5 Max does both.
Dustbin size (420ml vs. 460ml).
The Roborock S4 is not suitable for medium-pile carpets because of the reduced climbing ability.
The S4 lacks a carpet boost feature.
The S5 Max cleaning modes are fully customizable.
The newer model saves time before resuming cleaning.
The Roborock S4 is only available in black color. The S5 Max is on sale in white and black colors.
The Roborock S5 Max is widely available to buy on Amazon and Gearbest. The Roborock S4 is on sale in some countries such as Germany, the US or the UK.
Roborock S4
For Hard Floors & Low-Pile Carpets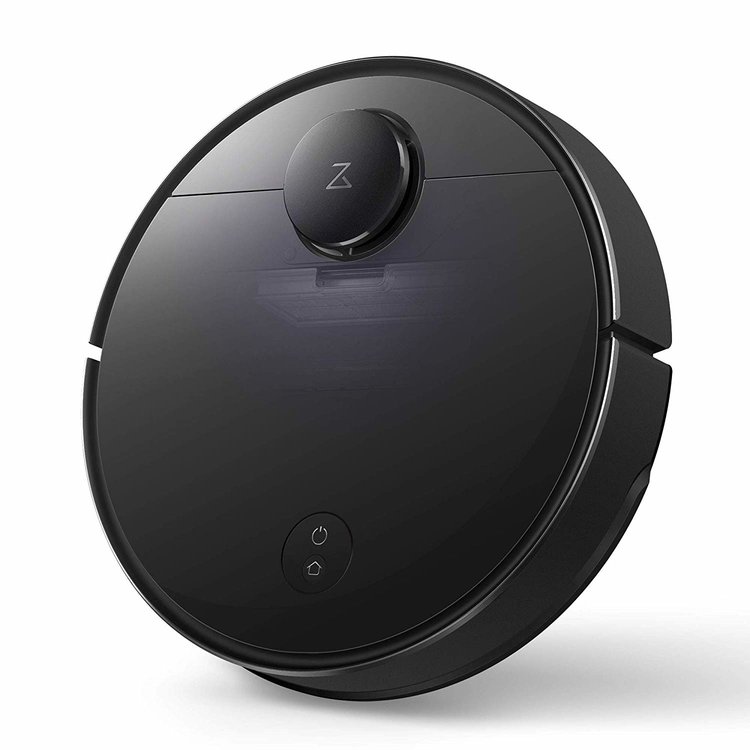 The smartest for under $400
Has an amazing design and most smart features of other premium-category robots.
The Roborock S4 is the smartest robot vacuum in its price category. You will not find an efficient robot with smart features and great cleaning performance for such a price. It is also HEPA, has a good pick up ability, and is ideal for bigger homes with pets.
Ideal to use on low-pile carpets and hard floors.
Roborock S5 Max
For Carpets + Can Mop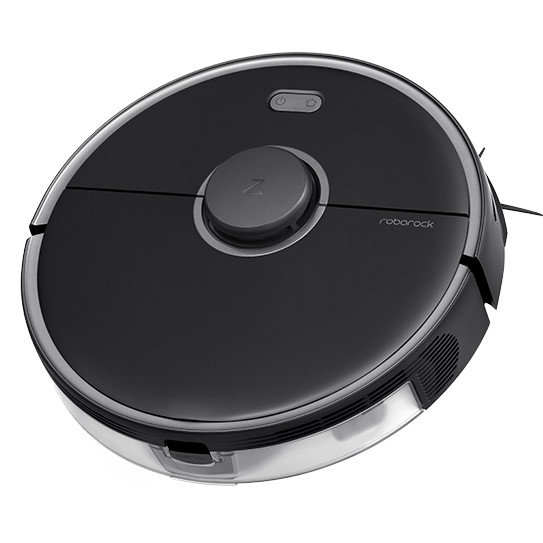 Is the best 2-in-1 robot on the market
Can do mopping and sweeping, has fully customizable cleaning modes and water flow levels. Includes a big water tank to cover an about 100 sqm area. Intelligently recharges itself to the level of battery it needs to finish cleaning. Supports no-mop zones.
The biggest improvement over the other Roborock robots is mopping. The S5 Max has no-mop zones that keep the machine off carpets in mopping mode and when the attachments are removed, the no-mop zones become inactive. In our mopping test, the S5 Max was able to remove stubborn stains which is rare for a hybrid vacuum. Overall, the Roborock S5 Max is the best two-in-one robot vacuum in the industry so far.
The robot holds an average dustbin and a big water tank, the engineers did a good job on that.
The S5 Max is good on medium-pile carpets and hard floors. It is a great buy for anyone who is looking for a robot that can do both: mopping and vacuuming.
Which Roborock to buy?
The Roborock S4 is an ideal machine for a big house with pets, hard floors and low-pile carpets. It is safe even for sensitive to dust people and can be used in a two-story house. If you have medium-pile carpets, the S4 would not be able to vacuum there, keep that in mind. It is the best in the ~$400 price segment as it is smart, powerful and efficient. Other than not be able to clean medium-pile carpets, the S4 is a nearly perfect robot vacuum for any type of house for those who do not need mopping.
The Roborock S5 Max is designed to be used on hard floors and also carpets. It can either clean hard floors, low and medium-pile carpets. Safe for allergy sufferers and can be used in a multi-story house. It is the most cost-efficient robot vacuum in the model line which is as good at vacuuming as it is at mopping. If you want a robot vacuum with mopping that will be able to vacuum carpets, the Roborock S5 Max is your choice.
---
Customer support
A few words to say about Roborock customer support. If you have any issue, you can contact the company via email:
US SUPPORT: support@roborock.com
EUROPE SUPPORT: support@roborock-eu.com
Normally Roborock responds quickly. If you have any questions about the product, feel free to contact them.
Accessories
So far there are no extra accessories for the S5 Max available to buy but you can use some from the S4 or S6. You can either buy additional accessories on Gearbest, Amazon or Aliexpress. Gshopper Lifestyle Store is a Roborock's authorized retailer and is safe to purchase from.
The main cleaning brush is the same that is used for the S4 and S6. You can actually get the one from the S5 too but it does not have an ability to be disassembled so I prefer the one from the S4 and S6.
The side brush is made of rubber, which means you can also use one from the S4 or S6.
All Roborock models use the same washable HEPA filter so you can get one suitable for any model, they all are interchangeable.
The main brush cover is also interchangeable for all models.
For those who want to use magnetic tape, you can get one separately too (supported by all models).
Where to buy additional accessories:
Warranty
Warranty depends on where you purchase the product. The official customer support response is:
«Customers could return the device for a refund within 30 days if purchasing from our official Amazon store. The device covers a 1-year warranty for free repairing or replacement.
If bought from other platforms, we suggest you contact the seller for warranty service. As the manufacturer, we could provide customer technical support and the seller is responsible for the warranty. It is because we have an agreement with our first-class official distributors when we sell devices to them that the warranty of the product is provided by sellers. We appreciate your understanding.»
---
---