Proscenic 790T vs Roomba 690 Comparison: The Best Rated Robot Vacuums on Amazon
·
Updated: Jul 25, 2019
·
4 min read
If you are looking for an affordable robot vacuum, you definitely should pay attention to those devices: the iRobot Roomba 690 and Proscenic 790T (Upgraded version). Why we choose those models for comparison? The Roomba 690 is a most popular robot vacuum on Amazon with more than 1,700 reviews, the Proscenic 790T is a relatively new robot on the market, it is not so popular but has great features such as visual mapping and path planning, most of Amazon customers highly appreciated this robot. Let's compare the robots features:
| Features | Proscenic 790T | Roomba 690 |
| --- | --- | --- |
| Run Time | 110 min | 60 min |
| Battery Capacity | 2150 mAh | 1800 mAh |
| Suction Power | 1500 Pa | N/A |
| Wi-Fi | yes | yes |
| Alexa | yes | yes |
| Dustbox Capacity | 290 ml | 300 ml |
| Water Tank Capacity | 150 ml | - |
| Mopping | yes | no |
| Cliff Sensors | yes | yes |
| Mapping | yes | no |
| Dirt Detect | no | yes |
| Noise Level | 65 dB | 68 dB |
| Auto-Recharge | yes | yes |
| Scheduling | yes | yes |
| Filter type | HEPA | AeroVac™ Filter |
| Virtual Wall | no | yes |
Robot vacuums mentioned in the article:
Proscenic 790T quick glance
At a price of about $250, Proscenic 790T is one of the best offers on the market with its Amazon Alexa compatibility and a mapping feature. Along with that, the robot has a mopping ability which makes the machine ideal for homes with mostly bare floors. The voice system tells when the device is starting cleaning, rebooting or charging. Also, it tells you about any problem. However, you can switch the voice system off on the app if you don't like it. The Proscenic 790T can be controlled by its app, manually by pressing the on-board touch panel, using its remote control, and voice commands.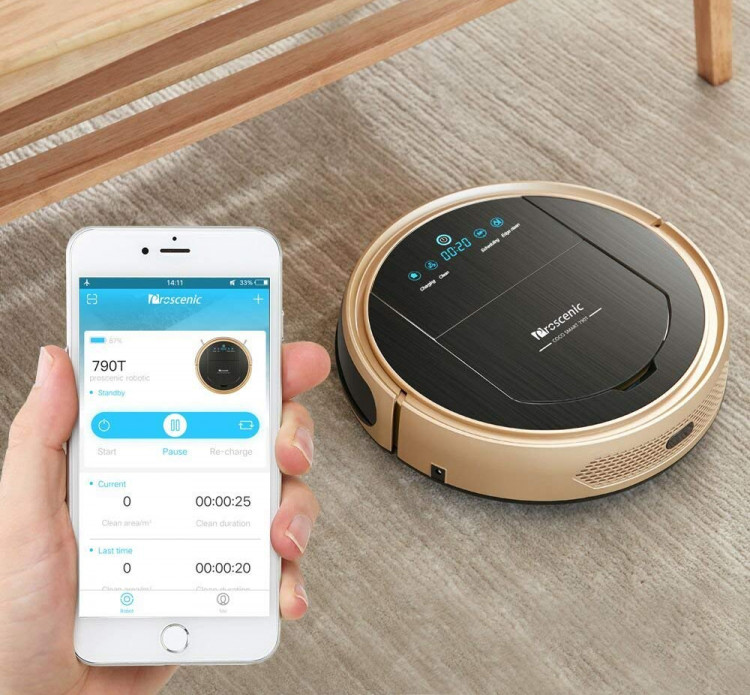 The device comes with a vacuum port and a bristle brush. The port works best on bare floors, it causes hair going inside without getting tangling. The bristle brush is ideal for carpet flooring.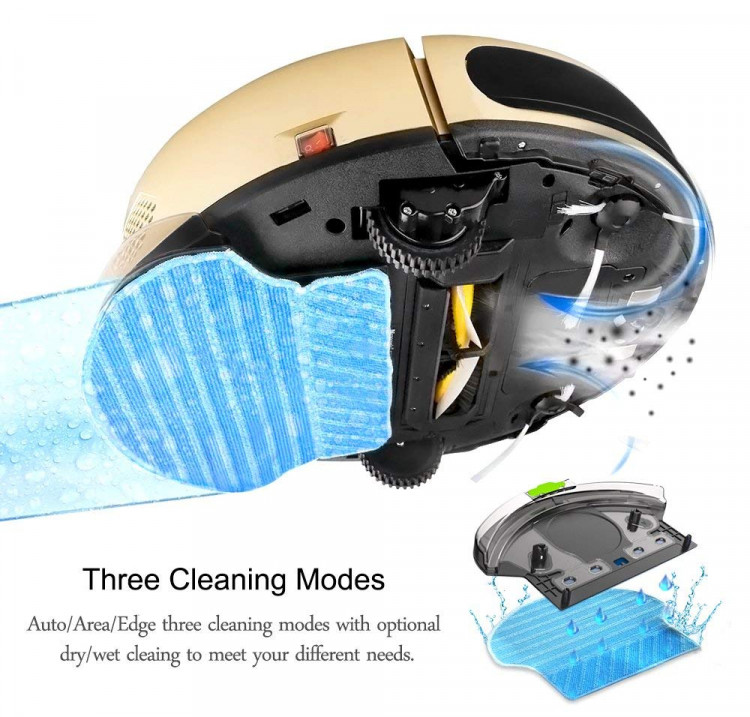 Strong suction performs well at catching pet hair, dust, and dirt. Although Proscenic 790T works great on any type of bare floor and thin carpets/rugs, it does not clean thick carpets.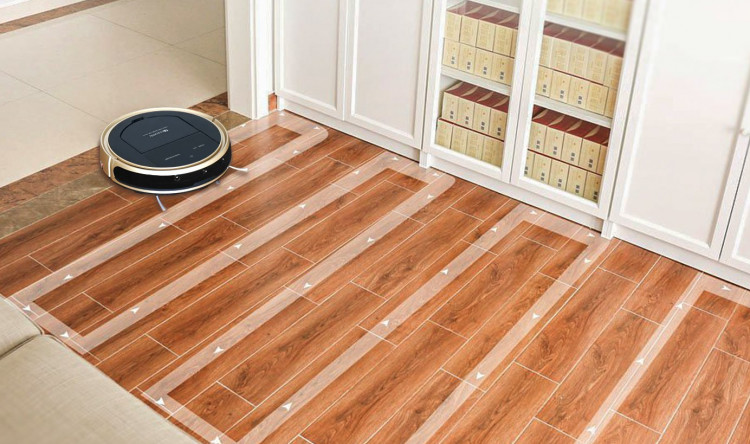 With a price for an under $300, Proscenic 790T is integrated with Amazon Alexa, has mapping, and comes with great performance on thin carpets and a hardwood floor, tile, laminate, marble etc. To sum it up - this is one of the best budget robot vacuums that definitely worth considering buying.
Proscenic 790T Cleaning Test
---
Roomba 690
Roomba 690 is one of the budget robots in iRobot family. The machine has a dirt detect technology that provides more thoughtful cleaning on concentrated areas of dirt. It is also compatible with Amazon Alexa and Google Home meaning the robo can be controlled by the app, voice commands and manually by pressing the buttons on the lid.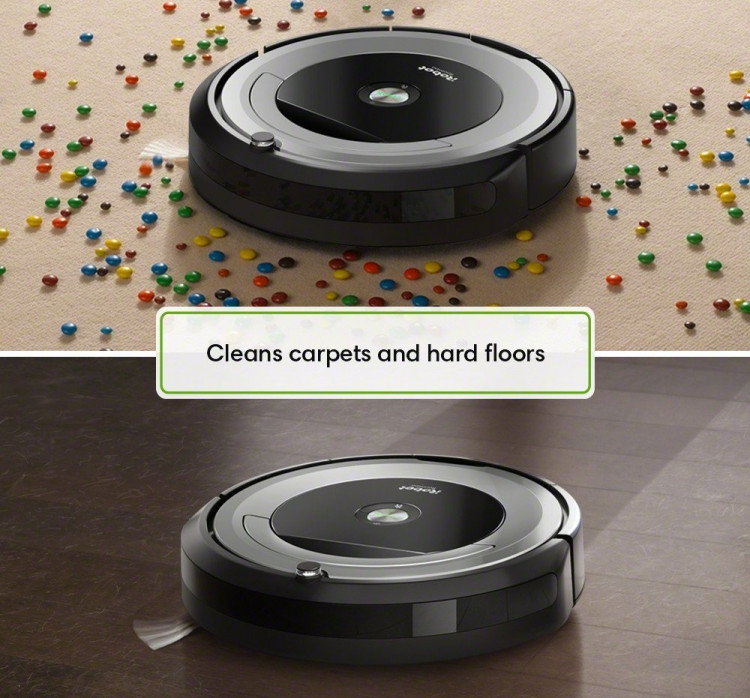 The Roomba 690 is equipped with two double-rotating brushes that work better grabbing and removing dirt, dust, hair and large debris from your floors. This robo is ideal for small-sized houses covered with carpets. In the box, you also will find a virtual wall barrier that blocks off "no-go' areas.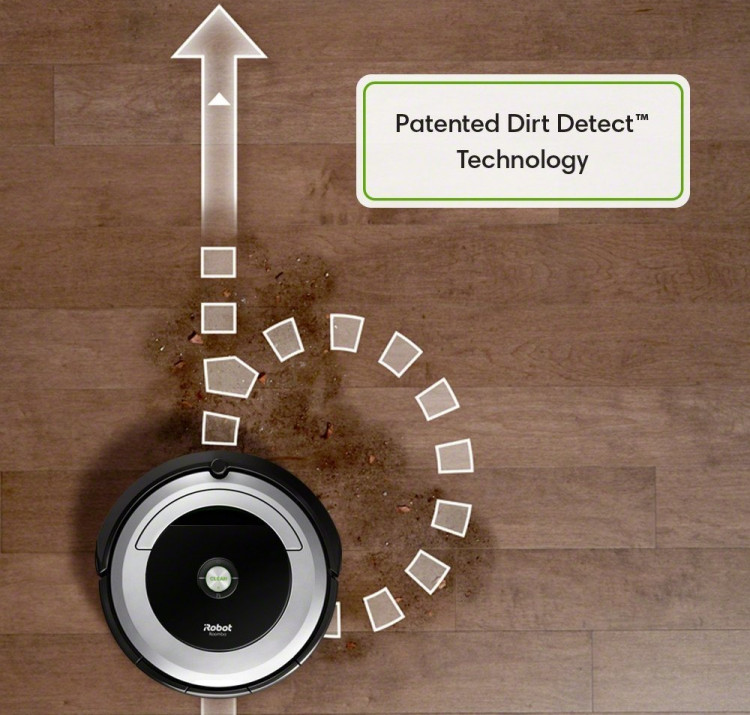 Roomba 690 works great on bare floors, thin and even medium carpets.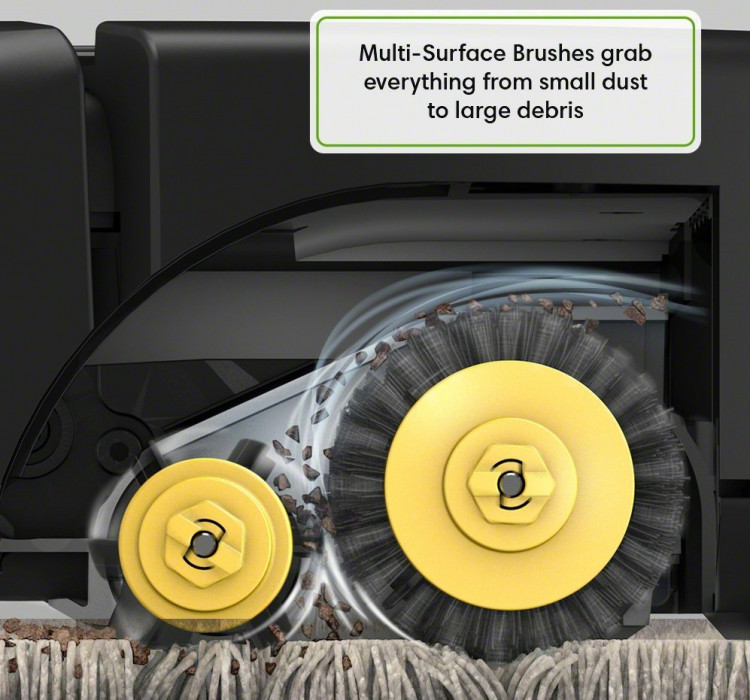 To sum it up - Roomba 690 is a decent robovac that handles pet hair and performs well on almost any type of surface. It can be a part of your smart home system. With its dirt detection, you don't have to manually switch to a spot cleaning, the robot will do it automatically. Also, take a look to other iRobot models, you can compare Roomba models here.
---
The two robots share a number of similar features, in particular:
Support Wi-Fi and can be controlled by a smartphone app.
Cliff sensors help to navigate around without bumping into obstacles and falling down from stairs.
Auto-recharge makes the machines automatically to dock themselves when the battery gets low.
Both are equipped with a bristle brush. This type of brush scratches carpeting surface grabbing dirt, dust and pet hair.
What is the difference between Proscenic 790T and Roomba 690
The Roomba 690 does not come with mapping. A map helps to see where the robo has already been and track the whole cleaning process in general.
Because of the mapping, Proscenic 790T covers the whole area per one cleaning session while the Roomba 690 moves randomly and does not remember where it has already been.
Dirt detector that recognizes the dirtiest areas and is only presented in Roomba 690
Proscenic 790T lasts longer which is good for bigger size homes
Proscenic operates quieter than Roomba
The Roomba 690 can clean thin and medium carpets while Proscenic does bare floors and thin carpets/rugs
The Proscenic 790T has the mopping feature making it suitable for any type of bare floor
Both support Amazon Alexa but only Roomba compatible with Google Assistant. It means you can control the robots by your voice.
The Roomba 690 is equipped with one side sweeper while Proscenic 790T has two. Actually, we still don't know how it affects cleaning performance.
The Proscenic comes with a suction port. The port is ideal for cleaning pet and human hair without causing any tangles. It works better on a bare floor though.
The Roomba 690 comes with the virtual wall barrier.
The Roomba 690 has two cleaning brushes while Proscenic 790T has one.
---
In the end
The Roomba 690 is perfect for small-sized houses with pets that mostly covered with carpets (not thick ones though). It performs great on a bare floor also but this model does not have a mopping feature. It supports both: Amazon Alexa and Google Home. The downside of the Roomba 690 is there is no mapping which means the robo does not remember where it has been.
The Proscenic 790T on the other hand, is more suitable for small and average-sized homes with thin carpets and a bare floor. It also handles pet hair with ease. Only supports Amazon Alexa though. The robot comes with mopping. Also, Proscenic builds a map of the interior so it knows where it has been and never misses a spot when cleaning.
Which one to pick up? These are similar yet different machines that suit your needs. The Roomba 690 and the Proscenic T790 cost about the same. Make your choice based on the size of your home and the floor type.
---
---