ILIFE W400 Review - Robot Mop Worth Buying
·
Dec 19, 2018
·
3 min read
ILIFE has surprised us with its new mopping robot - the W400. It doesn't look like the previous models from ILIFE family we've seen. The robot mops! It does not just damp your laminate/tile/linoleum; it actually mops it.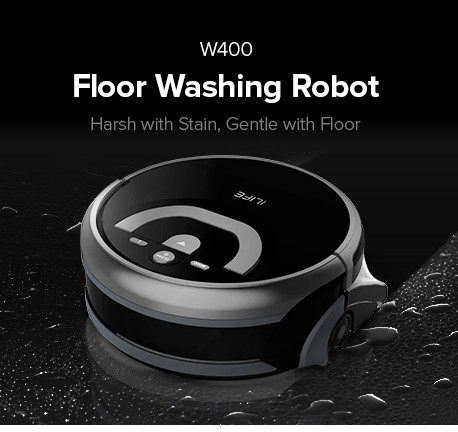 ILIFE W400 specifications
| Specs | ILIFE W400 |
| --- | --- |
| Battery life (min) | 80 |
| Water container size (ml) | 850 |
| Dirt water box size (ml) | 900 |
| Battery capacity (mAh) | 2,500 |
| Height | 12 cm / 4.72 in |
| Weight | 3.3 kg / 7.27 |
| Cleaning mode | path, area, spot, edge |
| Charging | Manual |
| Warranty | 12 months |
ILIFE W400 Features
Is equipped with a fiber roller that washes bare flooring scrubbing it at a high frequency
The robot is able to remove stains
The mechanism dampens the floor to remove stubborn stains
The W400 sucks up the dirty water into the bigger dirty water tank
The machine is equipped with two containers: an 850 ml one for clean water and a 900 mm box for dirty water
Moves back-and-forth in straight lines
Has a useful LCD panel
4 cleaning modes for different needs
First Glance
On top of the robot, you can see a few buttons that evoke start/stop cleaning, switch between modes, and a voice alert button that gives you information about robot's status. On the panel, you can track water and battery level.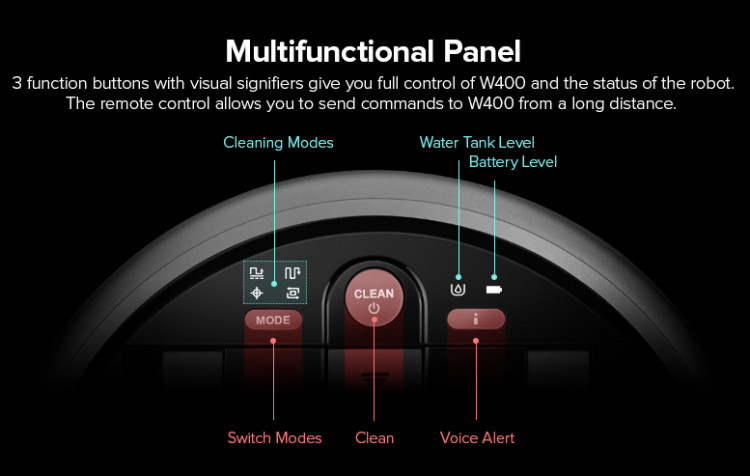 There is a handle under the buttons that allow you to carry the robot whenever you want to place it.
Underneath, there are two wheels housed. They do not have a big clearance making the robot suitable for flat floors. It has issues with transferring itself over rugs or thick carpets. There is a fiber roller that gets wet when cleaning and deeply cleans bare floor at a high frequency — the scraper wides off stains leaving the floor spotless.
Two water containers for better cleaning performance
Inside the machine, you will find two large containers: one for clean water, and another one for dirty water.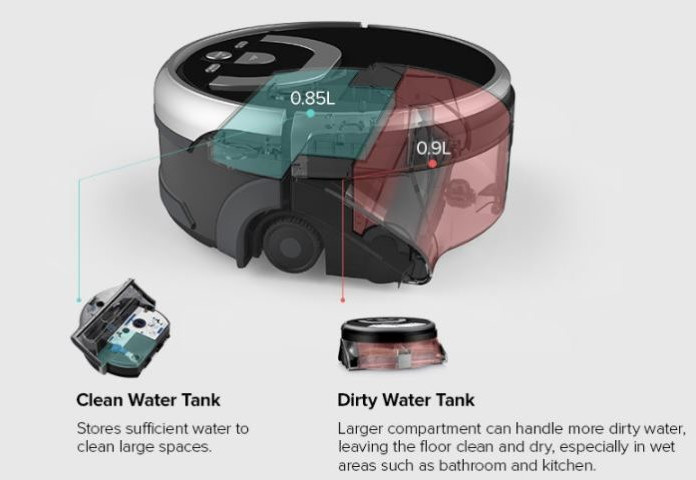 When the robot mops the floor, the superior suction sucks dirt water to another container thus making the machine keep working until the dirt container gets full. The tank for dirty water is larger than the one for clean water because it allows you adding water during cleaning until the battery gets discharged.
The cleaner is taller than most of the robots in the industry which mean it will not go under some furniture.
Navigation and Performance
The machine is equipped with a bunch of cliff and anti-collision sensors to prevent the unit from falling and bumping into things harshly.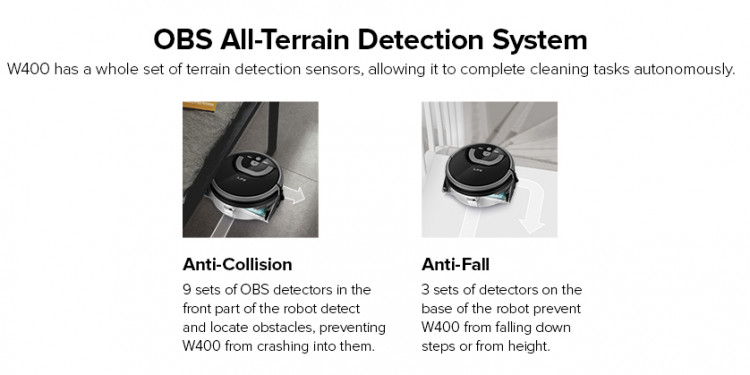 It might look like these hybrid robots that mop and sweep but the ILIFE W400 performs much better on bare floor making it clean and polished.
The ILIFE W400 leaves your floors clean and polished
The robot moves slow methodically covering the whole area in straight lines. The microfiber brush rotates polishing floor and removing stains. It cannot remove stubborn stains from the first time though if you run it over high-traffic spots a few times, the robot will perform flawlessly.
The ILIFE W400 has 4 cleaning modes: path mode, area mode, spot mode and edge mode.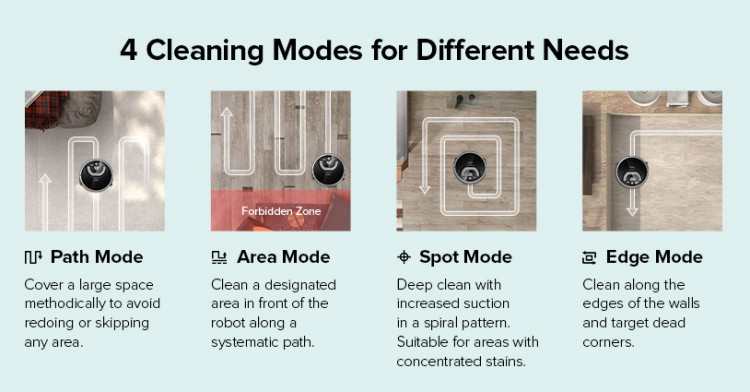 The robot has small wheels and cannot go over carpets; if you place it on thin carpet manually, the vacuum will mop it without getting stuck.
Battery life
The ILIFE W400 works about 60 minutes with a full container then you can fill it with water again. Remember to empty the dirty water container once the robot finished cleaning.
The ILIFE W400 does not go to recharge automatically mostly because it could lick water on its charging station causing issues. When the battery is out of energy, the W400 stops and beeps alerting that cleaning is finished. When the robot is done, you have to move it manually to empty the containers dry it off and then place to the charging dock.
What is about the ILIFE W400 alternatives?
We see many of the robot vacuum cleaners that can mop and sweep, but these machines are not very efficient when it comes to actual mopping. They are useful for removing dust from your laminate but do not polish the floor.
A few robots that can mop and remove almost all types of stains are the Braava 380T and Braava Jet 240. They both have one container only that is smaller than the ILIFE W400 has.
Price and where to purchase
The ILIFE W400 is only available on Aliexpress. You can get it for around $250 which is a great price considering what the ILIFE W400 offers.
---
[Update, April 2019] ILIFE released the newest robot vacuum A9S that can mop and sweep. It also has a vibrating mechanism that provides better cleaning on bare floors than other robot cleaners. However, the ILIFE A9S and W400 mopping work a little bit different and were designed for different needs.
Since English is not our first language, you may notice spelling and grammatical errors in the article. We would be very grateful if you could help us fix the mistakes. Just select the confusing part of the text with your mouse and press Ctrl + Enter, then you will be able to send us a corrected version of the text. Thank you for your effort!
---
---
Latest Articles