The ILIFE V8S, the Smart Flagship Robot Vacuum for Under $250
At IFA 2017, the Chinese robot vacuum manufacturer ILIFE represented their flagship A8 robot vacuum cleaner that comes with intelligent planning of the cleaning procedures, space measurement, and many other features. A while ago, ILIFE gives us the opportunity to see the newest robot vacuum cleaner, the ILIFE V8S. With a reasonable price tag, we get a great smart robot vacuum cleaner that has everything we need. Let's see what makes it so special.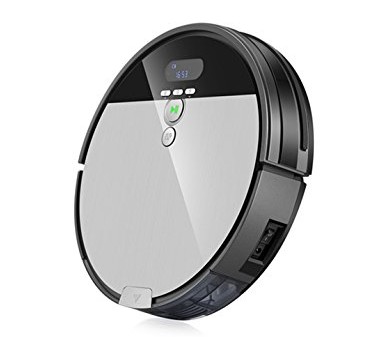 Features & Specifications
Battery capacity: 2600 mAh
Working time: 2 hours
Charging time: 3 hours
750 ml dustbin capacity
Anti-drop system
Anti-collision sensors
Auto-recharging and getting back to its cleaning duties to finish them
i-Move intelligent navigation system that can correct the cleaning path
Two cleaning brushes for deeper and better cleaning on hardwood floors and carpeted surfaces
HEPA filtration
Appearance & Design
The ILIFE V8S has a sleek two-color body similar to the A6 or A8 models. As always, iLIFE keeps things minimalistic making their robots look modern. It leaves a great impression with its glassy surface. The slim body allows it to reach most areas under furniture, something we've already seen in the ILIFE A8. On the lid, the iLIFE is equipped with a V8s with five buttons and a screen that shows time and battery level: the buttons are power, home, schedule, spot cleaning, and mapping. A 750 ml dustbin sits on the side of the robot, making it super easy to remove and clean.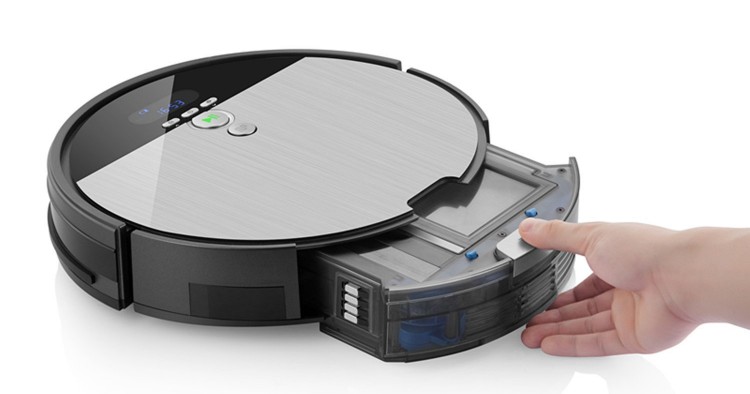 Cleaning Performance
The ILIFE V8S is equipped with anti-collision and anti-drop sensors that help it to move around. A large 750ml dustbin holds more dust and dirt, so you don't have to clean it after every run. The tangle-free design makes the robot perfect for families with pets. The i-Move intelligent system has a stable gyro that corrects the cleaning path.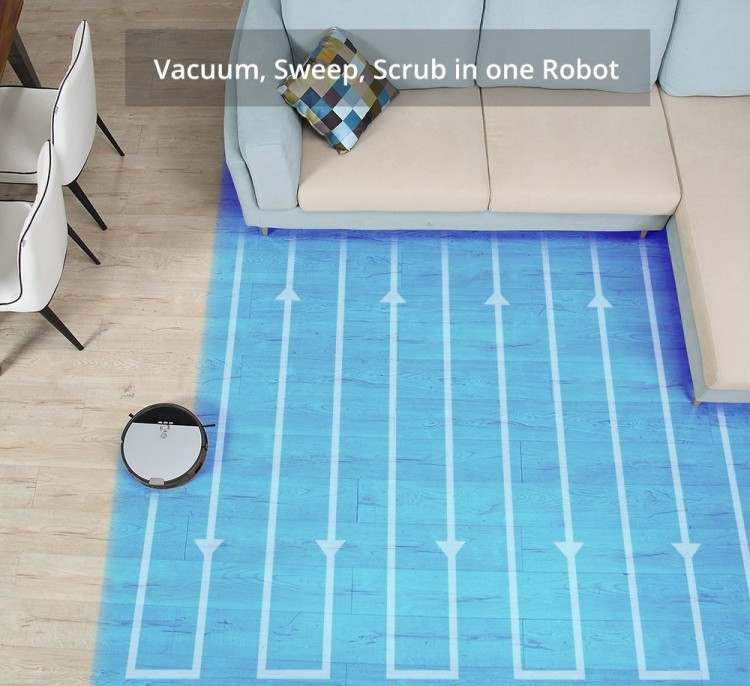 Again, the V8S is equipped with two cleaning brushes for better cleaning including a rubber tangle-free brush that works best on the hardwood and tiled floors for collecting pet hair; its best-known bristle brush is for deeper cleaning on carpeting. The home assistant also comes with a microfiber cloth and a water tank for wet mopping. The i-Dropping technology controls the amount of water liquid, so the mop is always wet enough--but not too much.
Avoids Obstacles and Falling Down
As do most of the robots on the market, the ILIFE V8S has sensors that prevent it from bumping into things all around your home and falling down from stairs, tables, etc.
Battery Life
The robot vacuum cleaner comes with a 2600 mAh Li-ion battery that works the whole 2 hours in one charge. It takes 3 hours to charge the robot fully.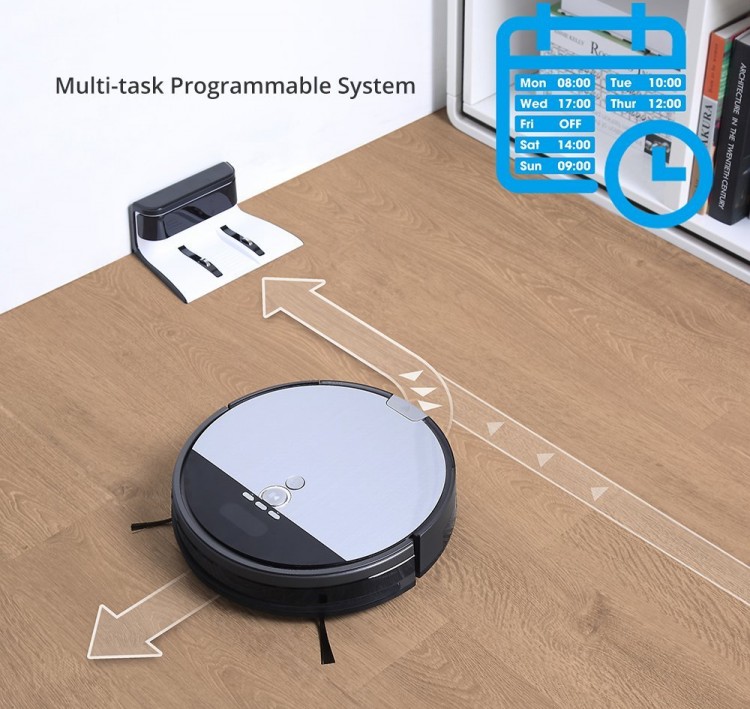 Remote Control
You can control your device using its upgraded remote controller. You can move it in different directions, a program scheduled cleaning, start or stop the robot, choose cleaning modes, and make it get back to its charging station.
Price & Where to Buy the iLIFE V8S
Currently, the ILIFE V8S is only presented on Amazon for about $260, a good deal considering its cleaning performance.
Pros
Affordable price
Decent battery life
Good suction power making it perfect for carpets and pet owners
2-in-1: sweep and mop
Smart i-Move 2.0 Navigation and Localization
Large dustbin
Cons
No recharge & resume function
Louder than less powerful ILIFE robots
What makes the ILIFE V8s one of the best budget smart robot vacuum cleaners?
With a price of 250 dollars, ILIFE is killing its competitors with robots that not only do their jobs on carpets and hardwood floors but also pick up pet hair, which makes them perfect for pet owners. While other more expensive robot vacuum cleaners work 60-90 minutes at most, the $250 ILIFE V8S runs the whole 120 minutes with good suction power. The older brothers from ILIFE clean approximately the same time, but they come with a less powerful motor. Sounds impressive?
With decent battery life, a modern minimalist design, and two cleaning brushes that cooperate to make your floor cleaner than ever, the ILIFE V8S definitely deserves to be called one of the best smart robot vacuum cleaners to buy in 2018 without breaking the budget.
Where to buy
Found some spelling or grammatical error? Please help us to fix it!
Since English is not our first language, you may notice spelling and grammatical errors in the article. We would be very grateful if you could help us fix the mistakes. Just select the confusing part of the text with your mouse and press Ctrl + Enter, then you will be able to send us a corrected version of the text. Thank you for your effort!
---
---
Related Robot Vacuum Comparisons
Trending Articles