The Newest iLIFE A8 Flagship Robot Vacuum Review
ILIFE was presented its flagship robot vacuum the ILIFE A8 at CES 2018 (Consumer Electronics Show) in Las Vegas. The new cleaner has a camera and intelligent navigating system. So here what we know so far:
A Few Words About iLIFE company
In 2016, ILIFE received Amazon Global Selling "Amazon Top Newborn Brand Award"
In 2017, ILIFE V5s Pro won "Water Tank Structure Innovation Award" at the IFA Product Technical Innovation Award, and V8s was honored "China Good Design Award" by Red Dot Design Award in Germany.
In the same year, ILIFE's robot vacuum was named the top global bestseller and "AliExpress 11.11 Top 10 Brands" in AliExpress 11.11 Global Shopping Festival.
ILIFE A8 Specs
ILIFE A8 Specifications
360-degree live-vision camera navigation system
Voice alert system
7.2 cm thickness
CV-SLAM graphics algorithm maps an interior and plans a route
PanoView self-navigation
CyclonePower three-stage cleaning system
Tangle-free rubber brush
Two alternative cleaning brushes
Auto-charge and resume
Runs up to 1.5 hours in one charge
Charging time 3 hours
Scheduling
2,600 mAh Li-Ion battery
2-years warranty
Anti-collision system
Anti-drop sensors
Floor types: hardwood, low-pile carpet, tile, marble, linoleum, low and
medium-pile carpets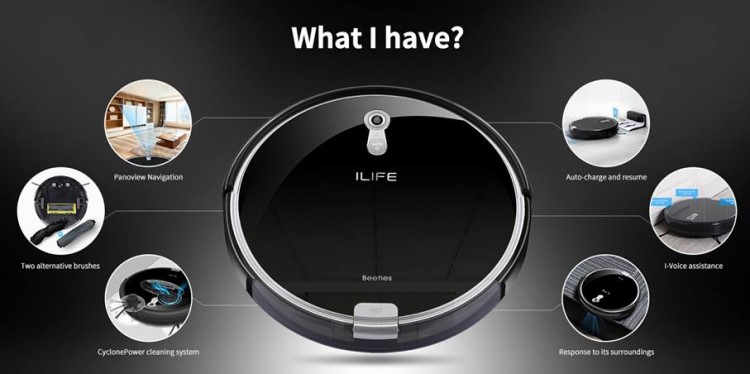 ILIFE A8 Design & Appearance
iLIFE A8 looks extremely modern, very similar to its previous generation A6. Its glossy surface fits in every household and makes a great impression. A beautiful minimalistic absolute eye-catcher design with black finish on top. With its 7.2 cm flat body the robot can run under most furniture and catch dust and dirt in hard-to-reach areas.
ILIFE A8 Cleaning Performance
A8 is one of the few robot vacuum cleaners that have a smart "brain" due to its super slim body. The self-navigation robot is equipped with a 360-degree live-vision camera that along with PanoView helps the device to run under a room with no bumping into things. Three built-in data chips and CV-SLAM graphics algorithm map out an interior and plan a cleaning path. A live view via App should be possible. Assisted by a CyclonePower cleaning system iLIFE A8 cleans thoroughly with side brushes, rolling brush and powerful suction in a single operation. Speaking of brushes the newest generation robot comes with two cleaning brushes. A rubber one that gets rid of pet hair without tangling and works best on hardwood floors and the deep cleaning bristle brush for dirt pickup and carpet cleaning which makes the robot perfect for any application.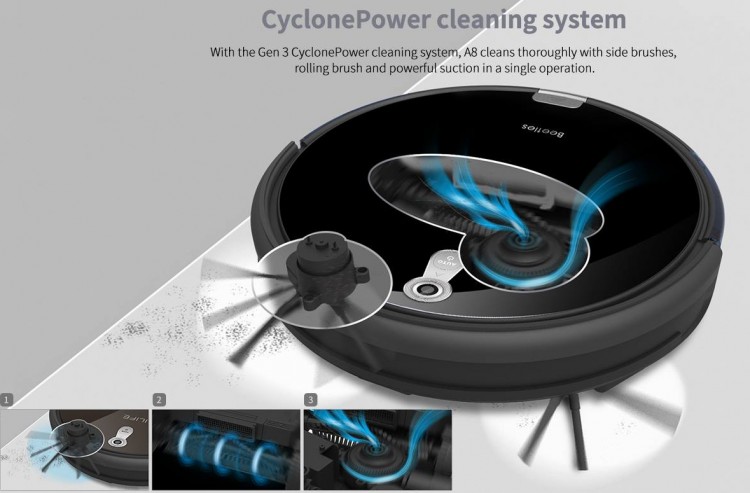 Obstacle & Stair Sensors
The iLife A8 reacts very sensitively to obstacles and drives hardly or only slightly against it. As a result, furniture is not damaged and cleverly avoided. Landings are reliably detected and the robot brakes automatically.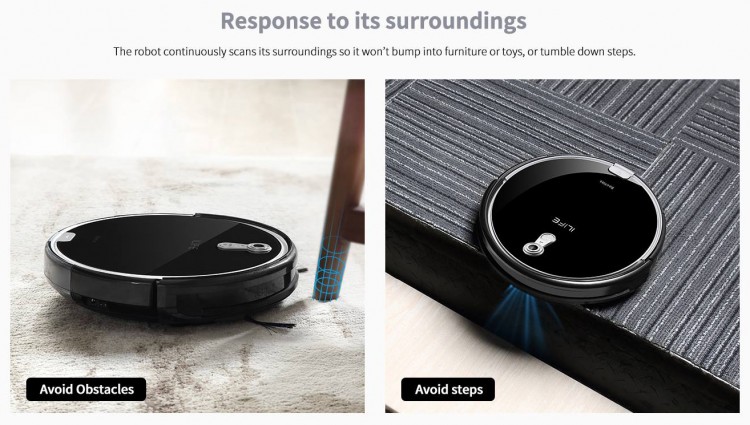 There are two alternative brushes: bristle brush is a good tool to pick up dirt from carpet and rubber brush works best on hard floors and pet hair without tangling.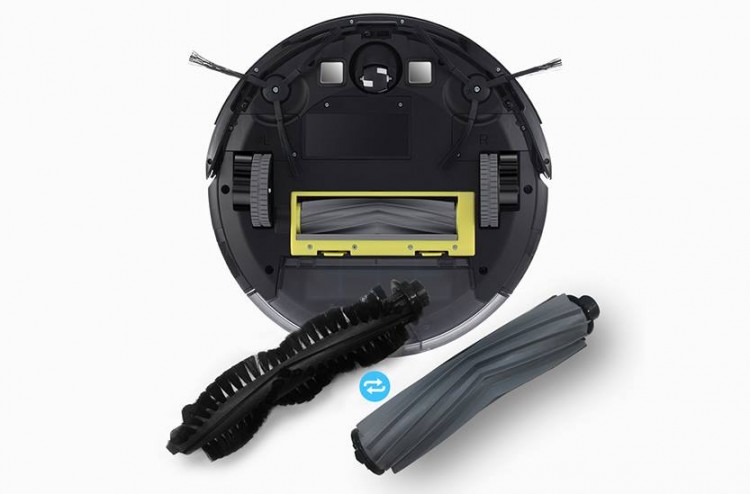 Battery
All the robot cleaners from ILIFE run longer than most of the vacuums on the market and A8 is no exclusion. It comes with a Li-Ion battery with a capacity of 2600 mAh that works up to 90 minutes. It takes around 3 hours to charge the device. Then the robot drives back to the charging station and recharges automatically. If its task is interrupted by a low-level battery, the ILIFE A8 resumes cleaning after recharging.
i-Voice Assistant
The feature that you're going to like is voice alert assistant called i-Voice. The robot tells you information about battery level or when the cleaning process will be finished. The system offers voice prompt in every status of cleaning jobs.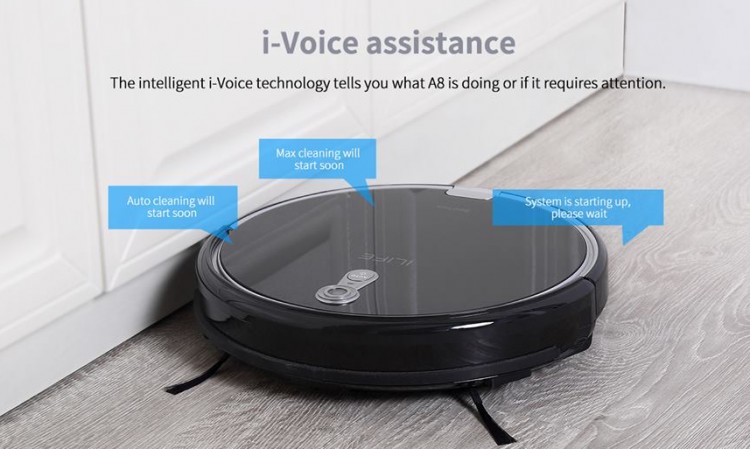 Remote Controller
Thanks to the new remote control with display, you can easily make all settings: program cleaning times, select cleaning modes, send it back to the charging station.
Price & Where to buy
You can buy ILIFE A8 robot vacuum on Amazon with a price tag under $300.
Found some spelling or grammatical error? Please help us to fix it!
Since English is not our first language, you may notice spelling and grammatical errors in the article. We would be very grateful if you could help us fix the mistakes. Just select the confusing part of the text with your mouse and press Ctrl + Enter, then you will be able to send us a corrected version of the text. Thank you for your effort!
---
---
Trending Articles