The ILIFE A6: A Budget Robot Vacuum For Pet Hair
·
Updated: May 14, 2019
·
5 min read
Is the ILIFE A6 the best robot vacuum from ILIFE for pet hair? Let's find out.
The ILIFE A6 is one of a few robot vacuums from ILIFE with a brushless roller. The ILIFE A6 is another improved version of A-series product lines such as A4 or A4S.
[Update, December 2018] ILIFE released a few new robots in the A-model line: the ILIFE A8 and A7. Both are great options for pet hair.
ILIFE A6 First Glance
The ILIFE A6 has a fantastic minimalist design with a piano black finish lid. On the top, you can see a physical Auto button that starts and stops the device. Two sweepers on each side are designed to catch dust and dirt from corners and edges. Underneath, you can find a BladeAway tangle-free rubber brush that works best at picking up pet and long human hair. To empty the dustbin, all you need is to click on the button on the lid and pull it out from the side. The ILIFE A6 comes with a virtual wall that supposed to block areas you don't want it to cross. The robot is equipped with sensors that prevent it from falling down and not bumping into obstacles on its way. Two side sweepers catch dust and transfer it to the dustbin where the main roller along with strong suction sucks it inside the dust box. After the battery runs down on energy, the robot gets back to recharge automatically.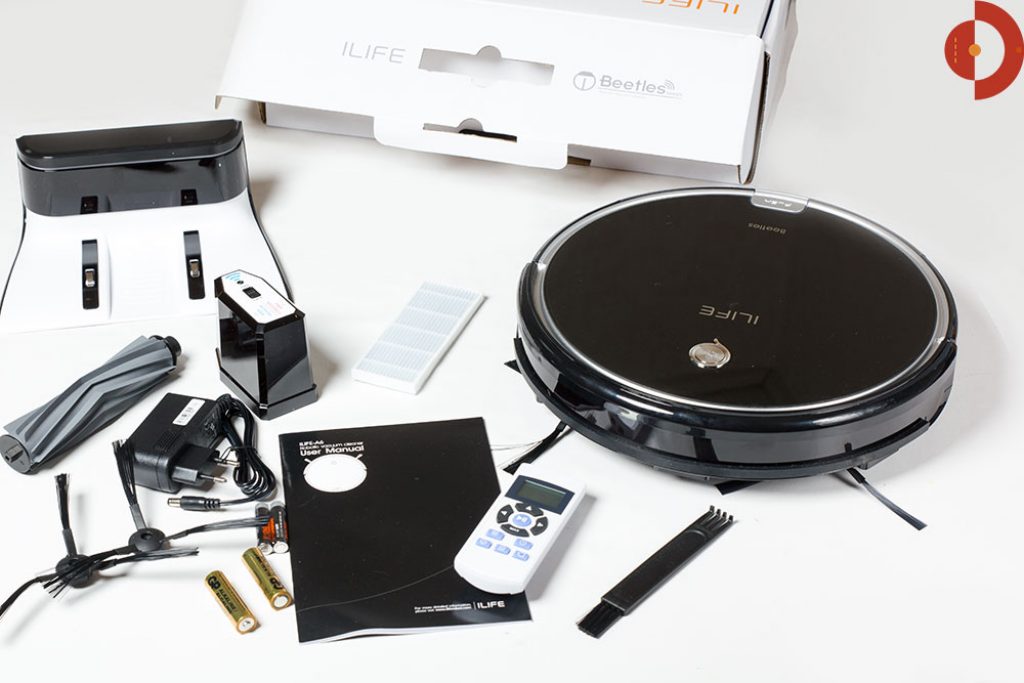 | Features & Specifications | ILIFE A6 |
| --- | --- |
| Running time | 160min |
| Cleaning brush | tangle-free rubber brush |
| Suction power | 1,000 Pa |
| Dustbin capacity | 300 ml |
| Noise level | 65 dB |
| Virtual walls | yes |
| Wi-Fi | no |
| Cleaning area coverage | 2,153sq.f. / 200 sq.m. |
| Battery capacity | 2600 mAh |
| Charging time | 300 min |
| Auto-recharge | yes |
| Cliff & obstacle sensors | yes |
| Control | remote controller |
| Scheduling | yes |
| Dimensions (WxH) | 30.5 cm / 12.01 inches x 8 cm / 3.15 inches |
| Weight | 2.55 kg / 5.62 lbs |
| Warranty | 12 months |
What is the best about the ILIFE A6
Max cleaning mode delivers 1,000 Pa of suction power that can provide excellent cleaning performance on thin carpets and bare floors
The battery lasts up to 160 minutes before needs to recharge
Piano black finish and grey accents look elegant and expensive
Only 2.8 inches (about 8 cm) body allows the ILIFE A6 to fit under most furniture
Virtual walls block zones where the cleaner should not clean
The ILIFE A6 is featured to clean hardwood floors, tiles, and thin carpets
The second generation CyclonePower is a 3-stage system provides a better cleaning performance
New BladeAway spiral tangle-free rubber brush is ideal for picking up pet hair and cleaning bare floor
MiniRoom mode finds the most efficient way to clean a room using the new advanced algorithm
Easy to use
What comes in the box with the ILIFE A6
ILIFE is generous in terms of accessories in the package. With the ILIFE A6, you will find remote controller + batteries; virtual wall + batteries; charging dock and adapter; English manual; 2 extra side brushes; extra rubber brush; extra HEPA filter; cleaning brush.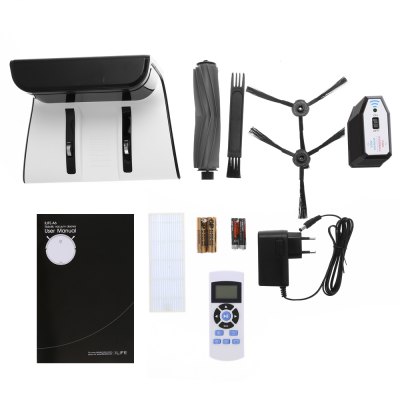 What is the new BladeAway tangle-free rubber roller and why it is better than a bristled brush?
Most robots face the problem caused by hair tangled around the main brush. It becomes challenging when you need to unwrap hair stuck around the bristled brush. The ILIFE A6 has solved this issue with the BladeAway spiral tangle-free rubber brush. The roller is bristles-less and is designed to work better on bare floor and pick up pet and long human hair. You don't have to worry about tangled hair anymore cause maintaining the rubber one is effortless. The brush is easy to maintain and is ideal for those who have pets and long hair. However, brushless rollers are not as efficient on carpet as bristled ones but perform well on thin carpets.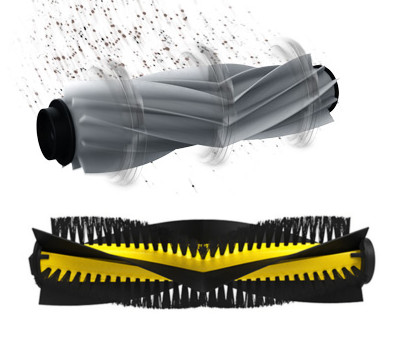 There are 5 different cleaning modes: Auto cleaning, spot cleaning, max mode, edge cleaning, mini-room cleaning.
The Auto mode would direct the robot over the cleaning area until it cleans the whole room.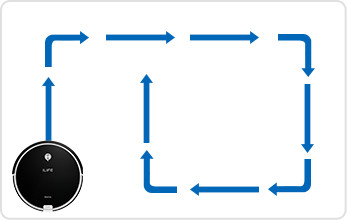 The Spot cleaning mode is featured to clean a specific area.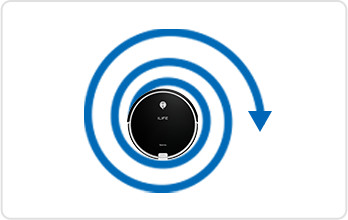 When the Edge cleaning mode is turned on, the robot will clean near walls and corners more accurately.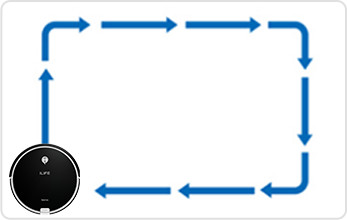 The Max cleaning mode boost the suction power to maximum providing deeper cleaning on thin carpets.
MiniRoom technology feature shortens run time to clean a small room.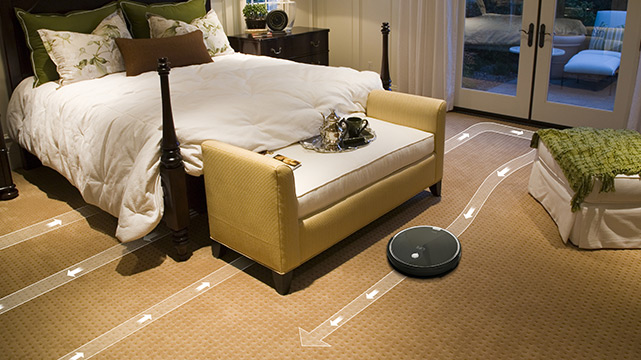 Slim body of the ILIFE A6
Since it is only 8 cm tall which make it one of the slimmest robot vacuum cleaners on the market, the ILIFE A6 does not get stuck under your furniture. Also, the cliff sensors do not allow the robot to fall from the stairs.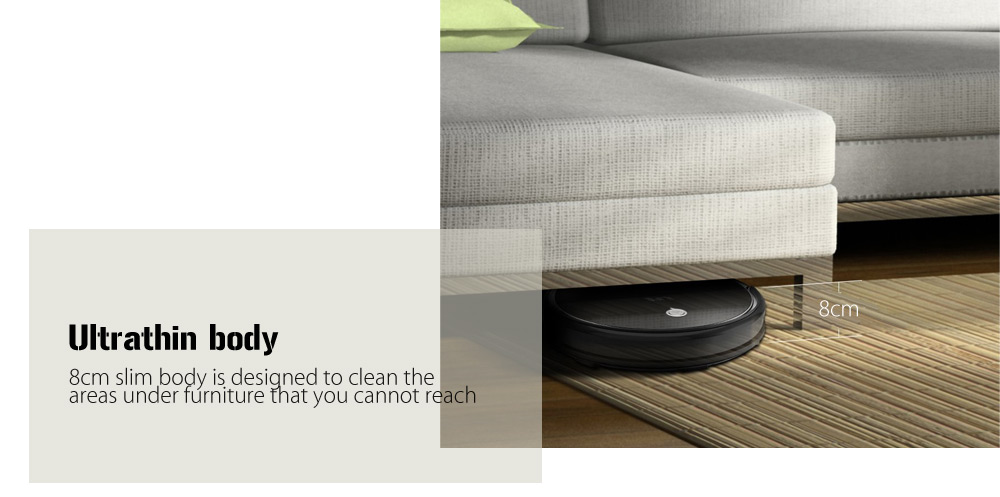 Watch the ILIFE A6 review:
Using the robot every day decrease the need of using an upright vacuum at all. Perhaps you will still need deep clean with an upright vacuum, but the ILIFE A6 will help you to use the first one less.
Thanks to the minimalist design, it is easy to use the robot vacuum. To start the robot working all you have to do is pressing the Auto button that you see on the lid.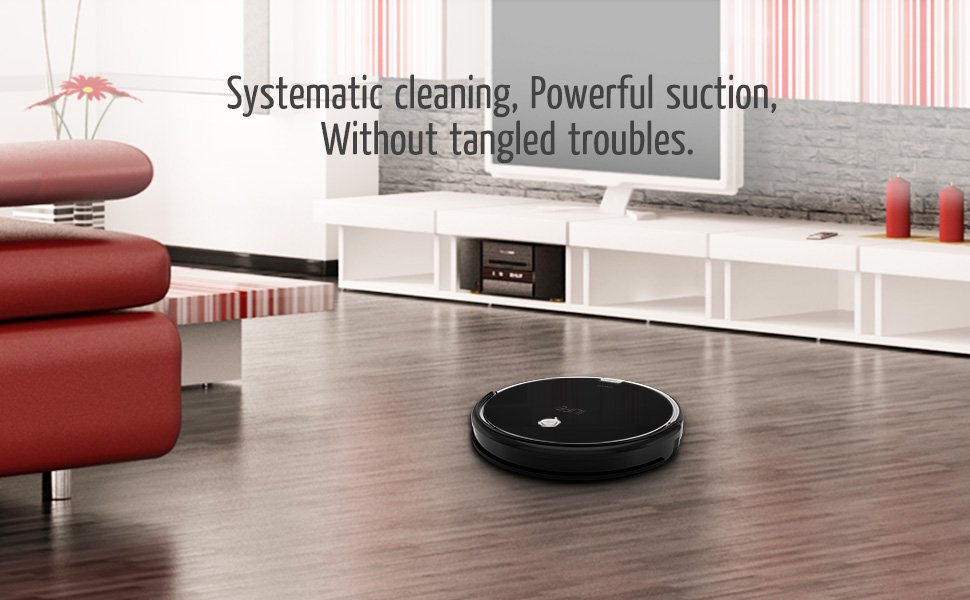 What is the ILIFE A6 suitable for?
Ideal for homes with bare floor or some area rugs. Its rubber brush is perfect at cleaning a hardwood floor, tile, laminate and other types of bare floors.
Suitable for those who have a pet. Thanks to the strong suction and the tangle-free brush, the ILIFE A6 performs well when it comes to pet hair.
Small average-sized homes. Since it does not have mapping, the robot can not remember where it has been. But it does a great job on small areas.
Its outstanding design looks great in any modern-looking home.
Pricing & Purchase Details
You can find ILIFE A6 on Gearbest for the best price at about $230.
Also, ILIFE A6 is available on Amazon and comes with a price tag of about $240.
Pros
The 2,600 mAh battery has a longer lifespan. It runs up to 160 min
Low profile body allows running under most of furniture
Max mode ensures deep cleaning on thin carpets
The new rubber brush has the advantage of being easier to maintain
With virtual walls, the robot vacuum does not cross a particular space
As always the ILIFE is pretty generous in terms of what comes in the box
Low price
HEPA filtration
It is quiet
Elegant minimalist design
Every day's cleaning with the smart scheduled mode
What are the downsides of the ILIFE A6?
No mopping
Doesn't support Wi-Fi which means you can't control it from your smartphone
The rubber brush performs great on a bare floor and not so good on carpets. It can do thin ones but do not expect deep clean.
Conclusion
The ILIFE A6 comes with a wide variety of accessories in the box for its price of about $200. It provides excellent performance on a hardwood floor, tile, marble, linoleum, laminate, etc. The short body allows the ILIFE A6 to go all over the furniture. It runs for a solid 160 minutes which is impressive. A beautiful eye-catchy design is a fantastic bonus for the device plus the quiet operation. Thanks to the rubber brush, the ILIFE A6 is perfect for homes with bare floor or some area rugs and pet owners. HEPA filtration makes the A6 safe for allergy and asthma sufferers.
The ILIFE A6 is ideal for homes with pets and occasional thin carpets, this model was not designed to provide deep cleaning on carpet flooring. If you are not looking for an expensive robot vacuum and live in a small/medium home with some rugs and mostly bare floor — the ILIFE A6 would be ideal to get.
The ILIFE A6 deserves to be called one of the best in its price category.
Read next: The budget robot vacuums from ILIFE.
---
---