The HOBOT LEGEE-668: a Robot Vacuum That Actually Mops
·
Updated: Apr 3, 2019
·
2 min read
The HOBOT LEGEE-668 is the newest robot mop from HOBOT Technology Inc. What is the HOBOT LEGEE-668? It is the robot vacuum that is two-in-one: it can mop and sweep at the same time. Thanks to innovative patented technologies such as LEGEE AI navigation technology and FastBrush 4-stage cleaning system, this robot mop has a few advantages compared to similar devices on the market.
What makes the HOBOT LEGEE-668 different?
D-shape body that works better on corners and edges
The HOBOT LEGEE-668 sweeps debris before mopping your floor, so you don't need to clean floors manually with a handled vacuum or a robot vacuum cleaner
HEPA filtration makes it perfect for those who have an allergy and asthma
The drive mechanism of reciprocating motion of mopping pads simulates the movements of the hands. The mopping pad wipes the floor 600 times per minute which provides better cleaning compared to other robot mops and robot vacuums that have fixed mopping pad
A microdroplet metered spray helps to clean settled dirt stains
Lasers, e-compass, and gyroscope sensors combined with position estimation algorithms and mapping technologies provide more effective parallel z-shaped cleaning without skipping any spots and repetitive movements.
Compared to other similar devices, the LEGEE-668 has tracks instead of wheels which ensure better grip with a wet cleaning surface
First Glance
The HOBOT LEGEE-668 has a D-shape that along the walls and goes deep into corners. On top, there are two buttons: power and home. Under the lid, you will find a dust container with a HEPA filter and water container. HEPA filtration makes it ideal for allergy and asthma sufferers. There is also a power switch.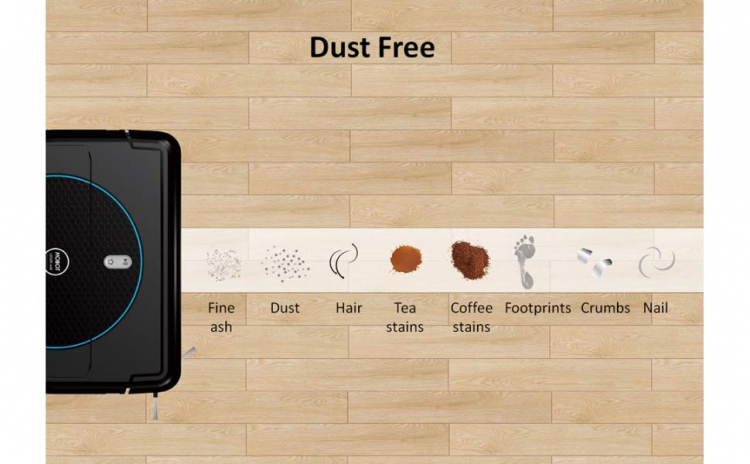 The dustbin is easy to remove, but the water container is not. You need to unscrew it to get out.
Underneath, there are two cleaning pads, a spinning brush, two big tracks, and a vacuum suction path.
In the box, there are many additional accessories.
4-stage cleaning system
How does the LEGEE 4-stage cleaning system work?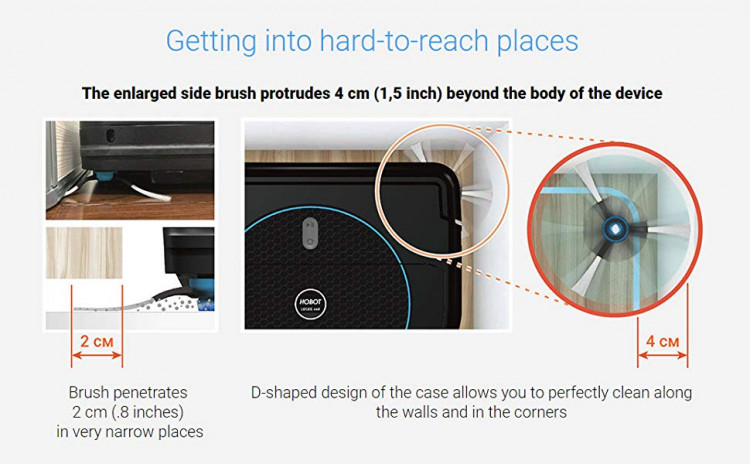 4 cm side sweeper catches dirt, dust, and hair from corners and edges. It sends them into the suction path where it gets sucked up.
LEGEE sprays water on the floor in order to have the stain dissolved in water.
The front mop cloth provides dry mopping wiping and removing the stubborn dust off the floor. The rear cleaning cloth ensures removing stains and leaves the floor polished.
When it works, the robot makes about 62dB of noise.
Please note, the Hobot is not suitable for carpet cleaning.
LEGEE V1.0 navigation technology
The vacuum is equipped with a laser and gyroscope that help it navigating around. The HOBOT follows the back-and-forth navigation pattern with a speed of 20cm/sec (8 inches/sec).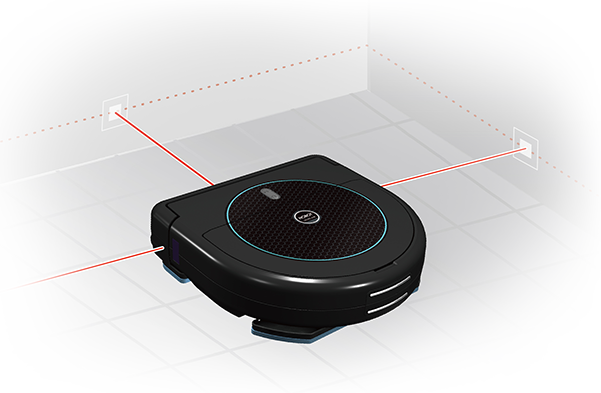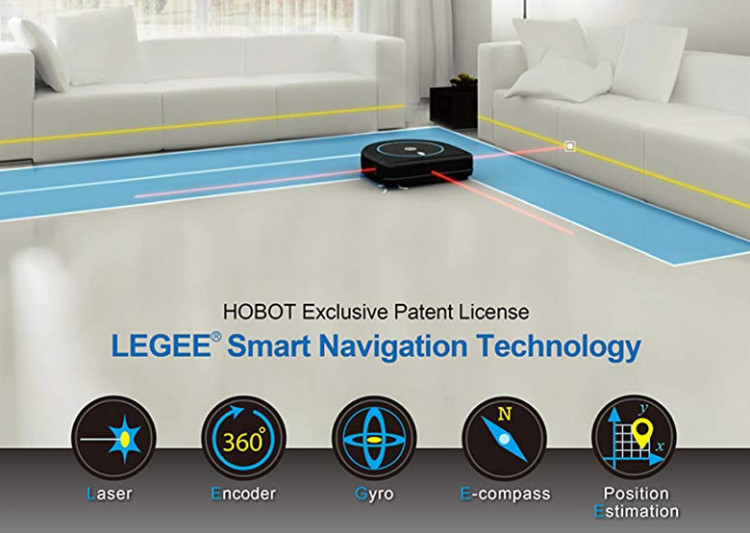 Mopping technology
The HOBOT LEGEE-668 comes equipped with a 320 ml water tank and 2 mop cloths to provide an efficient mopping.
The mop cloths wipe up to 600 times/min. It vibrates thanks to which the robot removes stubborn stains.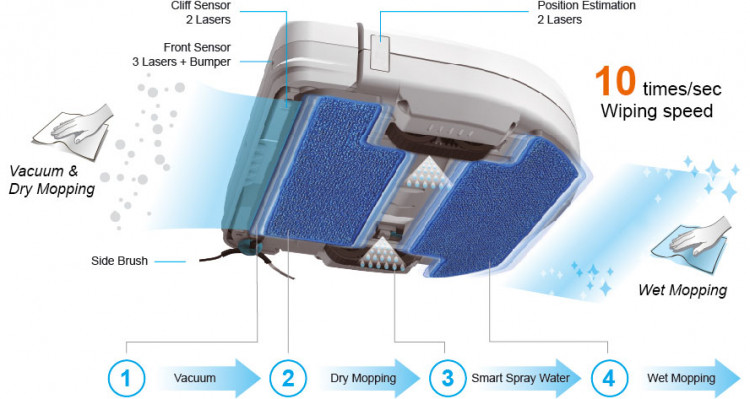 Unlike other robot vacuums that only do wet mopping and are not able to remove stains, the HOBOT LEGEE-668 does a better job on hard floors.
Battery life
The HOBOT LEGEE-668 has a 3,000 mAh Li-Po battery that lasts up to 90 minutes before needs to recharge. It is enough to cover a 150 square meters (1,600 square feet) cleaning area.
---
---