ECOVACS DEEBOT PRO 930: Smart Self-Emptying Robot Vacuum Cleaner Worth Buying
·
Updated: Jul 16, 2019
·
3 min read
ECOVACS made decent robot vacuums such as the DEEBOT N79S, DEEBOT 901, and Ozmo 930. They come with a low price tag and are featured with useful options.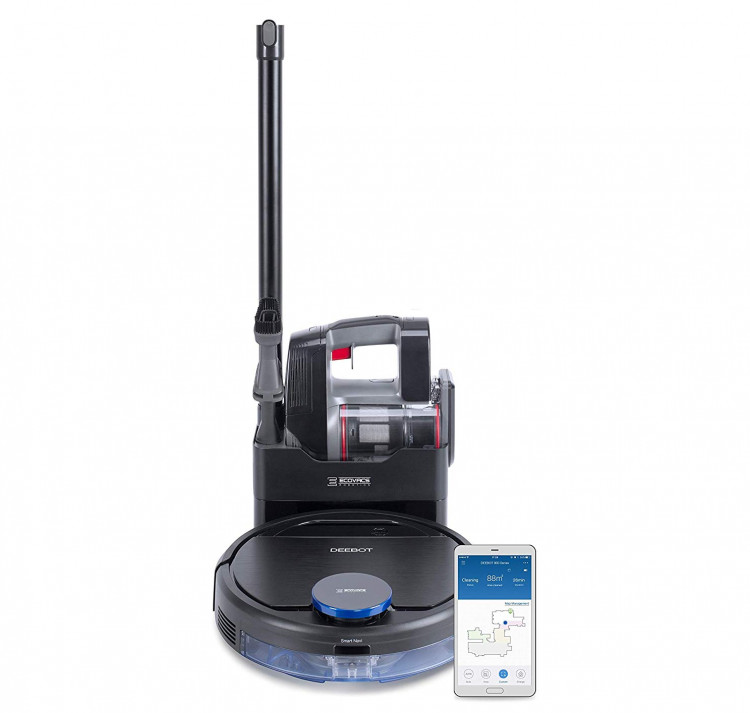 ECOVACS DEEBOT Pro 930 features
| Specifications | ECOVACS DEEBOT Pro 930 |
| --- | --- |
| Battery life | 110 min |
| Battery capacity | 3,200 mAh |
| Climbing ability | 16 mm |
| Mapping technology | LIDAR |
| Mopping | yes |
| Self-emptying dock | yes |
| Cleaning coverage | 120 sq.m |
| Dustbin size | 450 ml |
| Noise level | 65 dB |
| No-Go areas | yes |
| Zone cleaning | yes |
| Prioritize what room to clean first | yes |
| Weight | 4.6 kg / 10.1 lbs |
| Height | 10.2 cm / 4.01 |
| Width | 35.4 cm / 13.93 |
| Physical remote control | no |
| Handheld vacuum | yes |
| Cleaning brush type | bristled brush; suction inlet |
| Carpet identification | yes |
| Alexa / Google Assistant support | yes |
| Scheduling | yes |
| Stair safety technology | yes |
| Anti-collision system | yes |
| Voice report | yes |
| Warranty | 12 months |
ECOVACS DEEBOT Pro 930 first glance
What is great about the Deebot Pro 930? It is a two-in-one robot cleaner that includes a robot vacuum and a handheld cleaner. Since robot vacuums are not able to clean non-floor areas, ECOVACS decided to attach a handheld vacuum for these needs.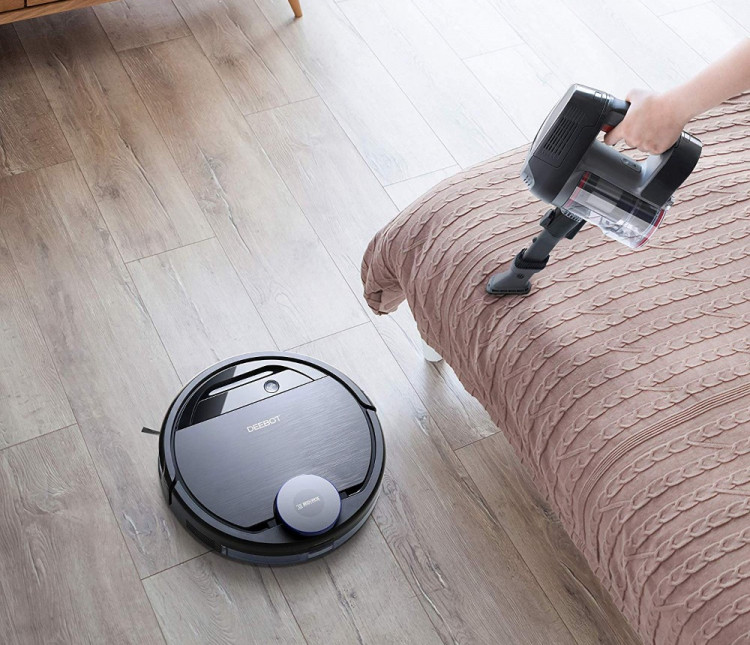 The Deebot 930 Pro is equipped with a laser to scan the surroundings and create a plan of the cleaning area. Thanks to the LIDAR the robot is able to remember where it has cleaned and what spots are left to be clean. When the map is created, the vacuum methodically follows it by straight lines covering all cleaning area.
Thanks to integration with Amazon Alexa and Google Assistant, you can start and stop it by using voice commands.
In the box, there are plenty of accessories including a suction inlet that supposed to work with pet hair decreasing hair tangling by directly reaching the dustbin. The bristled main brush works better on carpets agitating dust and dirt from carpet flooring.
It has two side sweepers that catch and send dust to the main brush (or suction inlet) where it gets sucked up into the dustbin by strong suction.
Carpet identification helps the cleaner to recognize carpeted surface and boosts suction power automatically to its maximum to provide deep cleaning. Please note, that the DEEBOT Pro 930 is not able to clean thick carpets however it won't disappoint you on thin carpets.
The Deebot 930 Pro can sweep and mop. Integrated air filtration system reduces airborne triggers associated with allergies and asthma. When something is going on with the robot, it will speak to you alerting about the issue.
ECOVACS App
The app is priceless. It has many useful features:
Digital boundary designates which areas of your home you don't want the DEEBOT to go to. You can create them as many as possible
Area Mode divides the map into a series of cleaning areas allowing you to prioritize where to clean first
Create a cleaning area where you want the DEEBOT to work by drawing a rectangle on the map. Then the robot will clean within the specified area
Switching between cleaning modes, start and stop the device
Schedule the vacuum to work at a specific time
Track it in real-time
Watch cleaning history
The package contents
As always, ECOVACS is generous when in comes to what is in the box with their robots:
DEEBOT OZMO 930
handheld vacuum cleaner
OZMO water tank
2 washable microfibre cloths
4 side brushes
2 dust filters
attachment for direct extraction
user manual
cleaning brush
charging station
extension tube
floor nozzle
crevice nozzle plus brushes.
What makes the ECOVACS DEEBOT Pro 930 different?
There is something we didn't really talk about. With the handheld vacuum, you get a self-emptying charging base. When the cleaner finishes cleaning and getting back to recharge, a content of the dustbin gets emptied by the charging base into the handheld unit's dirt container. It makes the robot to work longer without you cleaning its dust box after every session.
After the dustbox gets cleaned and its battery is done charging, the DEEBOT Pro 930 resumes cleaning from the spot it left off in case it didn't finish the first time.
Conclusion
The ECOVACS DEEBOT Pro 930 is not only a decent robot cleaner but a good helper when it comes to cleaning other hard-to-reach surfaces thanks to the handheld vacuum. The new technology allows it to work longer by automatically emptying the dustbin. Less effort needed.
The robot is great for large homes, it will keep going until all your floors are clean. Because of the suction inlet, the DEEBOT Pro 930 is suitable for pet hair.
The vacuum is not only smart enough to navigate around, but it also can mop which makes it ideal for homes with bare floor. Please note, that this feature will not replace manual mopping yet is excellent if you don't have time to mop, the DEEBOT will do it for you.
The device is perfect for homes with mixed surface and some area with rugs. Great for bare floors and thin carpets.
Unfortunately, it is not available on Amazon yet. We hope the DEEBOT Pro 930 will be on sale soon.
---
---