Does Roomba Work on Carpet? Let's Find It Out
·
Updated: Jul 25, 2019
·
5 min read
Carpets are warm and soft, yet they collect many small particulars and allergens that can be a source of health issues such as asthma or allergy. Not so far ago robot vacuum cleaners were not able to provide deep carpet cleaning, but technology evolves and modern devices have better suction power and improved brushes, so they do a great job on carpet. One of the most popular brands of robot vacuums is iRobot Roomba, so let's figure out how Roomba cleaners perform on carpets.
Here are the best Roombas that can be used on carpet.
Best Roomba for carpet: comparison chart
| Features | Roomba 690 | Roomba e5 | Roomba 960 | Roomba i7+ |
| --- | --- | --- | --- | --- |
| 3-Stage Cleaning | - | 5x the air power | 5x the air power | 10x the air power |
| Run Time (min) | 90 | 90 | 90 | 75 |
| Distbin size (ml) | 600 | 500 | 600 | 500 |
| Battery capacity | 1,800 mAh | 1,800 mAh | 2,600 mAh | N/A |
| Cleaning Techonoly | AeroVac | AeroForce | AeroForce | AeroForce |
| Navigation Technology | iAdapt | iAdapt | iAdapt 2.0 + mapping | iAdapt 3.0 + mapping |
| Mapping Function | no | no | yes | yes |
| Roomba clearance (in / mm) | 0.63 / 16 | 0.71 / 18 | 0.79 / 20 | 0.79 / 20 |
| Virtual Walls | yes | yes | yes | yes |
| Filter | AeroVac | HEPA | HEPA | HEPA |
| Auto Recharge | yes | yes | yes | yes |
| Scheduling | yes | yes | yes | yes |
| Wi-Fi Support | yes | yes | yes | yes |
| Smartphone App | yes | yes | yes | yes |
| Amazon Alexa & Google Assistant support | yes | yes | yes | yes |
| Tangle-Free Brush | no | yes | yes | yes |
| Multi-Room Cleaning | no | no | yes | yes |
| Recharge and Resume | no | no | yes | yes |
| Deeper Carpet Cleaning | no | no | no | yes |
| Full Bin Indicator | no | yes | yes | yes |
| Built-in Camera | no | no | yes | yes |
| Cliff sensors | yes | yes | yes | yes |
| Anti-collision sensors | yes | yes | yes | yes |
| Warranty | 12 months | 12 months | 12 months | 12 months |
What is a full bin indicator?
Almost all the Roomba robot vacuums in our list are equipped with a full bin indicator. It is a LED indicator that informs when the container if full. You will also be aware of it through the app.
Will the Roomba 690 work on carpet?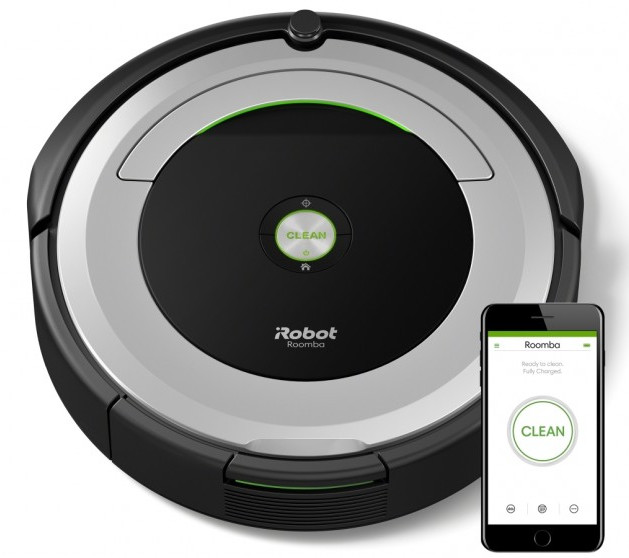 It is the cheapest WiFi-capable Roomba but can the Roomba 690 clean carpet?
The cleaner has a bristled brush that is not tangle-free and needs more time to clean when the robot is finished cleaning.
It might not be as efficient as its youngest brothers, yet the Roomba 690 is a good choice if you need a budget robot vacuum cleaner for carpet.
It has no issues with sucking different debris types on bare floor, and thin carpets though can struggle with small particulars on thicker carpets.
Remember that the Roomba 690 uses random cleaning pattern, it takes a little bit more time to clean a room than it would with the Roomba 960, Roomba 980, or i7.
iRobot produces one of the best robot vacuums in the industry, thanks to the dirt detect technology, Roomba robot vacuums clean carpets better than their competitors.
Dirt Detect that makes the Roomba one of the best for rugs. When there is a concentrated area of dirt, the Roomba recognizes it and work longer on those spots providing deeper cleaning.
The Dirt Detect, cleaning brushrollers, and strong suction power determines how well do Roombas work on carpet.
Roomba 960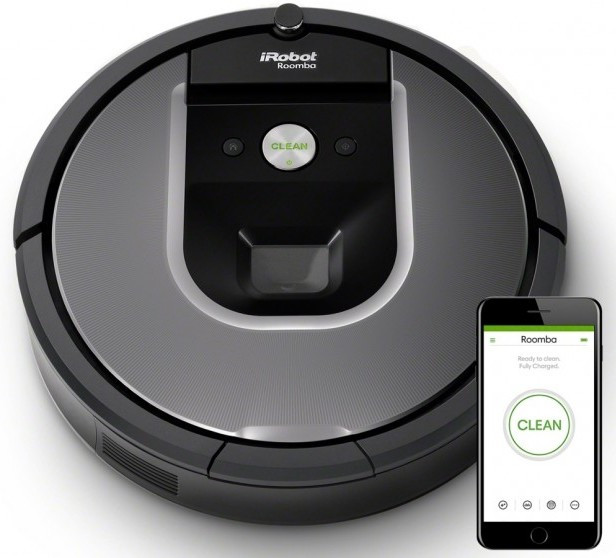 What about the Roomba 960?
It is a decent robot vacuum with strong suction and silicone rollers that are perfect for pet hair. It has a built-in camera to create a plan of your house, build a zig-zag shaped cleaning path without missing and any places.
Same as other Roomba robot vacuum cleaners here, the Roomba 960 is equipped with full bin indicator, Dirt Detect and strong suction. All these things help the robot to perform well on bare floor and carpet.
Overall, the Roomba 960 works great on thin carpets and sometimes struggles with small debris on thickest carpets.
What is the difference between the Roomba 960 and Roomba e5?
The first thing that you need to know about the Roomba e5 - it does not map your house and it uses random cleaning pattern. The cleaner will not remember where it needs to clean and will run around randomly until its battery is out of charge.
The Roomba 960 uses a camera sensor located on the top and a bunch of sensors to keep track of its location, in addition to mapping out your home. Mapping helps a cleaner to save time, so it finishes cleaning faster than those vacuums with random cleaning pattern.
The Roomba e5 lasts longer on one charge. Do not forget that the Roomba 960 resumes cleaning after recharging while the e5 does not. If you want the e5 to keep cleaning when it's done charging, you will need to start it manually.
The Roomba e5 has advanced tangle-free rollers, the same as the Roomba i7 comes with. There is no significant difference in design though it seems like those new brushrolls are better at cleaning.
Is the Roomba e5 good for carpets and rugs?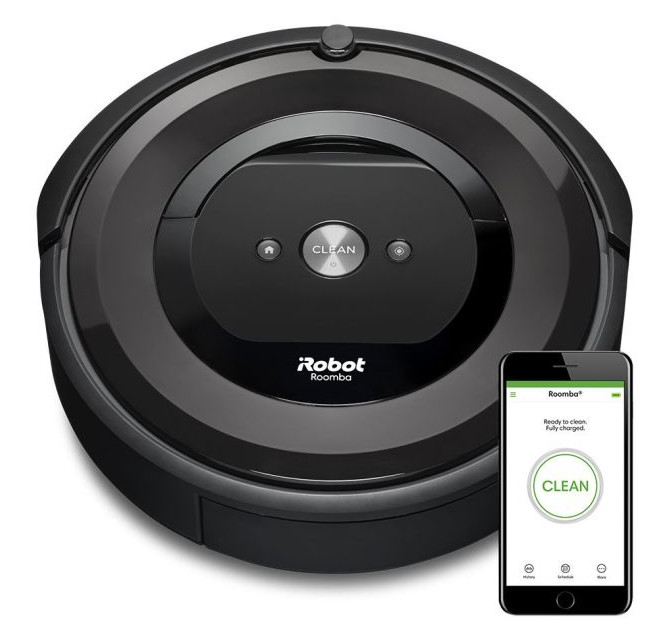 Based on some cleaning tests, the Roomba e5 has better suction power that along with the improved brushrollers perform better especially on carpets.
The e5 is built on the same re-designed software and hardware platform as Roomba's new i7 and i7+. It doesn't have all the new features such as Carpet Boost, mapping and things related to mapping, but it's a marked improvement over the 900 series.
Overall, the Roomba e5 is one of the most impressive robot vacuum with regard to carpet cleaning performance and a price tag.
Roomba i7 - the best robot vacuum for carpet?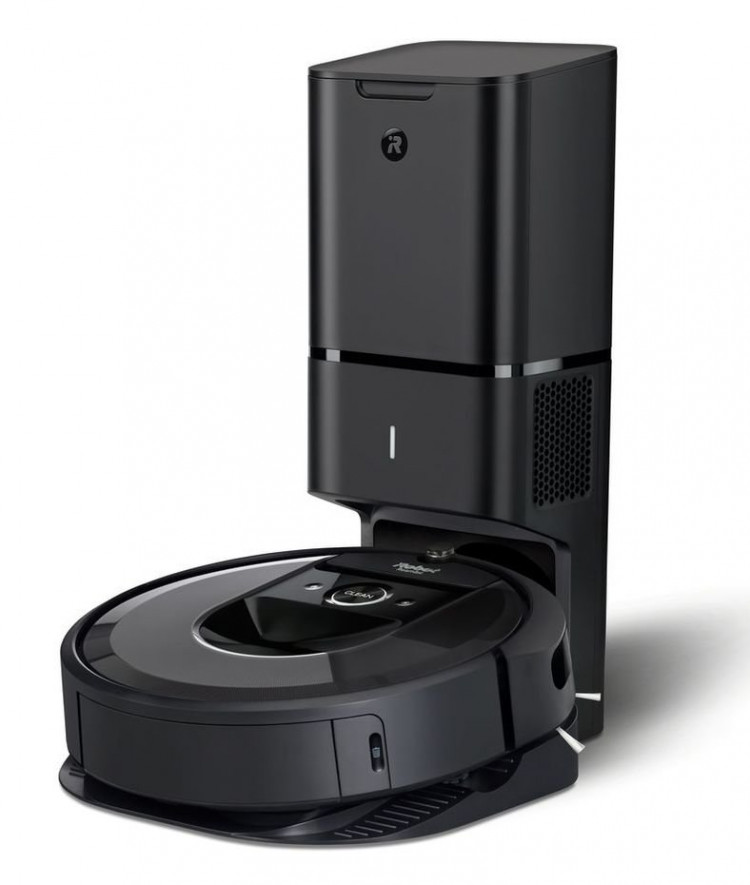 The Roomba i7 has advanced brushless rollers that are tangle-free and are perfect for picking up pet hair from carpets. It has all the same features the Roomba 960 does plus carpet identification and stronger suction power.
The significant difference in the Roomba i7 is camera based mapping. With the previous models, you could see a map as a cleaning report while with the i7 you can interact with the map. Now you can divide the created map into areas, name each of it, then you can send a command to the robot to clean a selected room or area.
If you have an Alexa-enabled device or Google Home, you can command the Roomba i7 to clean a selected room by saying: "Alexa, clean the kitchen."
We talked about the difference between the Roomba 690, 960, and the i7 before.
Can the Roomba i7 be used on multiple floors?
The Roomba i7 is the first of iRobot robot vacuums to support multiple floors. It stores up to 10 different floor plans.
What are the differences between the Roomba i7 and i7+?
The Roomba i7+ has an advanced charging base that sucks up debris from the robot's dustbin and stores it in a disposable bag. It holds up to 30 times the capacity of the dustbin inside the robot's body.
If the robot's container gets full, the i7 will park itself allowing the charging base to empty it. After that, the vacuum returns to finish cleaning.
Once the robot docks itself after the battery is low, the dock starts sucking up all the dust from its container to the disposable bag.
The Roomba i7 comes with a charging dock the same as the Roomba 980 has.
*please note, you can buy the self-emptying charging base for the i7 separately
---
Verdict: Can iRobot vacuum cleaners be used on carpets?
Nevertheless, some Roomba models have issues with smaller particles on thicker carpets, iRobot has superb performance when it comes to carpet cleaning.
All the Roombas are perfect for pet owners though you need to spend some time to handle clogged hair around the brushroll in the Roomba 690.
If you are tight on budget, the Roomba 690 is a good choice. For under $300 you get a decent Alexa-enabled vacuum that will work on your carpet.
In case your home is about a mixed surface, and you want the robot to remember where it has cleaned and moved around in a purposeful pattern - get the Roomba 960 or the Roomba 980.
If mapping is no big deal for you, the Roomba e5 is an excellent robot vacuum for its price. The Roomba e5 can clean carpets and rugs and is ideal for pet hair.
The Roomba i7+ is a perfect choice for those who don't want to spend more time to maintain the robot. All you need is to empty the disposal bag about once a month. The Roomba i7+ shows excellent performance on both: bare floors and carpets handling even the smallest types of debris.
---
---