Comparing The Slimmest Robot Vacuum Cleaners iLIFE A4S vs A6: Get More, Pay Less
Today we are going to compare the two of the newest and most powerful robot vacuums from iLIFE. The ILIFE A4S and the ILIFE A6 prove that for less than $300 you can get a good-looking powerful robot cleaner.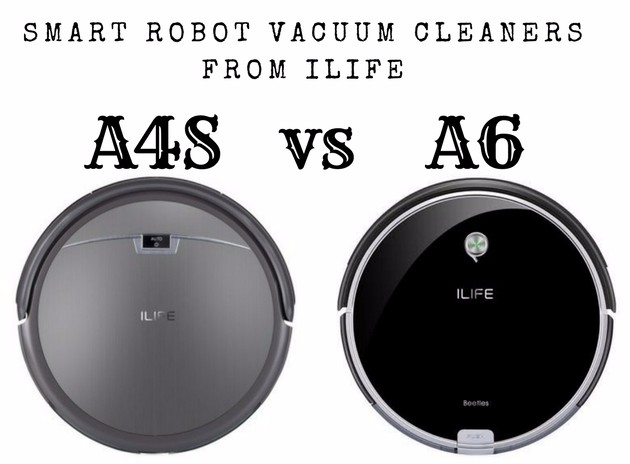 Let's have a quick look at the differences between the ILIFE A4S, A6, and the oldest version — A4
| Features | ILIFE A4 | ILIFE A4S | ILIFE A6 |
| --- | --- | --- | --- |
| Cleaning radius | 180 - 200 sq.m | 180 - 200 sq.m | 180 - 200 sq.m |
| Run time (minutes) | 120 | 140 | 160 |
| Charging time (minutes) | 230 | 230 | 230 |
| Wet Mopping | no | no | no |
| Suction Power (Pa) | 700-1000 | 700-1000 | 950-1000 |
| Noise | Less than 65 db | Less than 65 db | Less than 65 db |
| Remote Controller | yes | yes | yes |
| HEPA filtration | yes | yes | yes |
| Smartphone app | no | no | no |
| Battery Capacity | 2600 mAh | 2600 mAh | 2600 mAh |
| Scheduling | yes | yes | yes |
| 3-Stage Cleaning System | no | yes | yes |
| 2nd generation CyclonePower motor | no | no | yes |
| Virtual Wall | no | no | yes |
| Dustbin capacity (l / oz) | 15.2 / 0.45 | 15.2 / 0.45 | 10.1 / 0.3 |
| Self-Sharging | yes | yes | yes |
| Floor Types | Tile, Wood Floor, Carpet | Tile, Wood Floor, Carpet | Tile, Wood Floor, Carpet |
| Dimensions (WxH) | 30.9x7.5cm / 12.2x2.99in | 30.9x7.5cm / 12.2x2.99in | 30.5x8cm / 12.01x3.15in |
| Weight (kg / lbs) | 2.2 / 4.85 | 2.2 / 4.85 | 2.5 / 5.6 |
| Accessories Included | English Manual; Extra HEPA filter; Charging base + Adapter; Remote Controller + 2 AAA batteries; Extra side brush; Cleaning Brush | Quick start guide; User Manual; Charging dock + plug; Extra filter; Remote Control + 2 AAA batteries; Two extra side brushes; Cleaning brush | Remote controller + batteries; Virtual wall + batteries; Charging dock and adapter; English manual; 2 extra side brushes; Extra rubber brush; Extra Hepa filter; Clean brush |
Navigation
Most of the ILIFE robots run in a random direction. The two robots don't bump into obstacles which is the improvement worth mentioning. The upgraded motor has enough suction power to give your carpet a thorough clean. Both robots A4S and A6 are good for cleaning almost all types of floors such as carpeting surface of bare floors compare to its price. It works till the battery runs out and cover all the area and then the robot gets back to the charging station. Since it cost less than $300 the cleaning performance is good enough to compete with more expensive vacuum cleaners.
Let's go over the features.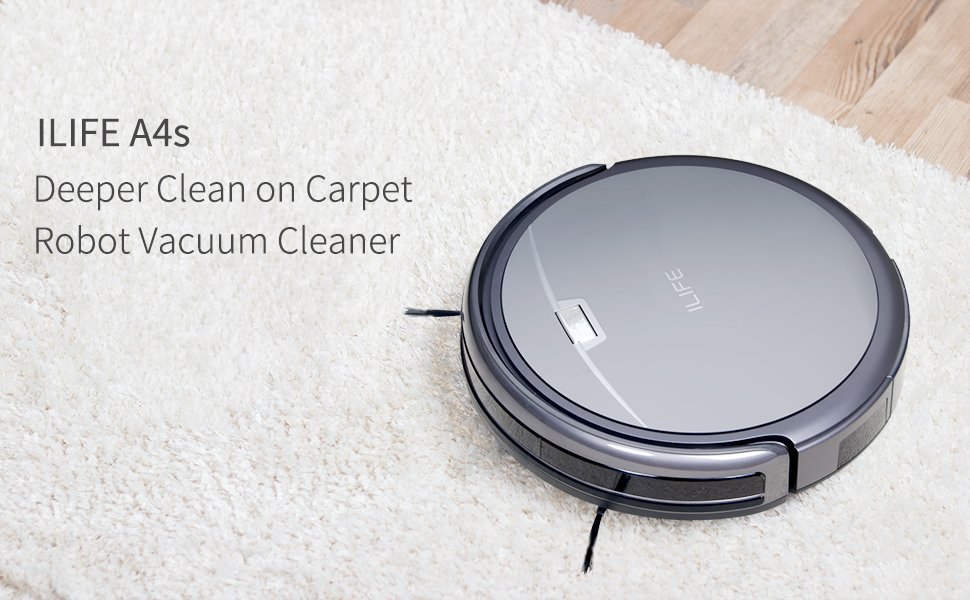 Cleaning modes: Auto Cleaning Mode; Edge Cleaning Mode to clean your wall edges better; Spot Cleaning Mode for concentrating on a smaller area; Max Cleaning Mode to pick up more dirt than the auto mode
With advanced MiniRoom cleaning mode, the robot could clean one room more deeply in a short time.

Better suction power that allows the robot to clean better on carpets and helps you to save energy and time
It is quiet due to its suction power&nbsp
HEPA filtration&nbsp
Infrared sensors that prevent falling from the stairs
Intelligent Anti-collision System Sensor protects the furniture from damaging
OBS sensors, 1 set wall sensor, 5 IR receivers on the body
A low body can help the robot to clean almost everywhere
A4S goes back to its dock to recharge and then returns to finish the job
Easy to use. Just press the button to start cleaning
A4S got an upgraded brush with stiffer bristles that are easier to clean and the brush is smaller than the previous one
ILIFE A4S Review: Unboxing & Features
Gen 2 CyclonePower 3-stage cleaning system which is the combination of agitation, brushing, and suction delivers the thorough and complete cleaning performance
The new upgraded blade spiral rubber brush combined with Tangle Free Technology that is easy to clean and provides more efficient cleaning.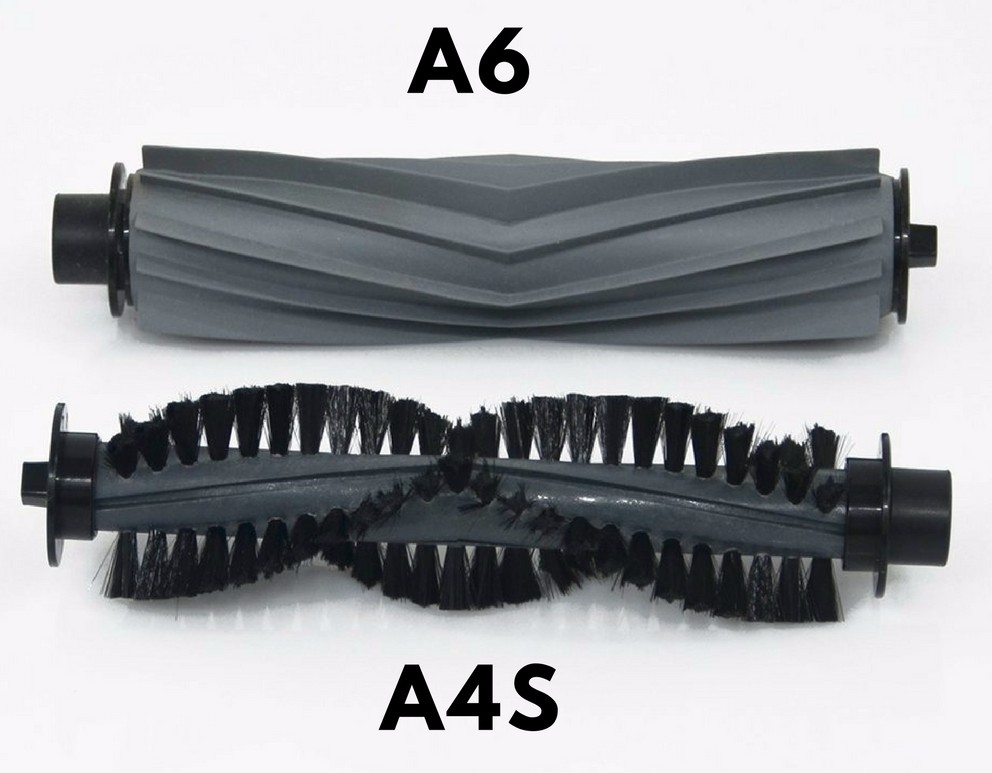 A new elegant design with the piano black finish and tempered glass top cover
Better cleaning performance on a carpeting surface
Dual Mode Electro Wall that A4 and A4S don't have
Cleaning modes: auto mode (moves from one wall to another before it spirals inwards to clean the floor), edge mode, max mode, spot mode, MiniRoom cleaning mode that saves more energy just by clicking the button twice
Intelligent sensors provide better navigation protecting the robot from falling and avoid furniture damaging
Thanks to 8mm body the A6 couldn't get trapped under the furniture
HEPA filtration
ILIFE A6 Review + Cleaning Test
What is the difference between A4S and A6
Biggest upgrade A6 got with the new tangle-free bearing system that is much easier to clean. The blade spiral rubber brush has the high-powered dirt pickup capability and solves the toughest issue with tangled fur and hair that most robots face. Also, A6 is running a bit longer than previous versions. However, the new rubber brush is amazing when it comes to cleaning a bare floor and picking up pet hair, it does not work that great on carpets. Bristles scratch carpet surface thereby ensuring better pick up. The new amazing design is something you will be crazy about.
What is ILIFE A4S the best for?
The ILIFE A4S has the bristle brush that as we mentioned before performs better on thin carpets. The downside of this type of brush is that hair wrapped up around it easily meaning you have to clean the brush after every cleaning. As the result of better performance on low-pile carpets and rugs - the ILIFE A4S handles pet hair on this type of flooring.
What is ILIFE A6 the best for?
The ILIFE A6 is equipped with the BladeAway rubber roller that was specially designed to work best on any type of bare floor picking up pet ad long human hair. These brushes are the best because the headache of untangling hair is gone. Super easy to maintain. ILIFE A6 still can clean thin carpets but does it not as good as its older brother - the ILIFE A4S.
Pricing & Purchase Details
Both robots can be found on Amazon and Gearbest.
The ILIFE A4S is on sale for $180 which is a great deal considering its cleaning performance.
You can also find it on Gearbest for about the same price of $170.
The ILIFE A6 is available to buy on Amazon. It comes with a price of $220.
Gearbest offers to buy the ILIFE A6 for the best price of a little bit under $200.
Conclusion
Overall the A6 costs $40 more and has all the features you can find on the earlier A4S + the new blade spiral rubber brush and the new design. Both clean a bare floor well but the ILIFE A4S works better on thin carpets while ILIFE A6 handles pet hair thanks to its tangle-free brush. If you feel that you have a lot of hair to clean up at home whether it pet hair or long human hair the ILIFE A6 will be a better option because the rubber brush is easy to maintain and you actually get a better-looking robot. But if you don't want to spend extra money the ILIFE A4S would be good as well due to its cleaning performance and a lower price tag.
Where to buy
Found some spelling or grammatical error? Please help us to fix it!
Since English is not our first language, you may notice spelling and grammatical errors in the article. We would be very grateful if you could help us fix the mistakes. Just select the confusing part of the text with your mouse and press Ctrl + Enter, then you will be able to send us a corrected version of the text. Thank you for your effort!
---
---
Related Robot Vacuum Comparisons
Trending Articles