Could the Xiaomi Mi Robot Beat a Roomba?
·
Jan 28, 2019
·
5 min read
The Xiaomi Mi Robot is a cheap yet smart robot vacuum cleaner that is able to remember your home layout and clean any type of flooring. Is it enough to beat a Roomba? Let's find out
Xiaomi Mi Robot mapping technology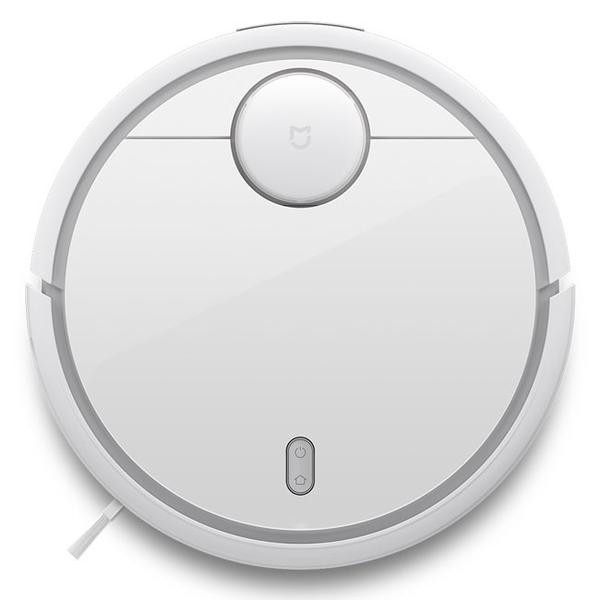 The Xiaomi Mi Robot has an LDS laser that is located inside its tower. The LDS scans cleaning area to make a plan based on which the robot will clean your home. It is equipped with 12 sensors that help to keep track of the cleaner's movements, move around without bumping into things. When the map is created, the vacuum calculates the most efficient way of cleaning.
Other vacuums that rely on cameras for navigation suffer in dark rooms while the LIDAR technology "sees" in the dark perfectly allowing the vacuum to clean dark shade carpets.
There are three processors inside that tracks the Mi Robot in real-time which you can see in the app. The robot cleaner might divide the cleaning area into a few zones methodically going over each until it finishes cleaning the room.
There is a side sweeper that spins on edge capturing dust along the side of the robot. The main brush is located on the bottom of the robot. It collects debris and hair and channels them into the suction path of the vacuum motor.
Climbing over thick carpets
The large wheels make the Mi Robot climbing obstacles up to 15 mm tall which means it can clean thin and medium-pile carpets.
Battery life
The Xiaomi cleaner is equipped with the longest-lasting Li-Lion battery with a capacity of 5,200 mAh. It lasts about 150 minutes, when it runs lower than 20% of energy, the Mi Robot navigates back to its base stations, charge up to 80% and then finish cleaning to get the deed done.
Most of the robot vacuums work for about 120 minutes top.
Cleaning performance. Can the Xiaomi Mi Robot Beat a Roomba?
With the cost about $300, the Xiaomi Mi Robot rocks! It catches everything on bare floors and works excellent on medium-pile carpets.
The cleaner performs decently on medium-pile carpets too, though it might not catch 100% of the smallest debris.
Yet, the device would be ideal for pet owners. It will take some time to get rid of pet hair of the brush, though the brush does its job agitating hair from any type of flooring (except thick shaggy carpets).
The Mi Home App
Seeing how the Xiaomi is creating a map is magnificent. The Mi Home app allows watching it in real-time.
With the new software update, you are allowed to set an unlimited amount of digital boundaries that would keep the Mi Robot out of certain rooms or create zones you want the Xiaomi to stay within.
It is useful when you don't need to clean a guest room that often, just set the "barriers" by drawing a rectangle on the map and let the vacuum doing the rest.
In the Mi Home app, you can also see cleaning history, switch between cleaning modes, schedule it, navigate like a radio car, start/stop, etc.
Accessories
Accessories for the Xiaomi Mi Robot are available to buy on Gearbest or Amazon.
Price & where to buy
You can buy the Xiaomi Mi Robot on Gearbest for $300.
The Xiaomi Mi Robot vacuum costs about $350 on Amazon.
Xiaomi Mi Robot alternatives
To be honest, the Xiaomi Mi Robot is one of the best in its price range. It performs excellently on bare floor and carpet flooring, it has an accurate mapping system and a fully-featured app and comes for around $300.
It is a great value for the price. Of course, there are a few robot vacuums that have a good app or those that are equipped with mapping. Yet the Xiaomi combines excellent cleaning performance, the features high-end robot vacuums are equipped with and a low price tag. What else could you wish for?
Differences between the Xiaomi Mi Robot and Roomba (all models)
| Features | Xiaomi Mi Robot | Roomba |
| --- | --- | --- |
| Battery life (min) | 150 | 60-120 |
| Cattery size (mAh) | 5,200 | 1,800-3,300 |
| Dustbin size (ml) | 420 | 300-650 |
| Suction power (Pa) | 1,800 | 600-1,700 |
| Mapping | yes | only on the 960,980 and i7 |
| Mapping technology | LDS | camera |
| Dirt detect | no | yes |
| Climbing ability | 15 mm | 15-20 mm |
| Virtual boundaries | unlimited digital block-offs | 1-2 physical virtual wall barrier |
| Zone cleaning | yes | Roomba i7 |
| Manual movement control | yes | Roomba i7 |
| Real-time tracking | yes | no |
| Amazon Alexa/Google Home support | yes | yes |
| Warranty | 12 months | 12 months |
Roomba relies on camera for navigation which makes it suffering in dark rooms. The LIDAR technology allows working with no lights on
Roomba can't clean black carpets because the unit thinks it's going over an edge and I could cover up the sensors in order to fool it. The Xiaomi has no issues with black rugs
The Mi Robot works longer than any Roomba does
In the Mi Home app, you can see how maps are being created and track the robot in real-time
With the Mi Home app, you can set virtual block offs and customize cleaning zones. Only the latest Roomba i7 has zoned cleaning and two physical virtual wall barriers that are limited if you want to block the robot from crossing more than two rooms
You can interact with maps built by the Xiaomi. You only can do it once with the latest Roomba i7
The 800, 900 series, e5 and i7 Roombas are equipped with brushless rollers that don't need any maintenance. Ideal for long human hair and pet fur
Roomba has dirt detect that automatically detects areas with high concentrations of dirt, dust, and pet hair improving the quality of cleaning
The latest iRobot vacuums have a dustbin indicator that allows knowing when it gets full
The Mi Home app has useful features; with the iRobot Home app you can only see cleaning history and do some basic things. The latest Roomba i7 allows doing zone cleaning though
The Roomba 980 and 960 has better climbing ability meaning they can go over thicker carpets than the Xiaomi does
Price. One of the cheapest Roomba 690 costs less than $300, yet it does not have mapping or smart navigating system. The Roomba 960 that comes equipped with a camera sensor to map out an interior costs about $450 which is $150 more than the Xiaomi's price tag.
---
Is the Xiaomi Mi Robot a Roomba killer?
When it comes to cleaning performance on bare floor and thin/medium-pile carpets, both robots work great. The latest Roomba e5, 980 and i7 show better performance on carpets that are more than 15 mm thick.
Roomba and the Xiaomi Mi Robot are great for pet hair. The Xiaomi brush is better than old Roomba's rollers that are presented in 600 and 700 series. Though it takes some time to maintain the Mi Robot's brush when the latest Roombas are equipped with brushless rollers that are literally maintenance-free.
The Mi Home app has the ability to set digital virtual walls, create zone cleaning, watch the robot in real-time, interact with the map, etc. The iRobot Home app allows doing basic things and only with the latest Roomba i7, you can set zoned cleaning.
The LIDAR mapping technology is more accurate, has no issues with cleaning dark carpets and does not need a light to be on when the Mi Robot is working.
The Xiaomi Mi Home is ideal for bigger homes with a mixed surface.
Yes, the Xiaomi Mi Home might not have all the features a Roomba has, though it is a decent robot vacuum worth buying. With the price of $300, you get a machine that maps your home and knows where to clean, has almost perfect navigation, comes with an app that is featured with many useful options, performs well on both bare floor and carpet. It costs cheaper than the Roomba 960 and almost three times less expensive than the latest Roomba 980 and i7.
For sure, the Xiaomi Mi Robot cannot beat the latest Roomba i7, though it is a decent competitor of the Roomba 980 with a price tag of about $300.
Where to buy
Found some spelling or grammatical error? Please help us to fix it!
Since English is not our first language, you may notice spelling and grammatical errors in the article. We would be very grateful if you could help us fix the mistakes. Just select the confusing part of the text with your mouse and press Ctrl + Enter, then you will be able to send us a corrected version of the text. Thank you for your effort!
---
---
Related Robot Vacuum Comparisons
Trending Articles