Best Robot Vacuum for Pet Hair of 2019
·
Jan 22, 2018
·
9 min read
If you have a dog or cat, pet hair probably is a continual nuisance. It clings to the carpet and floor all over the house, and you need regular vacuuming to remove it from your home surfaces. It takes so much time to clean the house with a regular vacuum cleaner that it can be even a problem if you are a busy person who doesn't have time for removing pesky pet hair. It can be a real problem if you have pet allergies. There is a good solution — an automatic robot vacuum cleaner that can clean your floors and carpets every day, even when you are at work.
| Features & Specs | Roborock S5 | Neato Botvac Connected | Shark ION ROBOT 750 | 360 S6 | ILIFE A4S |
| --- | --- | --- | --- | --- | --- |
| Running Time | 150 min | 120 min | 70 min | 120 min | 120 min |
| Suction Power | 2,000 Pa | N/S | N/A | 1800 | 1,000 Pa |
| Dustbin Capacity | 480 ml | 700 ml | 300 ml | 400 ml | 450 ml |
| Virtual Walls | yes | yes | y | y | n |
| Battery Capacity | 5,200 mAh | 4,200 mAh | N/A | 3200 mAh | 2,600 mAh |
| Water Tank Capacity | N/A | - | - | 150 ml | - |
| Mapping | y | y | n | y | n |
| Mopping | y | n | n | y | n |
| Control | App | App | App | App | IR remote control |
| Smart Path Planning | y | y | n | y | n |
| Scheduling | y | y | y | y | y |
| Climbing Ability | 20 mm (0.78 inches) | 19 mm (0.75 in) | N/A | 15 mm (0.7 inches) | 15 mm (0.7 inches) |
| Carpet Identification | y | n | n | y | n |
| Recharge&Resume | y | y | n | y | n |
| Full Bin Indicator | y | y | n | n | n |
| Cliff Sensors | y | y | y | y | y |
| Weight | 3.5kg (7.7lbs) | 4.1kg (9lbs) | 2.4kg (5.5lbs) | 3.5kg (7.7lbs) | 2.2kg (4.85lbs) |
| Dimensions (H/W) | 9.65 cm (3.8 in) / 35 cm (13.7 in) | 10 cm (3.9 in) / 33.5 cm (13.2 in) | 6.6 cm (2.6 in) / 32 cm (12.6 in) | 10 cm (3.9 in) / 35 cm (13.8 in) | 7.6 cm (2.99 in) / 31 cm (12.2 in) |
| Amazon Alexa / Google Home Support | yes | y | y | n | n |
| Warranty | 12 months | 12 months | 12 months | 12 months | 12 months |
Robot vacuums mentioned in the article:
1. The Roborock S5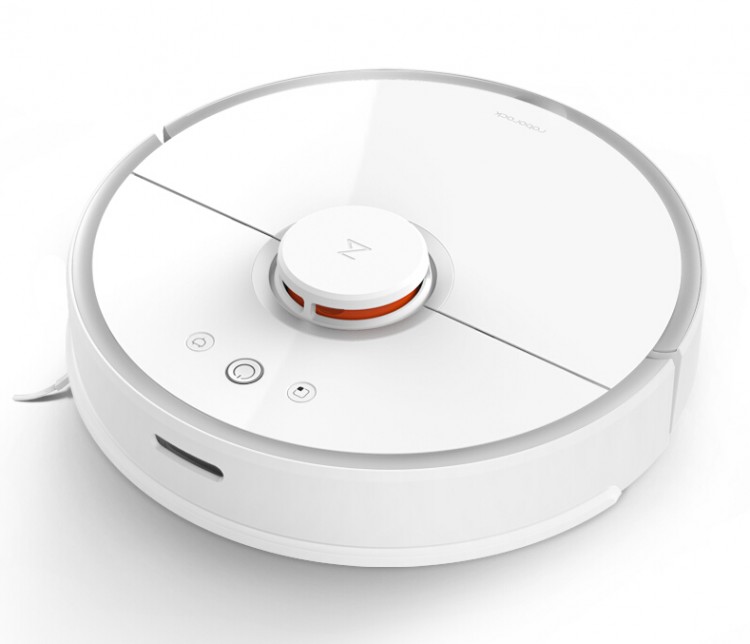 The Roborock S5 is the newest robot vacuum cleaner that costs around $500 and is easily compared with the flagship Roomba robots. 13 sensors are located all over the body helping it move around without bumping into things. You will notice a "head" with a laser that scans the cleaning area and creates a map of the room (which by the way you can see with the MiJia app on your smartphone). The SLAM algorithm system calculates the most efficient way to clean your house providing more thorough cleaning.
Click here to see customers reviews about the Roborock S5 on Amazon
The robot has a wet mopping function which is perfect for bare floors. The tangle-free design prevents the motor from hair tangling. The powerful motor cleans a carpet from pet hair, dirt, and dust. The Roborock S5 has strong suction power and comes equipped with a 2mm soft bumper for quiet operation. The robot has a washable HEPA filter that catches even the smallest particulars in the air.
The Roborock S5 spports Wi-Fi and comes with an upgraded app that has a lot of functionality that helps you to control it when you're not at home; in fact, you can watch the device moving in real-time. In case the device hasn't finished its job but the battery needs to be recharged, the Roborock will find its way to the charging dock and get back to finish its cleaning after recharging.
What you can do with the MiJia app:
Schedule the robot up to 7 times per week and even multiple times in a day
Watch the vacuum moving in real-time
View the map of a cleaning area
Switch between cleaning modes
Create virtual walls in areas you don't want the vacuum cleaner to go
Navigate the robot by tapping on a special area on your phone
What you get in the box with the Roborock S5
The Roborock S50 itself, charging base, adapter. water tank, mopping cloth
What we like about the Roborock S5
Mapping and smart navigation system
User-friendly upgraded app
Long operation time
Sweeping and mopping functionality
Powerful motor
Super quiet operation
Virtual walls
Cons
Not a lot of accessories included
Expensive
Why the new Roborock S5 is good for pet hair
The Roborock costs around the same as the Roomba 890, but it has a mopping function and the SLAM navigation system. The powerful motor can clean your carpet from pet hair with ease especially with its smart carpet identification that turns on the maximum suction mode once it recognizes a carpet to provide high-quality deep cleaning. It supports Wi-Fi meaning you can manage it even when away from home. Let the Roborock work on its own and you will be surprised to see how the device changes your life.
Buy the Roborock S5 on GearBest

Roborock in rose-gold on Gearbest
---
2. The Neato Botvac Connected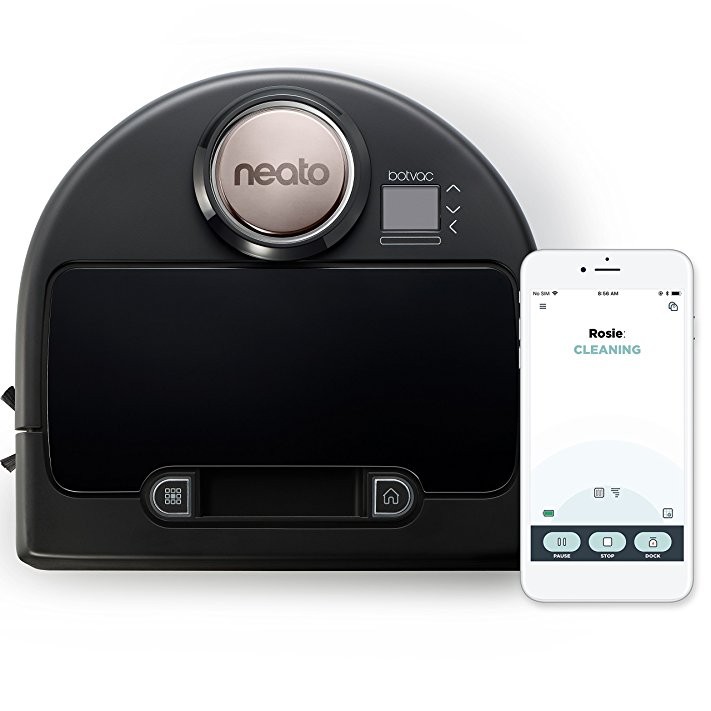 The Neato Botvac Connected features an all-black color scheme with shiny metallic accents. A "D" shape helps the robot get deep into corners and track around furniture. The robot vacuum cleaner supports Wi-Fi and voice-activated systems such as Amazon Alexa and Google Assistant. On the top of the device, you will see a little color LCD panel for basic interactions and two big buttons: spot cleaning to clean a specific area and home/Power that tells the robot to return to its charging base. A little screen shows how much battery is left, in which mode the device is running, and any error messages. The screen can be used for connecting the Neato to Wi-Fi and set a cleaning schedule. Underneath, it houses a combination brush-and-blade roller, which helps cut up tangled hair and dust once they are caught.
Click here to see customers reviews about the Neato Botvac Connected on Amazon
LaserSmart mapping and navigation scans and maps the room, plans, and then cleans. The robot has two cleaning modes: Eco gives a longer, quieter energy-saving clean while Turbo provides a super-powered cleaning-with maximum hair pickup. If the Neato Botvac Connected needs more power, it automatically returns to the charging base, powers up, then goes back to finish the job.
What the Neato Robotics app does:
Alerts when the robot start working and when it's finished cleaning
Sends notification when it gets stuck or needs your help
Switches between Turbo and Eco modes
Schedules cleaning at a specific time
Allows viewing of a summary of where the Neato robot has been
What you get in the box with the Neato Botvac Connected
Robot vacuum, integrated charge base, power cord, two ultra performance filters, combo brush, spiral blade brush, side brush, boundary markers, brush & filter cleaning tool
What we like about the Neato Botvac Connected
Fantastic cleaning power, including the ability to pick up clumps of pet hair
Effective smart features
User-friendly app that offers a ton of stats
Great for hard floors
Good battery life
Compatible with Amazon Alexa and Google Assistant + supports Wi-Fi
What could be better
Doesn't love thicker carpets
Expensive
Why should you get the Neato Botvac Connected
The robot is compatible with Amazon Alexa and Google Assistant so it can be controlled by voice commands. It covers a large area when cleaning and it has a recharging function similar to the newest Roomba models come with. Smart navigation allows the robot to methodically clean without bumping into things when working. It has an expensive price tag, but the device comes with a lot of nice features that make it worth its value.
---
3. The Shark ION ROBOT 750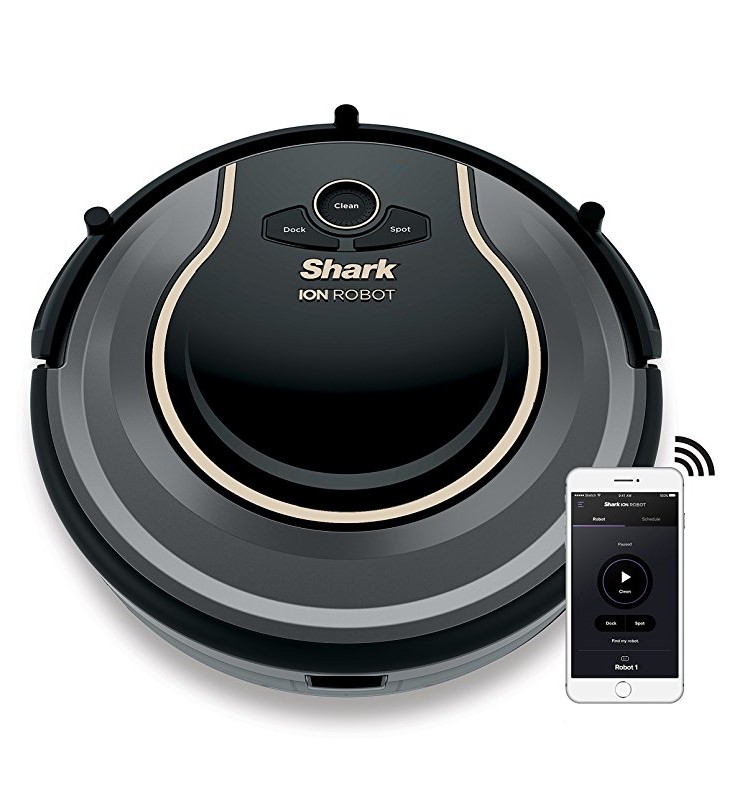 On top of the Shark ION ROBOT 750 are three buttons: clean for starting cleaning, dock to get back to recharge, and a spot button for a specific area. The robot supports Wi-Fi and Amazon Alexa, so it can be navigated and controlled by an app and voice commands. A light indicator alerts when the device gets stuck or when there is a problem with a brush roll. By the way, the robot comes with a brush roll that can untangle hair, string, and just about anything that gets in it. It is equipped with navigation sensors that allow the robot vacuum to navigate through a room and help find its charging dock when the battery runs out.
Click here to see customers reviews about the Shark ION ROBOT 750 on Amazon
What you get in the box with the Shark ION ROBOT 750
Two side brushes, filter, cleaning tool, charging dock, 9 feet of the BotBoundary strip.
What is good about Shark ION ROBOT 750
Not very noisy
Compatible with Amazon Alexa
Wi-Fi connectivity
Decent cleaning performance on hardwood floors and low-pile carpets
Anti-allergen HEPA filtration
What could be better
Difficult time cleaning high-pile carpets
Doesn't mop
Why would you buy the Shark ION ROBOT 750 robot vacuum cleaner
The device that comes with a $350 price tag and still can be navigated by voice commands. The robot cleans hardwood floors or a low-pile carpet from pet hair. The anti-tangle technology will help with hair rolled around most brushes, so you will not be spending valuable time untangling anything from them.
[Update December 2018] The Shark Ion has released the newest R85 and S87 robot vacuum cleaner. The S87 is a two-in-one vacuum: a robot and handheld one.
---
4. The 360 S6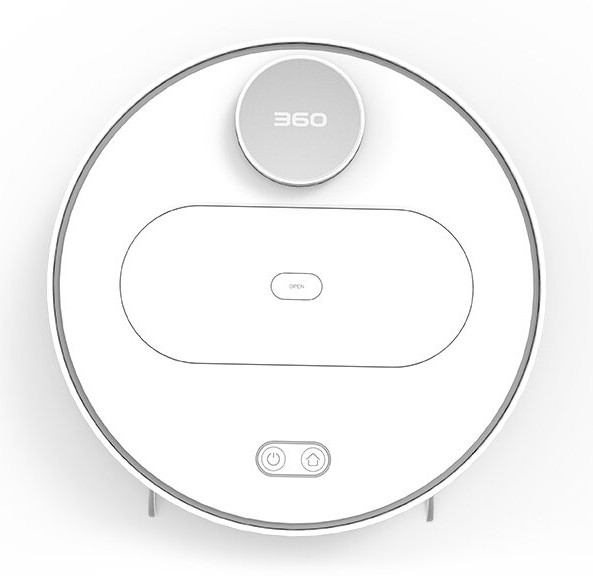 The 360 S6 is the robot vacuum that costs around $350, comes with a strong suction power and can mop and sweep at the same time. It can be navigated by the 360Smart app where you can set forbidden zones, create customized areas, etc. It has a carpet boost feature that switches its suction to maximum once the robot recognizes a carpet. Performs great on bare floors and carpets.
The side sweepers and main brush work together to pull in pet hair, dust, dirt, and large debris without getting tangled. The high-efficiency washable HEPA filter captures 99% of all allergens, pollen, and particles as small as 10 microns. Plus, the LIDAR technology prevents the robot vacuum from bumping into walls, avoid obstacles or falling off stairs thanks to the map it creates. When the battery is low energy, the 360 S6 gets back to its dock to recharge so it can resume the cleaning once the battery is 80% to finish the job.
The 360Smart app allows to:
Set up a schedule for up to seven times a week
Control the robot vacuum: start, pause, reserve or cancel the cleaning job
Create forbidden zones
Customize specific areas to be cleaned
Switch between cleaning modes
Track when the accessories need to be changed
In the box
360 S6 robot vacuum, charging base, adapter, filter, water tank, mop, cleaning tool, English manual.
What we like about the 360 S6
App-based
Forbidden zones, customized areas setting
Carpet boost feature
Powerful enough to clean carpeted surfaces
Affordable price
Can mop and sweep
Powerful motor
Easy-to-get dustbin
Decent battery life
Cons
No Amazon Alexa/Google Home integration
Why buy the 360 S6 for pet hair?
First of all, the 360 S6 comes with one of the strongest suction that is the best at picking up pet hair. For the price, it comes with and the features 360 S6 offers, it is one of the best affordable robot vacuum cleaner with mapping to get in 2018.
---
5. The ILIFE A4S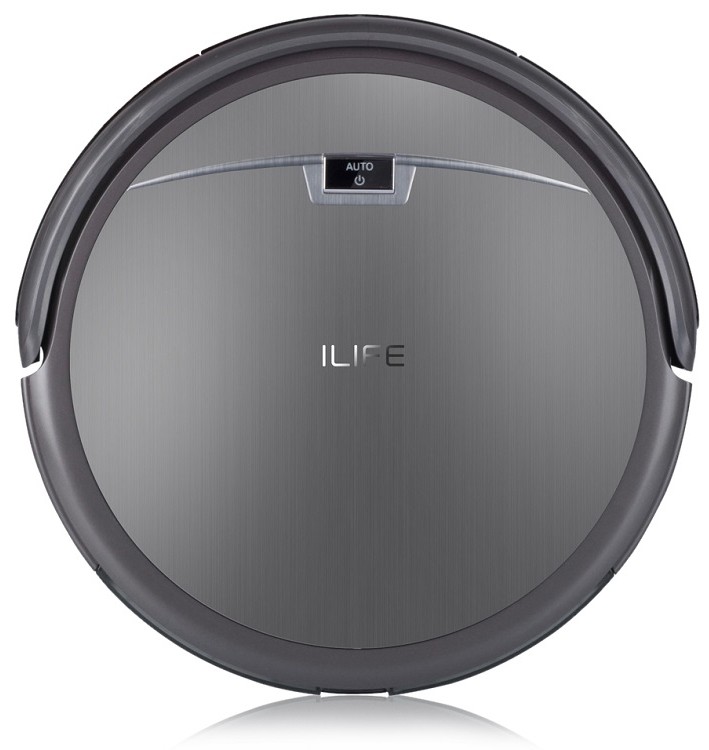 The ILIFE A4S has the same minimalistic design as all the robots from iLife do. The vacuum is equipped with infrared, OBS and wall sensors that prevent the robot from dropping from stairs and avoid bumping into things. The powerful motor absorbs dust, dirt, and pet hair from hardwood floors and carpeted surfaces. You can schedule the A4S to clean at a specific time using the remote control that allows you to change between cleaning modes and return the robot to its charging base. The device comes with multiple cleaning modes: automatic cleaning, border cleaning, spot cleaning, schedule cleaning, and maximum cleaning. It is suitable for most floors: cement, ceramic tile, wooden, undercoat carpeting, etc. After the battery runs, out the robot will get back to its base to recharge.
Click here to see customers reviews about the ILIFE A4S on Amazon
What you get in the box with the ILIFE A4S
Vacuum cleaner, extra filter, charging dock, remote controller (2 AAA batteries included), manual, adapter, two extra side brushes.
What we like about the ILIFE A4S
Decent working time
Powerful motor
Affordable price
Love noise operation
Cons
No smart navigation feature
No virtual walls included
Why is the ILIFE A4S perfect for pet hair?
This robot has a powerful motor that can easily absorb dust, hair, paper, and reduce the pollution of PM2.5. Needless to say, the A4S costs less than $200 but has good cleaning performance. It is as good on a hardwood floor as on thin carpets. A good-looking robot that works long, handles pet hair and costs twice less than the Roomba 890 - the iLIFE A4S is definitely good for your cleaning needs.
---
Which robot vacuum cleaner is the best for pet hair in 2019?
If you are not going to spend a lot of money on a robot vacuum cleaner, go with the Shark ION ROBOT 750 or ILIFE A4S. The Shark ION ROBOT 750 is compatible with Amazon Alexa but doesn't have smart navigation. On the other hand, the A4S from iLIFE costs even less than $200 but offers decent cleaning features for the price.
Please note that the Shark Ion 750, as well as the ILIFE A4S, are not able to deep clean thick rugs, but they do a great job on thin carpeted flooring.
The 360 S6 and the Roborock S5 cost around $250 each. The Neato Botvac Connected costs around $500 and can be controlled by Amazon Alexa, Google Assistant (same as the Roborock S5).
Three are app-based which allows you to control the robots from anywhere. The Neato Botvac Connected, the Roborock S5, and the 360 S6 have smart navigation that provides more efficient cleaning. The 360, the Neato and the Roborock perform well on thin and medium-pile carpets as well as bare floors and are suitable for mixed surfaces. Each of the three robots run about the same 120 (Neato Botvac and 360 S6) and 150 (Roborock) minutes which is enough to clean a medium and big house.
If your home is mostly covered with a hardwood floor, get the Roborock or 360 S6 since these two can sweep and mop.
What do you think is the best robot vacuum cleaner for pet hair? Write your comment down below.
Where to buy
Since English is not our first language, you may notice spelling and grammatical errors in the article. We would be very grateful if you could help us fix the mistakes. Just select the confusing part of the text with your mouse and press Ctrl + Enter, then you will be able to send us a corrected version of the text. Thank you for your effort!
---
---
Related Robot Vacuum Comparisons
Latest Articles