Meet the Newest 360 S6 Robotic Vacuum Cleaner: Is it a New Roomba Killer?
·
Jul 25, 2018
·
3 min read
The 360 S6 is a brand-new automatic robotic vacuum cleaner we haven't heard about before. It comes with strong suction, intelligent mapping and path planning and many other high-end features. What makes it better than the top-level Roomba 980? Let's find out.
UPDATE: Check out our latest 360 S6 review.
The 360 S6 Technical Specification
| Features | 360 S6 Robot Vacuum |
| --- | --- |
| Runtime | 120 min |
| Suction power | 1800 Pa |
| Washable HEPA filer | yes |
| Battery capacity | 3200 mAh |
| Dustbox capacity | 400 ml |
| Wet Mopping | yes |
| Water tank | 150 ml |
| Mapping / Path Planning | yes |
| Mapping sensor | laser |
| Climbing ability | 0.67 in / 17 mm |
| Runtime | 90-120 min |
| Carpet Boost | yes |
| Noise level | 55 dB |
| Smart navigation | yes |
| Recharge & resume | yes |
| Cliff & anti-drop sensors | yes |
| Remote Control | iOS / Android App |
| Virtual walls | yes |
| Where to Buy | On GearBest for $349 |
The 360 S6 Design
The 360 S6 robotic vacuum cleaner has got a minimalistic design that looks fantastic. Somehow it reminds the Roborock S5 white & black style. On top, we can see a round head that featured a laser inside. There are two buttons: power and recharge. And the one that leads us to open the lid where you can find a dustbin. Underneath the robot houses its main brush, two large heels, water tank assembly mounting port, and two side sweepers.
Navigation & Cleaning pattern
The 360 S6 is equipped with sensors that prevent it from falling down stairs and collisions with furniture. Drop sensors detect stairs and help the robot to not falling down. As we mentioned before, there is an LDS sensor that scans the interior of a room and builds the most efficient way of cleaning on its own, following the zig-zag mode. The laser is accurate when it comes to mapping and allows the robot to build a map in the dark.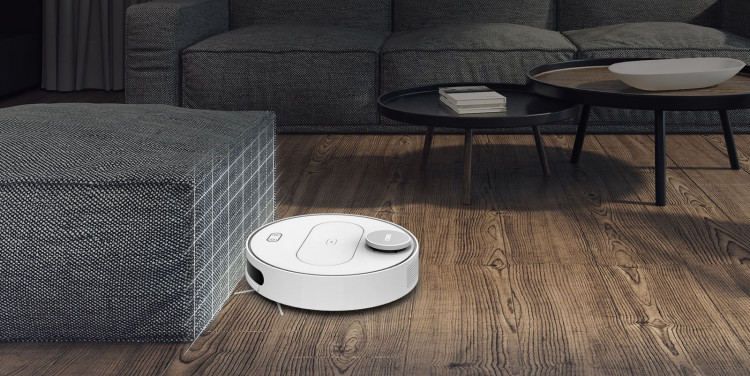 The biggest thing about this device is that it creates a map in real-time, so if you place a chair or anything else in front of it while the device is working, it will rebuild a map and show it on the map immediately. The 360 S6 robot remembers where it is now. If you have more than a one-floor house, the cleaner will actually know where it is. It holds in memory a few maps, it remembers a map of each floor. Check our list of the best robot vacuums with the mapping feature.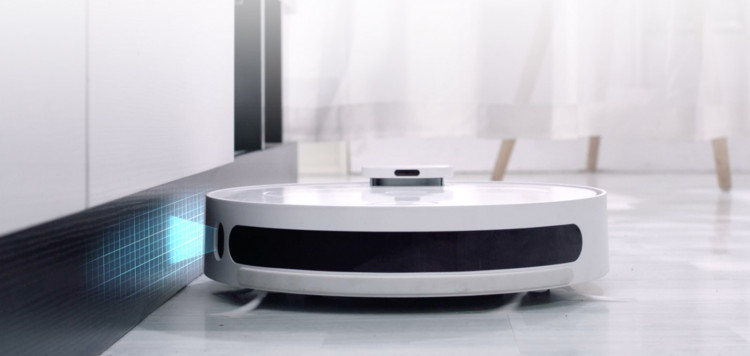 How does it work?
Two side brushes sweep dust and dirt along the walls and transfer it into the dustbin. The main brush catching pet hair and dirt, where its powerful motor sucks it inside the dustbin. The machine has the feature that increases suction once it recognizes a carpet.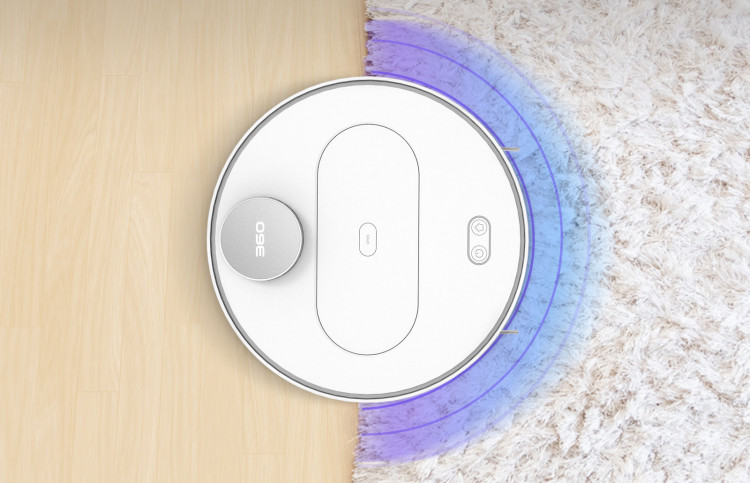 The dustbin has two filters one of which is a washable HEPA filter. It is perfect for those who suffer from asthma and allergies. It catches 99% of PM2.5 dust, mites, allergens, and dirt.
Even though the 360 S6 has a strong suction that delivers 1800 Pa, it is quieter than most the high-end robot cleaners on the market. Thanks to its large wheels, the 360 S6 can climb obstacles up to 0.67 inches (17 mm) and has no issues with crossing over thick carpets. Voice prompts informs about cleaning status.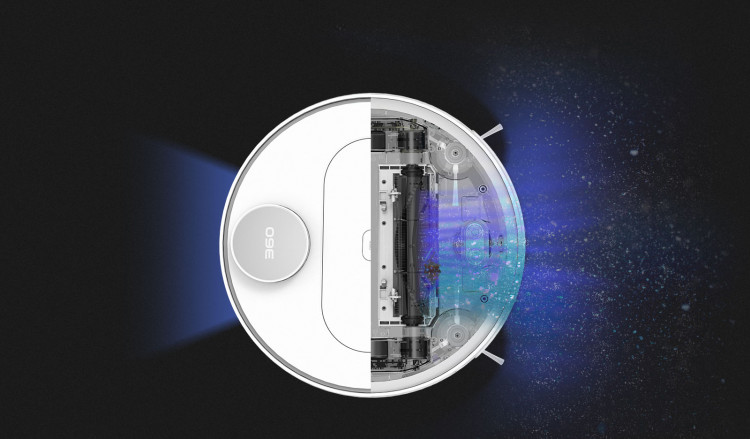 The 360 S6 comes with a 150 ml water tank and a mop cloth. In the mopping mode, it controls water dripping making it leak when the robot is moving but once S6 stops - water stops leaking.
Battery life
The 3200 mAh battery lasts about 90-120 minutes, it depends on the cleaning mode. Once it gets lower than 20% the robot returns back to its charging station, recharge and resumes cleaning from the point it left off. Thanks to the Lidar Mapping System, the cleaner remembers where it has been.
App control
The 360 S6 comes with an app making it able to be controlled from your smartphone even when you are not home. Except for basic features such as start, manually manage its movement, scheduling the robo and so on. You can select cleaning areas and forbidden zones so the cleaner will not cross the selected areas.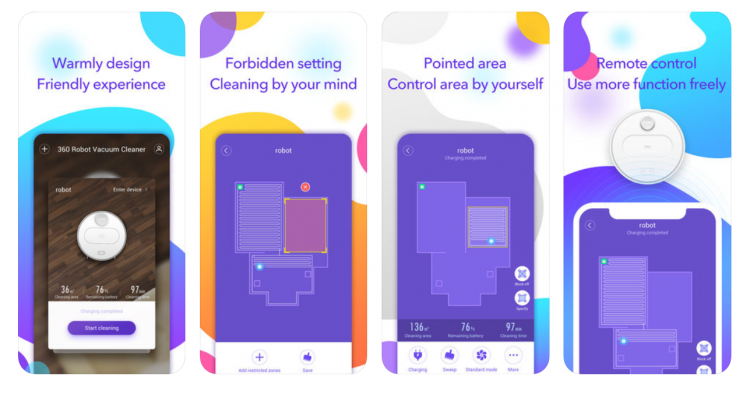 The app allows to see the created map in real-time and track where the robo has already cleaned.
Price & Where to buy
The 360 S6 is available to buy on Gearbest. Hurry up, it costs only $329.99 + free shipping with the coupon code GB-APS6 (valid until September 31)..
The 360 S6 Robot Vacuum: How does it work
Wrap It Up
The 360 S6 is a very powerful machine that comes with a low price tag. It easily can compete with high-end machines such as the Roomba 980, Roborock S5, ECOVACS, and Neato. It creates a visual map and knows where it has cleaned, the app allows to create virtual walls and control the robot even when you are not at home. It can sweep and mop which is great not many cleaners on the market offer that. Strong suction makes the machine able to deep clean low and medium-pile carpets handling pet hair, dust, and dirt with ease. The mapping feature is amazing, one of the best on the market. The 360 S6 robotic vacuum is an amazing device with high-end features that cost less than most of the competitors with similar features. What do you think about this robot vacuum? Write your opinion in the comment section down below.
Where to buy
Since English is not our first language, you may notice spelling and grammatical errors in the article. We would be very grateful if you could help us fix the mistakes. Just select the confusing part of the text with your mouse and press Ctrl + Enter, then you will be able to send us a corrected version of the text. Thank you for your effort!
---
---
Related Robot Vacuum Comparisons
Latest Articles