Meet Family Hub Fridge — The Newest Smart Refrigerator From Samsung
·
Feb 22, 2018
·
3 min read
The ability to call Uber or ask what's the weather be like today using a fridge might seem like something we've seen in fantastic movies. You'll be surprised but these are fully-working functions that now are available in the newest Family Hub Fridge 3.0 Samsung has presented on CES 2018. Creating a smart home becomes easier and Samsung helps us to do it with the upgraded version of their smart fridge. Now we have an opportunity to talk with the fridge, listen to music, and stream videos on its screen. The device is a part of Samsung's SmartThings ecosystem that can control the lights, tweak the temperature or monitor a security camera, at least this is what Samsung promises.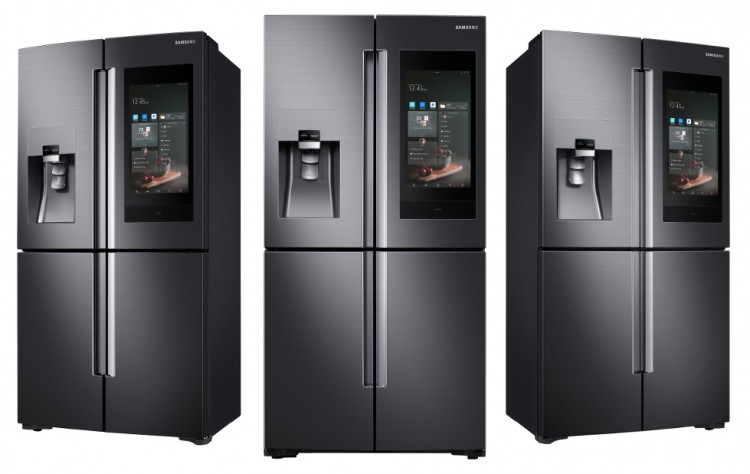 Features
create a shopping list
set expiration notifications to keep all the food fresh
check the fridge from anywhere thanks to three interior cameras located inside that take a photo to see what's inside
expiration notifications help to plan ahead alerting when you need to go grocery shopping
sync the shopping list with family members
when adding an item to the shopping list using the touchscreen or your smartphone the shopper will see it in real-time
each family member can create a calendar to make schedules easier than ever
Samsung TV mirroring
plays music, supports live radio apps
with the touchscreen, it's easy to discover new tracks and find your favorite songs when streaming apps are on
if you connect the fridge with compatible speakers you can stream the music in every room
order and get food delivered from the fridge (not available in all areas though)
call Uber
get recipes based on what's inside the fridge
What is smart about the Family Hub Fridge
The Family Hub Fridge now integrates into Samsung's SmartThings ecosystem, allowing to control the lights, tweak the temperature or monitor a security camera.
Expiration notifications help you to plan ahead and know when you need to go grocery shopping.
With the smart feature that personize information for every family member, you can create notes, set important meetings and get all the news personalized for you as well as share it with everyone you live with.
Using the touchscreen Family Hub get the ability to call Uber or order and get food delivered with one click but ordering and delivery services not available in all areas so far.
Whiteboard allows to draw pictures or write notes using the touchscreen or your smartphone and share it with family members. Each family member can create a calendar to schedule special occasions so you'll never miss important meetings.
Smart Grocery Shopping List
With built-in three grocery-tracking fridge cameras located inside that take pictures of what's inside the fridge, you'll be able to see it on your phone from anywhere. Real-time sync allows you to see what food you need to buy. It works this way: someone's adding an item to the shopping list that'll synchronize with family members and the shopper would see it on the smartphone.
Shopping list syncs with each family member so everyone gets what they need.
The Family Hub provides step-by-step recipes based on the ingredients you have on hand so you don't need to worry about what to cook today.
Meal Planner and Deals apps
Meal Planner is a food management app that shows recipes accounting for food preferences, restrictions and even when your food expires.
A new Deals app allows users to find and save sale-priced groceries to the Shopping List or to a supported loyalty card.
Voice Control with Bixby Virtual Assistant
A virtual assistant Bixby can recognize voices from different people you live with. Now if you ask, it will read out the news, day's weather, step-by-step recipes along with personally-tailored updates from your calendar. Anyway, Bixby has to go through a lot of improvements to compete with its competitors.
When your hands are full, S Voice can read out recipes step by step and take dictation.
Entertainment
You can mirror what's playing on your Samsung TV and watch any contents on the screen when you're cooking as well as stream your favorite music with compatible wireless speakers to listen to in every room.
Streaming music directly from your phone is possible with a built-in AKG speaker that promises richer bass and midrange sounds. There is an ability to find and discover tracks when the streaming services such as Spotify or iHeartRadio are playing.
Now you can find and check a wide array of content from HomeAdvisor, Pinterest, Tasty and The Weather Company thanks to their partnerships with Samsung.
The Photo Album displays family photos on the screen.
With creating profiles each family member gets an avatar so they can receive customized sharing of everything from calendars and to-do list to notes.
Since English is not our first language, you may notice spelling and grammatical errors in the article. We would be very grateful if you could help us fix the mistakes. Just select the confusing part of the text with your mouse and press Ctrl + Enter, then you will be able to send us a corrected version of the text. Thank you for your effort!
---
---
Latest Articles