Top 5 The Best Travel Notebooks of 2018 To Buy On A Budget
Michael Fisher
Mar 3, 2018 9 min read
Travelling can be fun until you need to pack all your stuff in one small bag. The ultraslim notebooks presented in this article are super budget so you can buy one of these without spending a lot of money. It is still a great working machine for people who work with documents or Google Docs, browse the internet, or just watching movies. Portable size and modern design make these portable computers one of the best travel notebooks of 2018 that costs less than $300.
Acer Chromebook R 11 - the touchscreen portable notebook with a decent battery life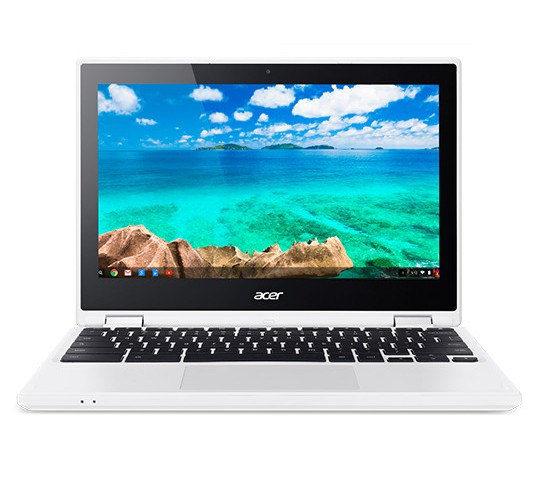 Specifications
Processor: 1.6GHz quad-core Intel Celeron N3150 (3MB cache, up to 2.08GHz with Turbo Boost)
Graphics: Integrated Intel HD Graphics
Memory: 2/4GB DDR3L
Storage: 16/32GB
Screen: 11.6 HD, 1,366 x 768 touchscreen, LED-backlit IPS
Camera: 720p webcam
Wireless: 802.11ac (B/G/N) dual-band WiFi, Bluetooth 4.0
Ports: USB 2.0, USB 3.0, HDMI with HDCP, headphone/microphone jack, microSD card slot
Battery: 3220 mAh 3-cell Lithium-ion
9.5 hours estimated battery life
Camera: HD with a 1280x720 resolution
| Weights & Size | |
| --- | --- |
| Weight | 1.25 kg / 2.76 in |
| Width | 29.3 cm / 11.57 in |
| Diameter | 20.4 cm / 8.03 in |
| Height | 1.9 cm / 0.76 in |
First Glance & Acer Chromebook R 11 Design
Acer Chromebook R 11 is made of white plastic with a matte finish. The lid of the machine features a textured white metal panel. Both Acer and Chrome logos you will find on the metal panel. In general, Acer keeps the design quite minimalist. It has an 11.60-inch touch-enabled display with a resolution of 1366 x 768px. At just 19.2mm thin and weighing less than 1.6kg, this stylish notebook fits into your bag with ease which makes it perfect for traveling.
A USB 3.0 port sits on the left side, joined by an SD card slot and the HDMI output. At the right, you will find the USB 2.0 port and a microphone/headphone jack. The Chromebook R 11 also has 802.11ac Wi-Fi and Bluetooth 4.0.
Performance
Acer Chromebook R 11 is powered by 1.6GHz quad-core Intel Celeron N3150 processor supported by 2 or 4GB of RAM, and 16 or 32GB of storage. Thanks to the 360° hinge feature dual-torque technology the notebook is easy to open, but it locks when you need to tap, swipe or use the touchscreen.
Battery
The Chromebook R 11 comes with a 3-cell 3220 mAh Lithium-ion battery that keeps the laptop going up to the whole 9 hours.
Pros
Reasonable price
The touchscreen that allows using the Chromebook R 11 as a tablet
Minimalist design
Decent battery life
Cons
Verdict
Chromebook R 11 gives you an unlimited access to all the Chrome apps which makes Chromebooks perfect for those who need browsing, working with documents and maybe watching movies. Check out our list of 11 reasons to buy a Chromebook. That's why they claim that this kind of laptops is made for schools and universities. Along with this, the notebook comes with a less than 300 dollars price so you can use it while traveling if you don't need a super powerful laptop. Also, Acer is portable and can fit into your backpack without taking a lot of free space that is limited when it comes to travel. Anyway if you are looking for a touchscreen notebook to use it as well as a tablet you can consider buying the Acer Chromebook R 11 as a machine that will keep you online while you're away from home.
---
Jumper EZbook 3 Pro - the ultrabook with minimalist design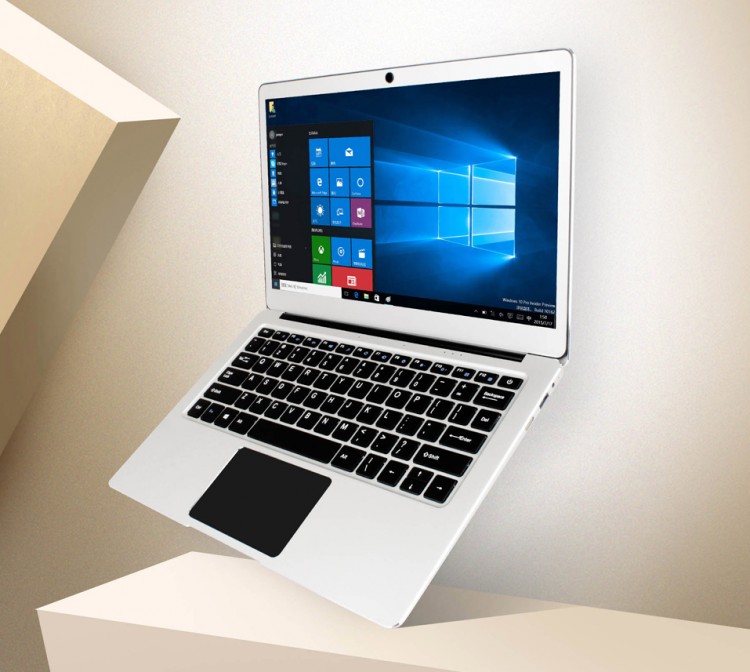 Specifications
13.3in full-HD (1920x1080px) 16:9 IPS display
Windows 10 Home 64-bit
1.1-2.2GHz Intel Apollo Lake N3450 quad-core CPU
Intel HD500 Graphics
6GB DDR3 RAM
64GB eMMC storage plus SD support up to 128GB (M.2 SSD expansion possible)
dual-band 802.11b/g/n/ac Wi-Fi, Bluetooth 4.0
2Mp webcam
Ports: USB 3.0, USB 3.0 w/PowerShare, SD card reader, audio jack, HDMI
9600mAh lithium-polymer battery
6 hours working time
1-year warranty
| Weight & Size | |
| --- | --- |
| Weight | 1.4 kg / 3.08 in |
| Width | 31.5 cm / 12.4 in |
| Diameter | 20.8 cm / 8.21 in |
| Height | 1.5 cm / 0.59 in |
Design
For a price less than $300, you get an aluminum laptop giving the notebook a premium look. It is available to buy in two colors: silver and gold. EZbook keeps things minimalist making the notebook feels more expensive. At the top, you will find a silver logo and that's it.
There are three ports on each side of the EZBook 3 Pro: two USB 3.0 ports along with an SSD slot, an earphone jack, a mini HDMI port, and a DC jack.
It has a 13.3-inches IPS display with the full-HD resolution of 1920x1080 pixels.
At just 15 mm thin weighing 1.4 kg, this device is still eminently portable and fits into a travel backpack even though it has a 13.3-inch screen.
Software
Jumper EZbook 3 Pro runs the Intel Apollo Lake N3450 quad-core processor with 6GB of RAM and 64GB or 128GB of storage. There is also dual-band 802.11ac Wi-Fi and Bluetooth 4.0 support. The EZbook 3 Pro comes with a 9600mAH Lithium-polymer battery that can work about 6 hours in one charge.
Does Jumper EZbook 3 Pro is the ultrabook worth spending money on?
For less than $300 you get a premium looking fully-aluminum MacBook Air look-a-like ultraslim notebook. It's thin enough to fit into your travel bag still can be called portable even though the screen is 13.3 inches. It's capable of day-to-day computing tasks and low-intensity gaming and does a good job of balancing portability with a usable size screen. Jumper EZbook 3 Pro is a nice-looking budget travel notebook to get in 2018.
---
YEPO 737A - aluminium notebook with large trackpad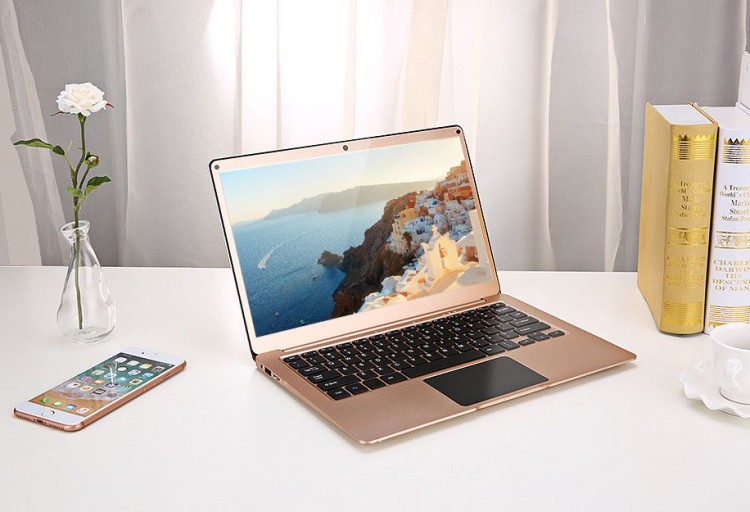 Specifications
OS: Windows 10
CPU: Intel Celeron N3450 Core: 1.1GHz up to 2.2GHz
RAM: 6GB
Hard Disk Memory: 64GB
External Memory: TF card up to 128GB
Screen size: 13.3 inch
Screen resolution: 1920 x 1080 (Full HD!)
Display Ratio: 16:9
Visual angle: 178 degrees
Supports 4k
Battery capacity: 8000 mAh
Standby time: 5-6 hours
USB port: 3.0
| Weight & Dimensions | |
| --- | --- |
| Weight | 1.2 kg / 2.64 lbs |
| Width | 31.5 cm / 12.4 in |
| Diameter | 20.8 cm / 8.18 in |
| Height | 1.6 cm / 0.62 in |
First impressions
The YEPO 737A is made of aluminum with a small YEPO logo on top and a large trackpad. It comes in two colors: gold and space gray. The keyboard looks similar to MacBook Air 13 laptop's keyboard, the body design is minimalistic. It is about 1.6 cm thin (0.6 mm in the slimmest part) with 1.2 kg of weight. The notebook is equipped with the 13.3 inches full HD IPS LED display that has a resolution of 1920 x 1080 pixels. The screen has great visual angles of about 170º.
On the left side, there are USB 3.0, HDMI port, and the charging port. On the right - USB 3.0, headphone output, and a microSD card slot. The included power supply has a very short charging cable that is only 120 cm.
Speakers that are attached to the bottom is a downside of the notebook. The sound is not one of the best. However, you still can use your headphones if you would like to.
Software
YEPO 737A runs on Intel Celeron N3450 Quad Core processor of up to 2.2GHz that combines with HD500 Graphics. Thanks to built-in the Intel Turbo Boost technology you will get extra power if the machine is operating below power, current, and temperature specification limits. The laptop is powered by Windows 10.
There is two version of the machine available: 64 GB and 128 GB of storage capacity. The notebook with 64 GB of memory has a slot for external expansion of up to 128GB.
Battery
YEPO 737A comes with an 8000 mAh battery that lasts up to 5-6 hours on standby.
Pros
Budget notebook
Thin design
Fully-aluminum body
Large trackpad
Cons
Short charging cable
Weak speakers
Why Yepo 737A is one of the best travel aluminum ultrabooks?
Yepo 737A is a super budget ultrabook with an aluminum body and the 13.3 inches display. With a cost of 250 dollars, you get 6 GB of RAM and 64 GB of storage space which sounds impressive! Minimalistic look, slim body and decent battery life make the YEPO 737A notebook one of the best budget ultrabooks on the market to considering buying in 2018.
---
ASUS Chromebook C202SA - the best-rugged laptop for traveling
Specifications:
RAM: 4 GB
16 GB of eMMC flash memory
11.6-inch display with a 1366 x 768 resolution
Antiglare coating screen
180-degree hinge
HDMI port, audio jack, power jack, three-in-one card reader (SD/SDHC/SDXC), two USB 3.0 ports and Kensington lock slot
Dual-band 802.11ac Wi-Fi network adapters
720p HD webcam
Up to 10-12 hours of run time
Processor: dual-core 1.6GHz Intel Celeron N3060
Graphics card: Intel HD Graphics 400
Reinforced nano-molding technology reduces the impact of any accidents
| Weight & Dimensions | |
| --- | --- |
| Weight | 1.2 kg / 2.64 lbs |
| Width | 29.3 cm / 11. 57 in |
| Diameter | 19.9 cm / 7.87 in |
| Height | 2.5 cm / 0.89 in |
Design
The ASUS Chromebook C202SA is surrounded by 3mm of dark-blue rubberized molding gives it some good protection breaking when falling down. There are also two runner grips located on the bottom that help keep the laptop on your desk from sliding around. The 11.6-inch display has a resolution of 1366 x 768 with an anti-glare screen. It is a clear panel or filter placed over a screen that helps prevent sun and light glare on a screen which helps a lot when working outside with the laptop. The hinge can open up to a full 180 degrees.
On the left panel, there is the HDMI port, USB 3.0, audio jack, and three-in-one card reader (SD/SDHC/SDXC). On the right side, you will find the other USB 3.0 port, Kensington lock slot, power jack, and two lights that indicate whether you're plugged in or if your battery is charged. Also, the C202SA has a Wi-Fi light to let you know when Wi-Fi is on. Inside there are speakers, that are definitely not the best speakers ever.
On the front bottom corners, the Chromebook houses the two stereo speakers that are definitely not the best speakers but still can get pretty loud with good audio quality.
Asus claims that this laptop can withstand drops up to 3.9 feet (about 1 meter). Also, the keyboard is spill proof2 and can repel up to 66cc of liquid.
Working performance
The Asus Chromebook C202 is powered by a dual-core 1.6GHz Intel Celeron N3060 processor with Intel HD Graphics 400. It comes with 4GB memory supporting 16GB of eMMC flash memory. It also has a 720p HD webcam and dual-band 802.11 AC Wi-FI.
When it comes to the battery the Asus C202SA runs up to 8-10 hours which sounds great considering its size and the price tag.
Pros
Reasonable price
Robust, reinforced rubber wrapped protective design
Decent battery life
Spill-proof keyboard
Cons
Bottom Line
The ASUS Chromebook C202SA is has a rubber-wrapped protective design which makes it perfect for your kids. Actually, ASUS designed this laptop as the ideal education computer for every school IT manager, student, and teacher. It comes with an affordable price of about $230, has a battery that lasts up to 10 hours making it perfect for travel as well. It is a small lightweight laptop for browsing, checking emails or working with documents. All these features making the ASUS C201SA is one of the best budget travel laptops to buy in 2018.
---
CHUWI Hi10 Pro - 2-in-1 ultrabook with a detachable keyboard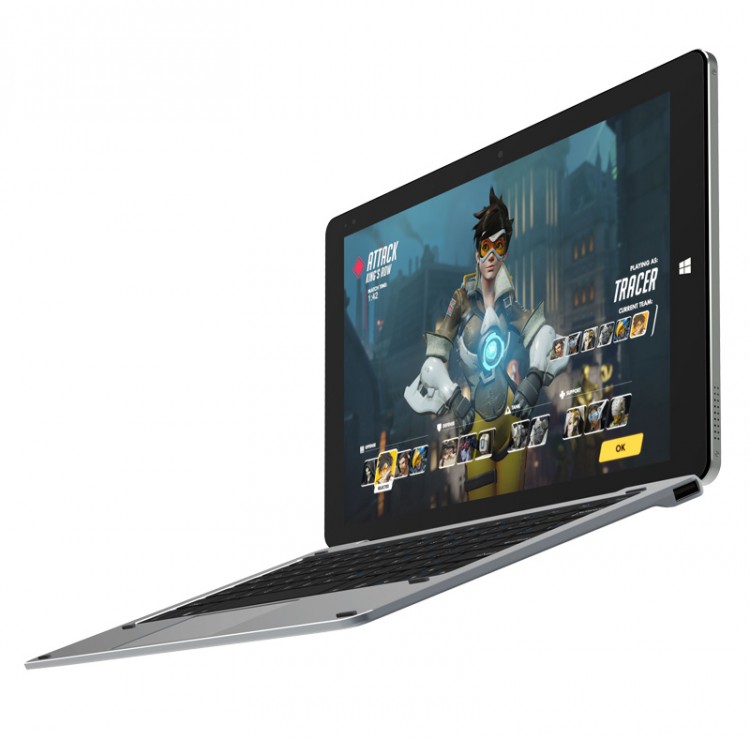 Specifications
Processor: Intel Atom X5 Z8300
Graphics: Intel HD Graphics 12EU
RAM: 4GB DDR3L soldered
Storage: 64GB eMMC
Display: 10-inch, 1920 x 1200 resolution
Connectors: USB 3.0, USB 2.0, micro-USB, microSD, micro-HDMI, audio connector,
Connectivity: 802.11n Wi-Fi, Bluetooth 4.0
Operating system: Windows 10 Home 64-bit
2-megapixel camera
Battery: 6,600mAh
Working time: up to 6-8 houts
It takes 3-4 hours to fully charge the 2-in-1 tablet
Weight & Dimensions
Keyboard Size: 26.7 x 17.4 x 1.8 cm / 10.5 x 6.8 x 0.7 Weight: 0.54 kg / 1.19 lbs Tablet PC Size: 26.1 x 16.7 x 0.8 cm / 10.3 x 6.5 x 0.3 Weight: 0.56 kg / 1.23 lbs
Design & First Glance
It uses an exquisite aluminum alloy main enclosure that is made by an advanced CNC process all round with glass on the front, a 2-megapixel webcam, a status light (that goes orange when powering on or charging) and the Windows 10 logo. At under 9mm body, the tablet carries two USB ports with a USB 3.0 included. At the top Chuwi houses a Power button and a volume rocker. On the side, there are two USB ports, a micro-USB one, a micro-HDMI port, a headphone socket. Also, the Hi10 Pro features a powerful USB 3.0 Type-C port that provides the high-speed power of fast charging and data transmission(up to 10Gbps). On the other side, you will find a microSD card slot. At the back, the tablet houses a 2-megapixel camera.
A 10-inch display has a 1920 x 1200-pixel resolution, 16:10 aspect ratio and 350-nits screen brightness.
A detachable docking keyboard connects with Chuwi via a proprietary connector with two slots.
The Chuwi Hi10 Pro runs Windows 10 and Android 5.1.
The unit equipped with Intel processor Atom X5 Z8300 that works up to 1.92GHz. The advanced cherry trail CPU built with Intel's leading 14 nm manufacturing technology is energy-efficient which makes the device run longer per one charge.
The 2-in-1 laptop comes with a big Li-polymer battery with a capacity of 6600mAh that lasts up to 6-8 hours in normal use. Thanks to the Chuwi quick charging technology the device can be fully recharged within 3-4 hours using a 5V/3A charger.
Chuwi Hi10 Pro is a small 2-in-1 tablet with a detachable keyboard that is perfect for using when you're traveling. Do not expect high working performance since this device is super portable making it less powerful than your standard laptop. Even the fact that adding a keyboard doubles the weight you still can carry it in your backpack.
Speakers that located on are the weakest side of this thing. Unfortunately, it's almost impossible to listen to music but you still can use headphones or connect it to an external speaker.
Pros
Super affordable price
Detachable keyboard
At just 9mm thick the device works the whole 8 hours
Quick charge technology
Portable size
Cons
Weak speakers
The camera could be better
What makes Chuwi Hi10 Pro is one of the best 2-in-1 tablets for traveling?
If you want to get a tablet while traveling the Chuwi Hi10 Pro is the notebook to consider buying since it has a keyboard so you don't need a laptop anymore. It is portable, the detachable keyboard makes the product work as a tablet as well as an ultrabook. Small size, decent battery life, and solid performance - it's all about Chuwi Hi10 Pro that cost about 250 dollars. Sounds great, huh?
Found some spelling or grammatical error? Please help us to fix it!
Since English is not our first language, you may notice spelling and grammatical errors in the article. We would be very grateful if you could help us fix the mistakes. Just select the confusing part of the text with your mouse and press Ctrl + Enter, then you will be able to send us a corrected version of the text. Thank you for your effort!
---
---
Trending Articles
Recommended articles