iRobot Roomba 895 vs. Roborock S50 Comparison Chart
---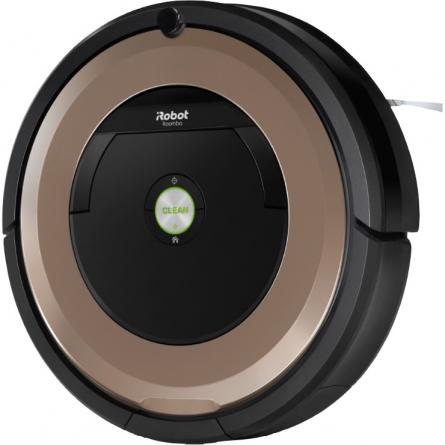 iRobot Roomba 895
Rating:
SRR Score: 64
---
Main Features
iRobot Roomba 895
Roborock S5
Mapping / Path planning

no

yes

Mapping Sensor Type
-
LDS
High-Precision Map

no

yes

Recharge & Resume

no

yes

Automatically Docks and Recharges

yes

yes

Noise Level
68

db

68

db

LCD Display

no

no

Side Brushes (one or two)
1

pcs

1

pcs

Voice Prompts

yes

yes

Cleaning Features
Suction Power
1000

Pa

2000

Pa

Сleaning Area
969 ft2 / 90 m2
2691 ft2 / 250 m2
Dustbin Capacity
300

ml

480

ml

Automatic Dirt Disposal

no

no

Wet Mopping

no

yes

Water Tank Capacity
-
140

ml

Barrier-cross Height
0.63

in

/ 16

mm

0.79

in

/ 20

mm

HEPA Filter

yes

yes

Washable Filter

no

yes

Battery
Battery Capacity
1800

mAh

5200

mAh

Run time
60

min

150

min

Charging Time
120

min

240

min

Rated Power (Watts)
33

W

58

W

Control
Scheduling

yes

yes

IR Remote Control

no

no

Wi-Fi / Smartphone App

yes

yes

Wi-Fi Frequency Bands
2.4

GHz

2.4

GHz

Amazon Alexa Support

yes

yes

Google Assistant Support

yes

yes

Magnetic/Optical Virtual Walls

yes

yes

App Features
Real-time tracking

no

yes

Digital Blocked Area

no

yes

Zoned cleaning

no

yes

Multi-floor maps

no

yes

Manual movement control

no

yes

Selected Room Cleaning

no

yes

Sensors
Carpet Boost

no

yes

Anti-drop / Cliff Sensor

yes

yes

Dirt Detect

yes

no

Full Bin Indicator

yes

no

Other Specifications
Robot Weight
8.38

lbs

/ 3.8

kg

7.72

lbs

/ 3.5

kg

Robot Width
13.90

in

/ 35.3

cm

13.78

in

/ 35

cm

Robot Height
3.62

in

/ 9.2

cm

3.78

in

/ 9.6

cm

In the box
side brushes, dual mode virtual wall barrier & batteries, extra HEPA Filter, dock station, manual
adapter, charging dock, water tank, mopping pad, English user manual
Warranty
12

months

12

months
Roborock Xiaowa E20 and Xiaomi Mi Robot: the differences explained

Runtime. Mi Robot has the longest runtime in the industry (shares it with the Roborock S5 and Xiaowa E3).
Mapping technology. Xiaomi is equipped with an LDS laser that scans surroundings to create a plan of your room layout. It is accurate, the robot is able to recognize obstacles such as furniture in your home and avoid it. The Xiaowa has a dual gyroscope system that tracks captures the floor in high frequency. The gyroscope is not as accurate as the LDS laser yet works well reducing the amount of time the robot would spend just running around. Both robot cleaners navigate in straight lines.
Mopping. The Xiaowa not only sweeps, but it can also mop.
Carpet boost. This feature recognizes carpeted surface and automatically turns on suction to a max level ensuring deeper cleaning.
Virtual block off. In the map built by Mi Robot you can set digital blocks to prevent the robot from crossing some areas you don't want it to pass.
Zoned cleaning. You can also interact with the map by creating areas you want the Mi Robot to clean. It might be some high-area rooms like a kitchen that is always a bit messier than other rooms in the house. Unfortunately, the Xiaowa does not support this feature.
Noise. Xiaowa is quieter when vacuums.
Dustbin size. Mi Robot has a smaller dustbin.
Climbing ability. Xiaomi Mi Robot can climb an obstacle up to 15 mm tall, the Roborock Xiaowa is able to go over 20 mm thresholds. It means the Xiaowa can clean thicker carpets.
Going over black carpets. Thanks to the LIDAR technology, the Mi Robot can see in the dark. The Xiaowa E20 has cliff sensors that "think" the robot is going to fall when recognizing dark carpets.

Roborock S5 vs. Roborock Xiaowa E20: which one to buy?
It might be challenging to choose the best robot in the Roborock model line. Let's try to figure out which one would be the best for you.
Roborock Xiaowa E20 is one of the best budget robot cleaners. This robot was also featured in our top 12 robot vacuums for different cleaning needs as the best for thicker carpets. Since it has an excellent climbing ability of 20 mm, carpet boost (a few models on the market have it), and strong suction - the Xiaowa E2 is ideal for homes with carpets that are not thicker than 20 mm. It is able to get rid of pet hair and performs flawlessly on bare floor. The Xiaowa is the only model among budget robot cleaners that is able to clean thicker carpets. And, the robot also is equipped with a water tank to mop hard floors. Yet it lacks some features such as digital boundaries and zoned cleaning. Also, the Xiaowa E20 is not suitable for bigger homes, it is perfect for small and average households. If you do not look for some extra bells, live in a not a big house - go for the Roborock Xiaowa E2, it is the best budget robot vacuum in the industry so far.
Xiaomi Mi Robot is a budget yet smart robot vacuum. It is equipped with a laser that creates the most accurate maps compared to camera or gyroscope-based systems. With a long-lasting battery and strong suction, the Mi Robot is suitable for big homes with a mixed surface. The robot is good for bare floor and thin carpets up to 15 mm height. It handles pet hair with ease, has the ability to create virtual walls and zoned cleaning which Xiaowa lacks. If you need these useful features and an accurate map - pick the Xiaomi Mi Robot.
The Mi Robot builds accurate maps and lasts longer which makes it suitable for big homes with thin carpets and bare floors. With the LIDAR, Mi robot is more efficient than the Xiaowa. If you live in a bigger household, your home is bare floors or thin carpets, and you have pets - choose the Xiaomi Mi Robot.
If you have thicker carpets, your home is not big, you need mopping and don't care about no virtual boundaries and zoned cleaning - go with the Roborock Xiaowa E20.