Comparing Neato Botvac D5 Connected vs. Neato Botvac D6 Connected
---
---
Main Features
Neato Botvac D5 Connected
Neato Botvac D6 Connected
Mapping / Path planning

yes

yes

Mapping Sensor Type
LDS
LDS
High-Precision Map

yes

yes

Recharge & Resume

yes

yes

Automatically Docks and Recharges

yes

yes

Noise Level
64

db

64

db

LCD Display

no

yes

Side Brushes (one or two)
1

pcs

1

pcs

Voice Prompts

no

no

Cleaning Features
Suction Power
2000

Pa

N/A

Сleaning Area
1184 ft2 / 110 m2
1292 ft2 / 120 m2
Dustbin Capacity
700

ml

700

ml

Automatic Dirt Disposal

no

no

Wet Mopping

no

no

Water Tank Capacity
-
-
Barrier-cross Height
0.75

in

/ 19

mm

0.75

in

/ 19

mm

HEPA Filter

yes

no

Washable Filter

no

no

Battery
Battery Capacity
4200

mAh

N/A

Run time
90

min

120

min

Charging Time
150

min

150

min

Rated Power (Watts)
45

W

61

W

Control
Scheduling

yes

yes

IR Remote Control

no

no

Wi-Fi / Smartphone App

yes

yes

Wi-Fi Frequency Bands
2.4

GHz

2.4

GHz

Amazon Alexa Support

yes

yes

Google Assistant Support

yes

yes

Magnetic/Optical Virtual Walls

yes

yes

App Features
Real-time tracking

no

no

Digital Blocked Area

yes

yes

Zoned cleaning

no

no

Multi-floor maps

yes

yes

Manual movement control

no

yes

Selected Room Cleaning

no

no

Sensors
Carpet Boost

no

no

Anti-drop / Cliff Sensor

yes

yes

Dirt Detect

no

no

Full Bin Indicator

no

yes

Other Specifications
Robot Weight
7.50

lbs

/ 3.4

kg

7.50

lbs

/ 3.4

kg

Robot Width
12.40

in

/ 31.5

cm

12.56

in

/ 31.9

cm

Robot Height
3.94

in

/ 10

cm

3.90

in

/ 9.9

cm

In the box
charging base, adapter, cleaning tool, user guide, extra filter, magnetic stripe
charge base, power cord, spiral combo brush, spide brush, ultra performance filter, brush and filter cleaning tool, boundary marker
Warranty
12

months

12

months
When it comes to choosing the right robot vacuum cleaner, it is always challenging to pick up the best one. A lot of people stuck with a Roomba because they know it. What if we tell you that there are other Roomba alternatives that can compete with a Roomba in terms of cleaning performance? Let's talk about the best Roomba robot cleaners and flagship DEEBOT robot vacuums and what are the differences between them.
Roomba vs DEEBOT comparison chart
| Features | Roomba 960 | Roomba 980 | Roomba i7 | ECOVACS Deebot 901 | ECOVACS Deebot Ozmo 930 |
| --- | --- | --- | --- | --- | --- |
| Runtime (min) | 75 | 120 | 75 | 110 | 110 |
| Carpet Boost | no | yes | yes | no | yes |
| Dustbin capacity (ml) | 600 | 600 | 378 | 350 | 450 |
| Filter type | HEPA | HEPA | washable HEPA | HEPA | HEPA |
| Mapping technology | camera | camera | camera | laser | laser |
| Recharge & Resume | yes | yes | yes | yes | yes |
| Noise level (dB) | 65 | 70 | N/A | 67 | 65 |
| Cleaning brush type | double silicone rollers | double silicone rollers | double silicone rollers | bristled brush; suction inlet | bristled brush; suction inlet |
| Dirt Detect | yes | yes | yes | no | no |
| Mopping | no | no | no | no | yes |
| Full Bin indicator | yes | yes | yes | no | no |
| Clean and Schedule by Room (Zone) | no | no | yes | yes | yes |
| Save created map | no | no | yes | yes | yes |
| Manual drive control | no | no | yes | yes | yes |
| Virtual Wall Barrier | physical | physical | physical | digital | digital |
| Scheduling | yes | yes | yes | yes | yes |
| Amazon Alexa/Google Home support | yes | yes | yes | yes | yes |
| Warranty | 12 months | 12 months | 12 months | 12 months | 12 months |
---
Dirt Detect
It is a system that recognizes high-traffic areas and makes a Roomba run over the spot providing deep cleaning.
Clean by zone
Cleaning by zone helps a robot to work on a particular area automatically without placing manually in the room you want to be vacuumed.
In the Roomba i7, it is implemented by naming each room after the robot has created a map. When each room has a name, you are able to schedule the robot to work in a particular zone.
Deebot has two ways to work in a chosen zone: prioritizing area and customizing zone. When the map is created, you can choose which room to clean first or draw a rectangle where you want the robot to clean.
Virtual wall
Roomba comes with a physical, virtual wall barrier that keeps a robot from crossing a room where it shouldn't be.
In the ECOVACS app, you can create as many digital virtual walls as you want by drawing a rectangle on a map.
Roomba is limited by the amount of virtual wall barrier in the box. With the ECOVACS app, you can set many digital block-offs.
Mopping
Only the Deebot Ozmo 930 comes with mopping feature. Please note that this feature will not replace the actual manual mopping and is not able to get rid of stubborn stains though it is excellent to use when you have no time to clean the bare floor.
Carpet identification
This option is able to identify carpet flooring boosting suction power to max level automatically.
It helps to deep clean carpets with no effort from your side. The robot does it on its own.
Floor type recognizing
The Ozmo 930 is able to recognize where there are carpets or bare floors. You can see it on your phone. It helps a lot when you mop your floors.
Thanks to the carpet identification, the Ozmo 930 does not go over carpets when mopping leaving it untouched. We didn't see anything like that before.
Cleaning brush
Roomba uses counter-rotating silicone tangle-free rollers that are perfect for pet hair. The brushless design is virtually maintenance-free.
The Deebot 901 and Ozmo 930 are equipped with one bristled brush for carpet cleaning and a suction inlet that solves the hair wrapping issue most of the robots face. If you don't want to spend time cleaning the main brush, just insert the inlet and let the robot clean.
Battery life & continuous cleaning
Each of the robots here resumes cleaning after its battery is recharged. It happens if the vacuum cleans a big house and is not able to finish the job before it needs to recharge.
The Roomba 960 and i7 is great for small and medium houses. It can clean a large home as well, the cleaner will spend more time on recharging and resuming.
The Roomba 980 and Deebot 901, Ozmo 930 are ideal for large homes. They last for about two hours which is enough to cover a big area.
Mapping technology
Mapping helps the robot to remember your home layout so it will not miss any spot when cleaning. A computer inside receives information from sensors that scan a cleaning area and build a plan of the room. After the map has created, the vacuum calculates the most efficient way of cleaning on its own. The robot follows the map methodically cleaning until its battery needs to recharge. When it's done charging, the cleaner gets back to the point it left off (thanks to the created map, it knows where it stopped working).
There are a few types of mapping technology.
Roomba robot cleaners are based on a camera sensor. Deebot vacuums use LIDAR (laser).
Both are good, but the LIDAR builds a more accurate map and does not need a light on when the robot is cleaning.
Roomba cannot work in the dark and has ussies with cleaning dark shade carpets.
Bare floor performance
Since we are talking about high-end robots, they all perform great on bare floors. There is no difference when it comes to bare floor cleaning. The Deebot Ozmo 930 also can mop, not only sweep.
Carpet cleaning performance
The difference in cleaning performance between the Roomba and Deebot hides in carpet cleaning.
Roomba is known by its cleaning performance. Every Roomba handles thin and medium-pile carpets with easy. The carpet boost that is presented in the Roomba 980 and i7 makes it easier for an owner to deep clean carpet flooring. The robots are excellent in terms of pet hair cleaning.
On the other hands, the Deebot cleaners work great on thin carpets handling pet and long human hair with ease thanks to the carpet identification and suction inlet.
---
Read more about the best robot vacuums produced by iRobot and what are the main differences between Roomba 960, 980 and i7.
Roomba 960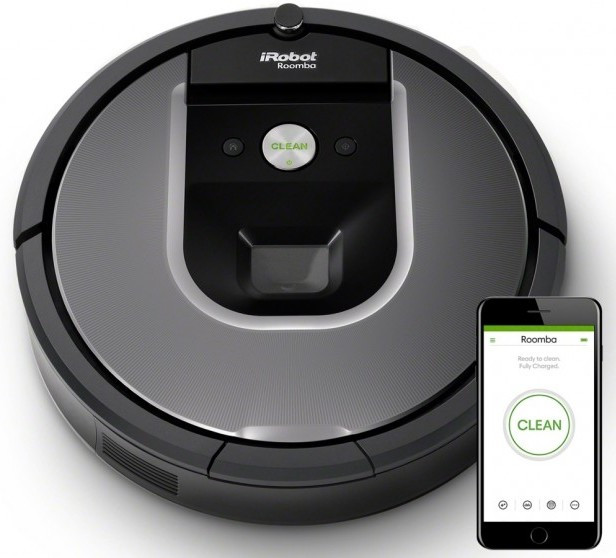 The Roomba 960 is still a champ when it comes to pet hair and carpet cleaning.
If you are not ready to spend some extras on the Roomba 980 or i7, the Roomba 960 would be a good choice in case you want to stick with iRobot.
It is equipped with a HEPA filter that is good for people with allergies.
With mapping, strong suction and tangle-free rollers, the Roomba 960 is a decent robot vacuum cleaner to buy in 2019.
---
Roomba 980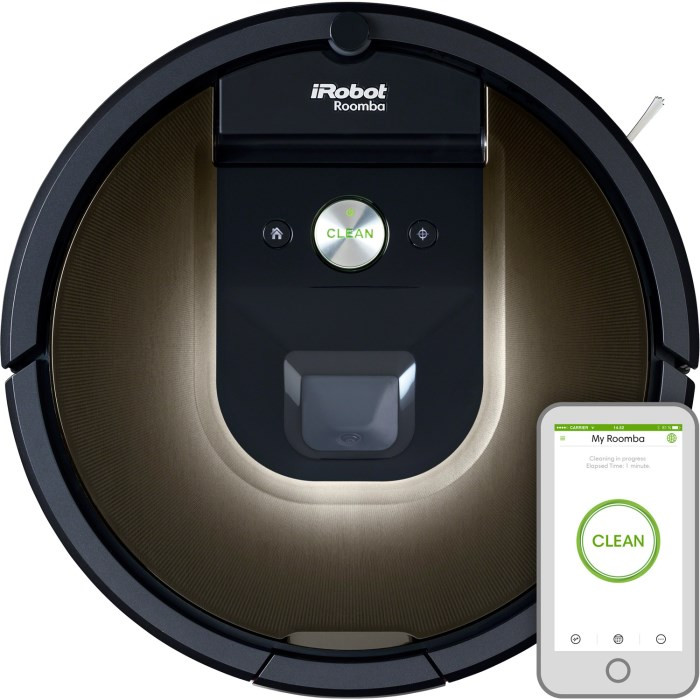 The Roomba 980 is basically the same Roomba 960 with more extended lasting battery, stronger suction and carpet boost.
It cleans carpets deeper thanks to the stronger motor and carpet identification. The Roomba 980 boost its suction power to max level once it recognizes carpet flooring.
The battery lasts about 120 minutes which makes the cleaner suitable for bigger households. The Roomba 980 is perfect for medium and big homes with pets and mostly carpeted flooring.
---
Roomba i7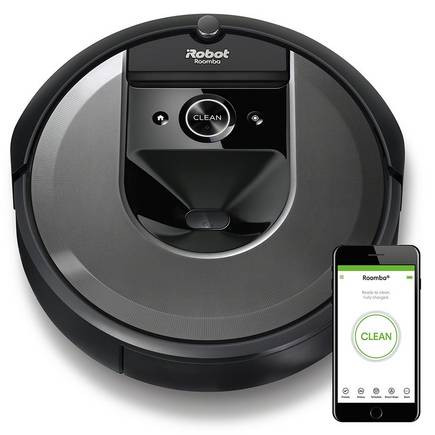 The Roomba i7 is the never robot vacuum cleaner in the iRobot family.
The cleaner is able to store up to 10 different floor maps. In the map, you can name each room after the robot has created it. When it's done, you can schedule the Roomba i7 to clean a particular place you've chosen.
The cleaner is equipped with a washable dustbin (previous models had a container that couldn't be washed with water).
Also, you can get the Roomba i7+ which is the same i7 with a clean base automatic dirt disposal. It is automatically emptying into an enclosed, disposable bag that holds 30 robot bins.
The Roomba i7 is ideal for small and medium-sized houses. Thanks to the brushless rollers, the cleaner works great when it comes to picking up pet hair. Ideal for households with carpet flooring.
---
DEEBOT 901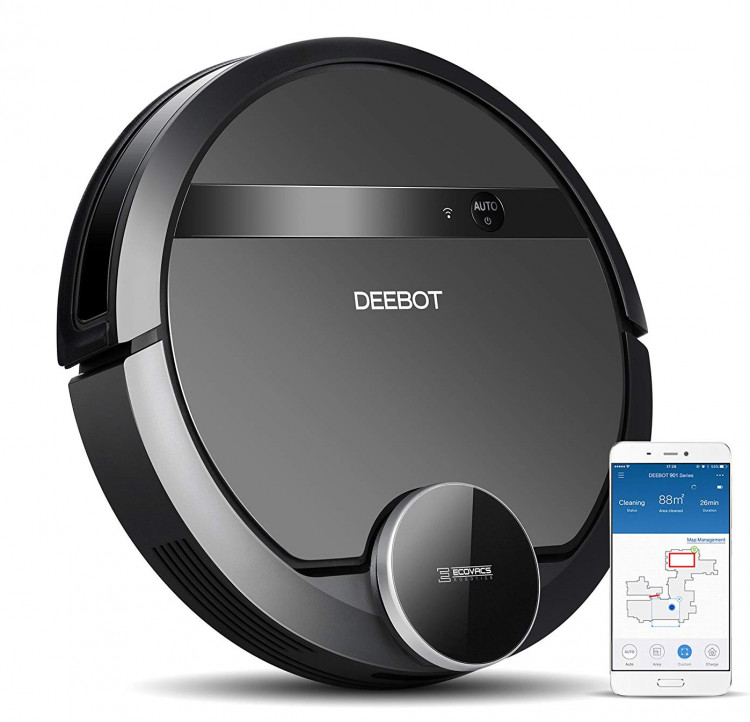 It is one of the cheapest smart robot vacuum cleaners on the market that is equipped with the LIDAR mapping. It has two side sweepers that catch dirt and dust from corners and edges, send it to the main brush (inlet) where the motor sucks it up to the dustbin.
The DEEBOT 901 is the shortest robot cleaner with LIDAR. The laser is located inside the tower that makes robots taller than those that use other mapping systems. The DEEBOT 901 9.5 cm body makes it fit under most furniture.
The ECOVACS app is featured with some cool options such as setting digital block offs, customizing areas and prioritizing zones. You can set the robot to clean a specific area, block it from crossing some rooms and command it to work in a saying living room first.
The ECOVACS DEEBOT 901 is ideal for homes with some area rugs and carpets and pet owners. Thanks to the suction inlet you will not have any issues with hair wrapping and the main brush helps to clean thin carpets agitating dust and dirt and sending it to the dustbin. Suitable for medium and big houses.
---
DEEBOT Ozmo 930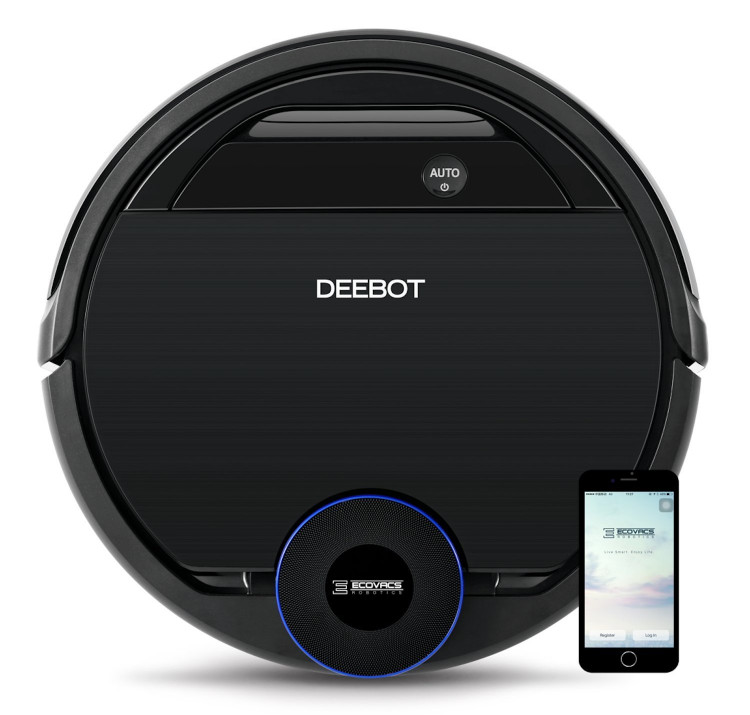 The DEEBOT Ozmo 930 is one of the best robot vacuum cleaners in the industry featured with the LIDAR, smart navigation and mopping.
The Ozmo 930 has all the same features as the Deebot 901 does plus mopping and carpet identification.
In the app, you can see how the Ozmo 930 recognized carpets and bare floor which helps the robot to avoid carpeted surface when mopping. And, you can set the level of water dripping so your floors will not be too dry or wet.
The DEEBOT Ozmo 930 is slightly taller than the DEEBOT 901 yet still can fit under most of furniture. Thanks to the LIDAR it does not have any issues with working on dark carpets and is able to clean in the complete dark.
The ECOVACS DEEBOT Ozmo 930 is perfect for medium and large homes with bare floors and thin carpets. The robot vacuum is suitable for pet owners because of its suction inlet.
---
What are the main differences between Roomba and ECOVACS DEEBOT?
The Roomba uses silicone tangle-free rollers; the DEEBOT is equipped with a bristled brush and suction inlet. Both are suitable for pet hair
Mapping technology they use is different. Roomba maps with a camera sensor, the DEEBOT uses a laser
The Roomba has a physical virtual wall barrier in the box; the ECOVACS app allows to create as many block offs as you want
iRobot Home app is basic. All you can do is to manage robot's movements (the Roomba i7 only), schedule the robot, watch cleaning history and switch between cleaning modes. The ECOVACS app allows us to track the DEEBOT in real time, set digital blocked areas, prioritize where to clean first, customize cleaning zones, schedule the vacuum, switch between modes, and manage cleaner movements. With the Ozmo 930, you can set water level dripping and see a type of surface in the app
Only the DEEBOT Ozmo 930 has mopping
The Roomba has one side sweeper, the DEEBOT is equipped with two
The Roomba has dirt detect
The Roomba comes with a full dust bin indicator
The DEEBOT performs a little bit better on bare floor and works as good as the Roomba on thin carpets. The Roomba works well on medium-pile carpets
The Roomba 960 and i7 is better for small homes; the Roomba 980, DEEBOT 901 and Ozmo 930 are suitable for bigger households
Price. The DEEBOT is cheaper than the budget Roomba 960 and twice less expensive than the Roomba 980 and i7.
---
What is the best: Roomba or DEEBOT?
When it comes to cleaning pet hair, both - Roomba and DEEBOT work great except if you have medium-pile carpets, the Roomba will do the job better.
The Roomba 960 and i7 are better for small and medium-sized homes. They are able to cover a bigger area though it will take more time to finish.
If your home is all about carpeted surface, go with a Roomba. Although, the DEEBOT performs great on thin carpets too.
As for additional accessories, you can find them on Amazon for Roomba and DEEBOT.
The ECOVACS app offers more when it comes to specifying some areas to clean or not clean. Also, you can interact with the map created by a DEEBOT.
If you want the one with mopping - go with the ECOVACS DEEBOT Ozmo 930.
In case your home has dark shades carpets - the DEEBOT would be able to clean them while the Roomba wouldn't.
Last but not least - the DEEBOT is cheaper. If you are tight on budget - the ECOVACS DEEBOT 901 or Ozmo 930 are great robot vacuum cleaners to buy in 2019.
Neato Botvac D5 Connected Video Reviews