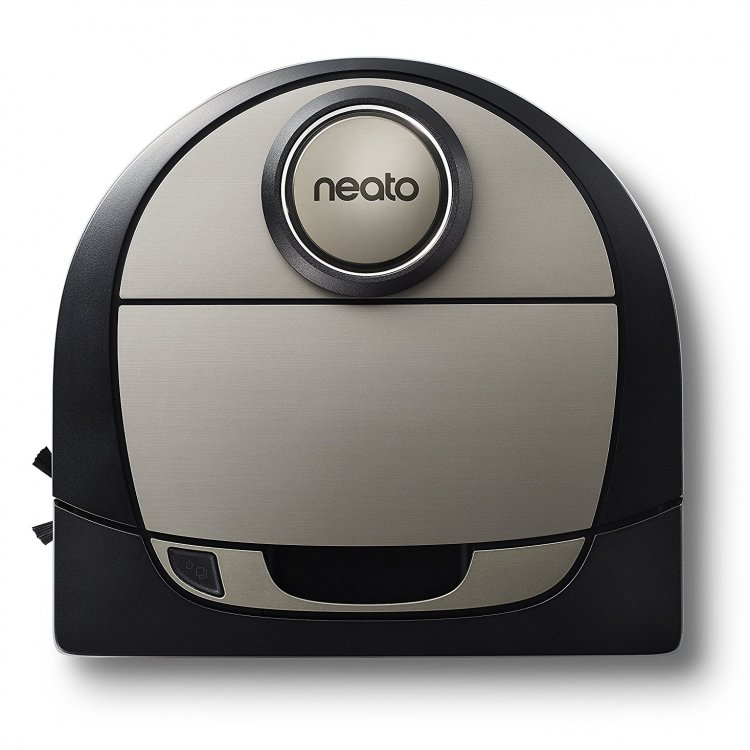 Neato Botvac D7 Connected
---
Neato Botvac D7 Connected Features
Main Features
Mapping / Path planning

yes

Mapping Sensor Type
LDS
High-Precision Map

yes

Recharge & Resume

yes

Automatically Docks and Recharges

yes

Noise Level
64

db

LCD Display

yes

Side Brushes (one or two)
1

pcs

Voice Prompts

no
Cleaning Features
Suction Power
2000

Pa

Сleaning Area
1292 ft2 / 120 m2
Recommended Home Size
medium, large
Cleaning Modes
eco, turbo, virtual walls
Dustbin Capacity
700

ml

Automatic Dirt Disposal

no

Wet Mopping

no

Barrier-cross Height
0.75

in

/ 19

mm

HEPA Filter

yes

Washable Filter

no

Сarpet Types
low-pile, medium-pile
Bare Floor Types
wood, cearmic tile, linoleum, laminate, vynil
Battery
Battery Capacity
4200

mAh

Run time
120

min

Charging Time
150

min

Rated Power (Watts)
61

W
Control
Scheduling

yes

IR Remote Control

no

Wi-Fi / Smartphone App

yes

Wi-Fi Frequency Bands
2.4 / 5

GHz

Amazon Alexa Support

yes

Google Assistant Support

yes

Magnetic/Optical Virtual Walls

yes
App Features
Real-time tracking

no

Digital Blocked Area

yes

Zoned cleaning

yes

Multi-floor maps

yes

Manual movement control

yes

Selected Room Cleaning

yes
Sensors
Carpet Boost

no

Anti-drop / Cliff Sensor

yes

Dirt Detect

no

Full Bin Indicator

yes
Other Specifications
Robot Weight
7.72

lbs

/ 3.5

kg

Robot Width
13.23

in

/ 33.6

cm

Robot Height
3.94

in

/ 10

cm

In the box
charging base, adapter, cleaning tool, user guide, extra filter, magnetic stripe
Release Date
Mar 2018
Warranty
12

months
The D7 Connected comes with a D-shape that works better on corners and edges. It is the newest robot from the Neato model line that covers a large cleaning area of about 460 square meters which makes the cleaner good for big homes. It easily gets rid of pet hair on medium and low-pile carpets as well as on bare floors. The Neato D7 Connected is one of the most powerful robot cleaners on the market so far. Based on laser technology, the robot creates a map of the interior and build the most efficient path of cleaning on its own. Thanks to this technology, the D7 Connected can work in the dark. Thanks to the wide cleaning brush, the robot covers more cleaning area than round cleaners and spends less time to clean a room.
You can see the created map on your smartphone once you set it up and connect your home assistant to it. In the app, you can switch between Eco and Turbo cleaning modes, schedule the robot to work at a specific time, start/stop the D7, and see cleaning history.
Also, you can create an unlimited amount of "No-Go" lines (virtual boundaries) so the robot will not cross these areas. And, the Neato D7 Connected supports zoned cleaning. It is the only robot in the Neato model line that has this option.
The D7 Connected saves up to 3 different floor plans.
The Neato D7 Connected can be controlled by voice commands since it is integrated with smart devices such as Amazon Alexa and Google Home, and by using the app. When Neato's battery runs out of energy, the robot docks itself, recharge, and returns to the same position it left off to finish the job.
Based on consumer reviews, Neato D7 Connected has some issues with connecting to Wi-Fi. And there is also a thing - when the robot connected to one device, it cannot connect to another at once.
Pros
Supports zone cleaning
No-Go Lines keep the robot from wandering
Holds up to 3 different floor plans in memory. Suitable for multi-level houses
LIDAR mapping and purposeful navigation makes cleaning more efficient
Wide brush and D-shape decrease cleaning time comparing to round machines
D-shape works on corners better
Thanks to the magnetic tape, you can prevent the robot from crossing particular areas (No-Go Lines do the same)
Can work in the dark
Quick boost charging can reduce the overall cleaning time of a floor plan
With strong suction, good climbing ability, and efficient cleaning brush, the D7 performs great on carpets up to 19 mm height.
Cons
Has some issues with connecting to Wi-Fi
Gets stuck in tight places because of its shape.
---
In general, Neato D7 Connected is a fantastic robot vacuum cleaner that works great on all types of flooring (except thick shaggy carpets), handles pet hair with ease and covers a large area in one charge. What more could you wish for? The vacuum is suitable for average and bigger homes with one or more levels.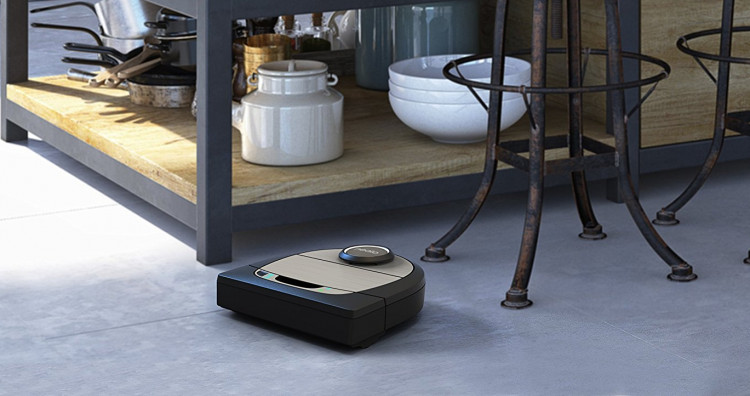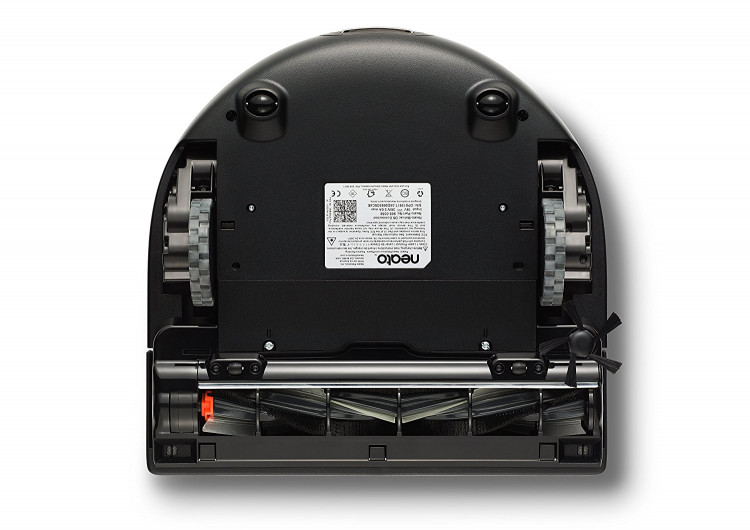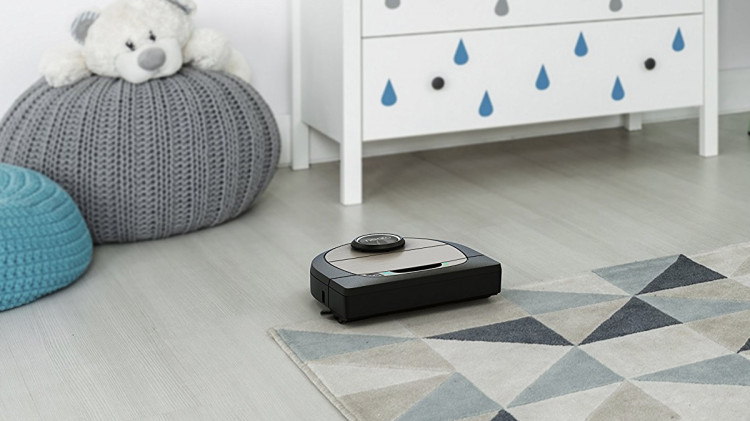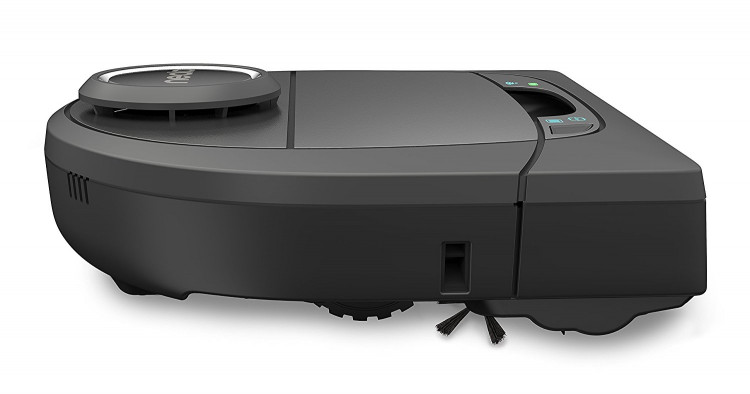 Question 1: Does it work on dark carpets?
Answer: Yes, the Neato Botvac D7 Connected works on dark carpets.
Question 2: How to maintain the robot?
Answer: We'd recommend emptying the dirt bin & cleaning the filter after each use, then for the brush you'd like to thoroughly clean this at least once a week, however, if you've got a lot of pet hair for example you may need to clean this after each use. You'd also need to clean the robot's lasers & sensors periodically, this will differ from home to home, but we'd recommend cleaning them fortnightly.
Question 3: Can it be used upstairs and downstairs?
Answer: The robot supports up to 3 different cleaning maps. It can be used upstairs too. If you want it to save cleaning history, the robot would need to dock itself on its own.
Question 4: Will it resume cleaning after charging?
Answer: Yes, the robot supports resuming if it wasn't finished the cleaning cycle the first time. It will pick up from the same spot it left off and continue cleaning.
Question 5: Does it let you know that the dust bin is full?
Answer: The app will send you a push notification when the bin is full. You can pause the robot, empty the dustbin and let it finish the job.
Question 6: Can I use the filter from the D5 Connected with the D7 Connected?
Answer: Yes, the filters from D5 Connected are compatible with the D7 model.
Question 7: How well it works at picking up dog hair?
Answer: The Neato has a 700 ml dustbin which helps it to run longer until getting full. It does a good job at picking pet hair but if you have more pets or your dog sheds a lot, we would recommend emptying the dustbin more often.
Question 8: Does it learn if you move furniture around?
Answer: The D7 Connected is amazing at avoiding obstacles but if you did move furniture, it might get confused since when it mapped the house, furniture was in a different place. The best thing would be to let it rebuild a map once again.
Question 9: How well does this handle long hair? Would it get tangled?
Answer: The brush needs to be cleaned as much as other brushes do. Hair won't get tangled but you will have to cut it loose.
Question 10: Does it work with 220 volt?
Answer: The robots can charge off 110v or 220V.
Question 11: Do you need WI-Fi to have the robot running?
Answer: The robot can run on its own without having it connected to Wi-Fi but if you want to use smart features such as zoned cleaning or No-Go Lines, you would have to connect it to Wi-Fi anyway.
Video reviews of the Neato Botvac D7 Connected
---