Koios I3 Robotic Vacuum Cleaner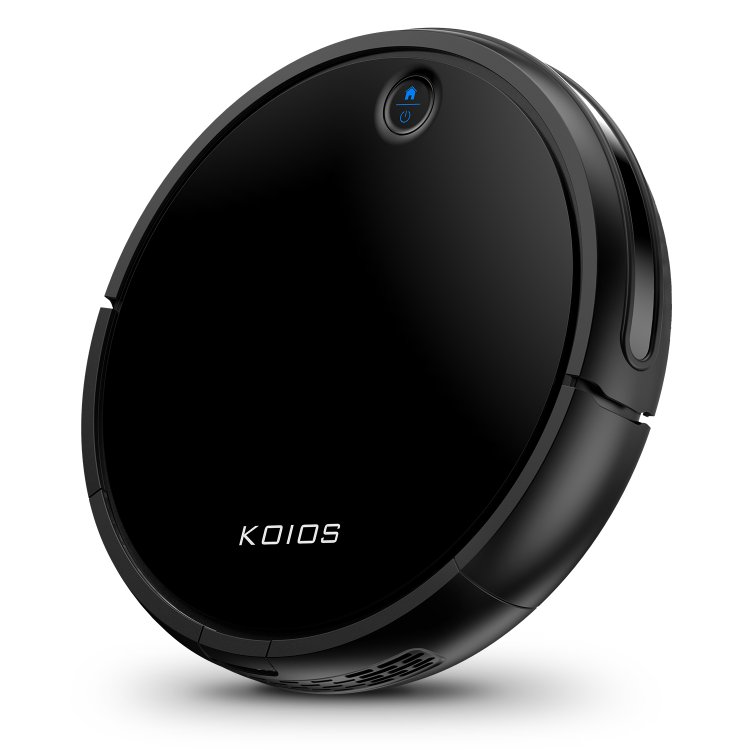 Koios I3 Robotic Vacuum Cleaner specifications
Main Features
Mapping / Path planning
Automatically Docks and Recharges
Noise Level
60

db

LCD Display
Side Brushes (one or two)
2

pcs

Voice Prompts
Cleaning Features
Suction Power
500

Pa

Сleaning Area
1593 ft2 / 148 m2
Home Size
small, medium
Cleaning Modes
auto, edge, single room
Dustbin Capacity
500

ml

Wet Mopping
Barrier-cross Height
N/A
HEPA Filter
Сarpet Floor Types
low-pile
Bare Floor Types
marble, ceramic tile, laminate, wood
Battery
Battery Capacity
2600

mAh

Runtime
120

min

Charging Time
N/A
Rated Power (Watts)
24

W
Sensors
Carpet Boost
Anti-drop / Cliff Sensor
Dirt Detect
Full Bin Indicator
Other Specifications
Robot Weight
8.38

lbs

/ 3.8

kg

Robot Width
12.60

in

/ 32

cm

Robot Height
2.99

in

/ 7.6

cm

In the box
remote control (requires 2*AAA batteries, not included), Li-ion battery, AC power adapter, charging dock, HEPA-style filter, side brushes, clean brush, screwdriver, screw, user manual
Warranty
12

months

Where to buy
$139.99 on Amazon
Koios I3 is a robot vacuum cleaner that was designed to clean hardwood floors from pet hair, dust, and dirt and does its job well. The robot is equipped with two side brushes that along with the main cleaning brush and strong suction power catch pet hair and other small particles and send it to the dustbin. It also comes with HEPA filtration that captures air particles during the cleaning process, helping to keep your home cleaner. As almost every other robot cleaner, Koios has sensors that located all over its body. These things help it to navigate around without falling down from stairs and bumping into your furniture. Even though the machine can sweep the dust on thin carpets, Koios I3 most likely suitable for homes without or with some rugs. But the device performs great on a hardwood floor catching pet hair with ease. After its battery runs out of energy - it automatically returns to its charging dock.
Koios I3 does not have an app, you can only manage it via its IR remote control. Also, the robot is not very good for thick carpets.
Video reviews of the Koios I3 Robotic Vacuum Cleaner
Koios I3 Robotic Vacuum Cleaner alternatives
Pros & Cons of Koios I3 Robotic Vacuum Cleaner
Long Runtime
This robot operates longer on one charge than an average robot vacuum. It suitable for medium or bigger houses.
Doesn't Have Mapping / Path Planning Feature
The Koios I3 Robotic Vacuum Cleaner doesn't have a path planning feature. It comes with a random pattern that takes a little bit longer to clean compared to devices with a "mapping" feature. However, it still good for small or medium homes.
Not Too Strong Suction Power
The suction power of the Koios I3 Robotic Vacuum Cleaner is not too strong (500Pa) but is still enough to clean thin carpets/rugs and bare floors. Perfect for mostly bare flooring or mixed surfaces.
No Smartphone App / Wi-Fi Support
The cleaner does not support Wi-Fi and doesn't have a smartphone app.
Amazon Alexa Not Supported
The model is not compatible with any voice assistant such as Amazon Alexa or Google Home and cannot be controlled by voice.
Bigger Dustbin Capacity
It equipped with bigger 500 ml dustbin, which means the robot can clean without needing to be emptied.
HEPA filtration
The Koios I3 Robotic Vacuum Cleaner vacuum has a high-efficiency filtration system that is anti-allergen and removes up to 99.97% of particles with a size of 0.3 µm.
Doesn't have Wet Mopping Feature
This robot vacuum doesn't have a mopping feature and can sweep only.
Battery Capacity
The robot is equipped with a small 2600 mAh battery that doesn't last as long as an average robot vacuum, but it still can run longer even if the robot doesn't have very strong suction power.
Can be scheduled for specific time
The scheduling function allows programming of the device to clean at a convenient time.
No virtual walls
A virtual wall allows you to block the robot from going to a specific area you don't want it to go. This model does not have a virtual wall feature.
Better corner cleaning
A side brush sweeps all the dust and dirt from corners and edges and transfers it to the dustbin.
---
Compare the Koios I3 Robotic Vacuum Cleaner with other robot vacuums:
---